The 2017 Excellence in Surgical Products Awards will be presented in the November/December issue of Surgical Products. Leading up to the publication of that issue, nominees will be featured on the Surgical Products website.
Category: OR Visualization and Connectivity
Product description and innovation synopsis:
ZeroWire Mobile is the only medical-grade, battery-powered mobile display stand designed specifically for the surgical environment. Powered by two rechargeable, waterproof, and cleanable batteries, ZeroWire Mobile can power a 32-inch monitor for up to five hours of continuous operation. A visual and audible alarm indicates the need for a quick and easy battery swap from a wall-mounted charging system, with no interruption in power. Elimination of power and video cables allows for ergonomic monitor positioning and a fully untethered visualization system. Extra-large wheels, small-footprint, and adjustability of height and tilt give the user confidence and control in maneuverability throughout the facility.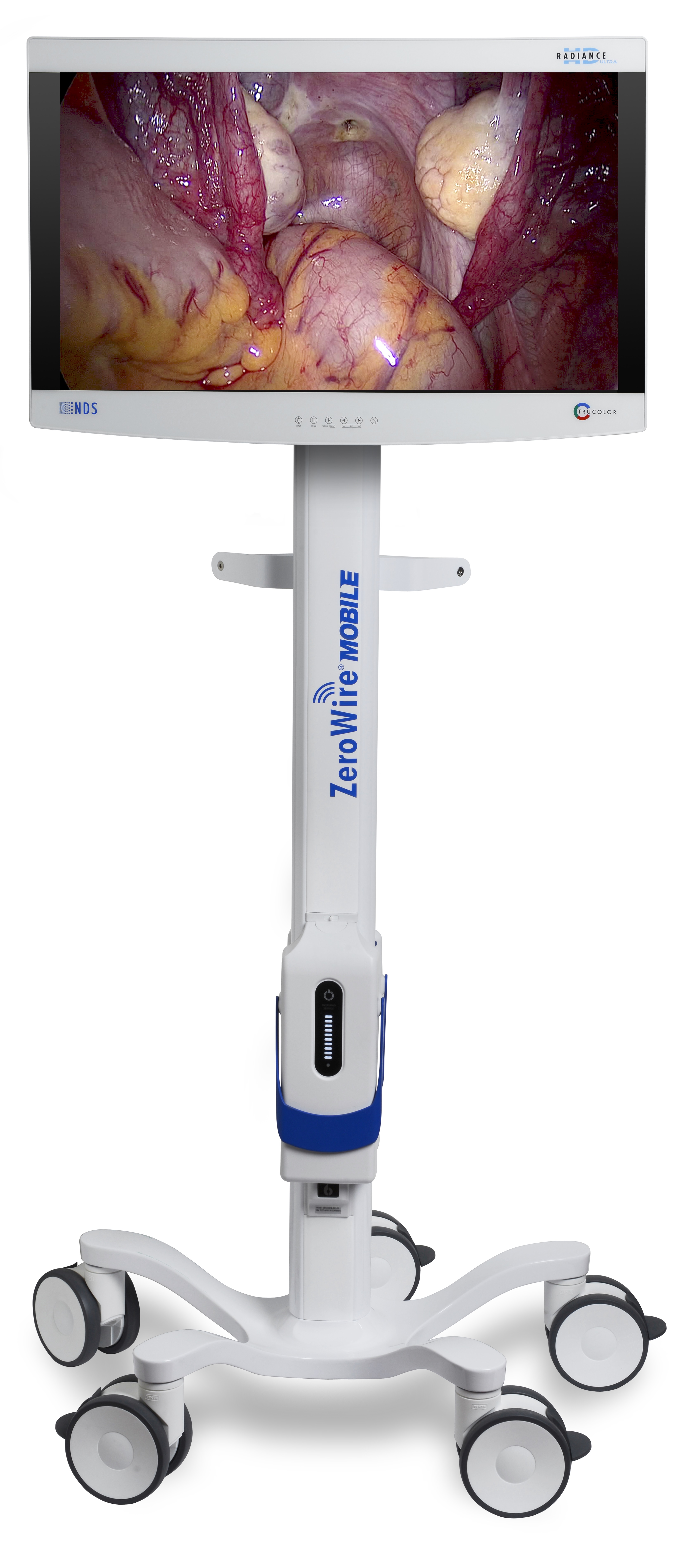 What sets this product apart from others available in the industry?
ZeroWire Mobile has a very streamlined and ergonomically thoughtful design, with a space-saving small footprint that allows for easy maneuverability and flexible positioning even in small rooms. Using a "hot-swap" battery system, a depleted battery is easily removed from the display stand (even during a procedure) and immediately replaced with a fresh battery from a wall-mounted charging system. During the "hot-swap" process, the remaining battery will continue to power the monitor without interruption. When paired with NDS' ZeroWire G2 wireless video transmission technology, including monitors with an embedded wireless receiver, ZeroWire Mobile becomes both a cordless and wireless solution (patent pending).
How does this product benefit the surgical team and aid in better outcomes?
By eliminating video cables and power cords, potential tripping hazards are removed from the floor, making the OR safer for staff and patient. Visualization monitors can be easily located in more advantageous and ergonomic positions to achieve better line of sight for surgeons and OR staff. Removal of cables means less cleaning and maintenance of cables, which may speed OR turnaround time. The hot-swap battery system allows the surgical team to run wirelessly and cordlessly even if a procedure takes more time than expected. ZeroWire Mobile can be easily moved from room to room throughout the facility.