With the original target of £10,000 smashed a week before the Coast-to-Coast bike ride was due to take place, the team decided to raise their target and now have almost £20,000 to split between the two deserving charities; St Gemma's Hospice, Leeds and St Leonard's Hospice, York.
Search Laboratory CEO Ian Harris, New Business Director John Readman and friend Nick Wright of Tamsland organised the 180-mile charity bike ride that took place last weekend to raise funds for two charities which have played a significant role in their lives. Ian lost his sister to Melanoma (Skin Cancer) in 2008. Ian recalls;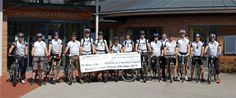 The riders stop off and visit St Leonard's Hospice, York
"The staff at St Gemma's looked after Claire incredibly well in her last days. They made her comfortable and looked after us as a family".
John lost his father to a brain tumour in 2001:-
"The majority of the last year of my dad's life was spent at St Leonards. I cannot thank them enough for the support and care they gave both my father and my family during this time".
The traditional 'Way of the Roses' route took the 13-strong team from Morecambe on the West coast of England, across the country to the finish line at Bridlington on the East Coast. However, the lycra-lads took two detours to visit the hospices on the way.
Sadly, John was unable to complete the three-day ride due to a hip injury. John's competitive spirit meant he was not prepared to take a back seat as team photographer, instead planning a second coast-to-coast ride for charity. This time the team want to complete the 180-mile journey in just two days.
Janet Morley, Director of Fundraising at St Leonard's Hospice commented;
"Crossing the country from west to east on a bike is a great thing to do, and we are very grateful to John, Ian, and all their colleagues, for undertaking it on behalf of St Leonard's and St Gemma's". They did a brilliant job.'
Tara Greatorex, Community Fundraiser at St Gemma's Hospice said;
"They have managed to raise an incredible amount of money that will really make a difference to the patients and families we support at St Gemma's Hospice. Without the support of the local community, and fundraising like this, we wouldn't be able to provide our services free of charge."
Search Laboratory's customers donated generously and Remote Asset Management who supply vehicle tracking systems, kindly donated a tracker for the support minibus enabling anybody wanting to track the progress of the cyclists to do so online and in real-time. Personalised clothing specialists Banana Moon, kindly provided the jerseys worn by the team. The minibus was provided by PJR Self-Drive.
Contributions are still welcomed: you can donate by visiting the Virgin Money Giving Page.
###
Notes for Editors
Search Laboratory Ltd, Leeds, specialises in maximising profits from their client's websites using Pay-Per-Click (PPC), Search Engine Optimisation (SEO), Online PR, Social Media and Multilingual search marketing. The company which was established in 2005 has more than doubled its turnover in the last three years and has expanded rapidly in the last six months employing more than 60 members of staff. Working with clients of all shapes and sizes, including major high street B2C brands and global B2B technology giants, Search Laboratory is extremely ethical in its approach to business using only ethical sustainable link building and online PR. Search Laboratory also recently won Best Employer award with Best Business awards.
If you would like more information, images or comments relating to this story please contact:
Sasha Hanau
Marketing Executive
Search Laboratory
T: +44 (0) 113 212 1211
E: sasha.hanau@searchlaboratory.com