Eye doctor appointments are often on the back of our radar. Annual eye appointments don't seem that important when we think our vision is fine, or those glasses from two years ago seem to be "working" still. Now, EyeQue has created EyeQue VisionCheck to measure and test your eyesight in the comfort of your own home.
The EyeQue VisionCheck is a refractometer that measures refractive error to determine nearsightedness, farsightedness, and astigmatism. The results and prescription information are then provided in the same format as an in-person doctor visit, allowing you to order glasses online.
The device includes a patent-pending pupillary distance (PD) measurement tool called PDCheck that captures PD in a matter of seconds.
After linking the EyeQue VisionCheck to your smart phone and the app, the whole test takes about five minutes to complete. The test then provides a true refraction measurement result, also known as EyeGlass Numbers (EGNs), to generate real scientific results.
The device works by projecting two parallel beams of light from the smartphone display into your eyes and onto your retina. The light beams come from red and green lines formed by illuminated pixels on your smartphone, and are separated by 2.5 mm of space when they leave the device to fit through your pupil.
Using an interactive touch-sensitive interface, the user overlaps the green and red line to form one yellow line. Based on the amount of pixel movement, EyeQue calculates the user's refractive error in a particular direction. The device then rotates the line to another angle, and you repeat the measurement, measuring refractive power over numerous angles. This gives a specific sphere, cylinder, and axis needed to correct your vision with eyeglasses.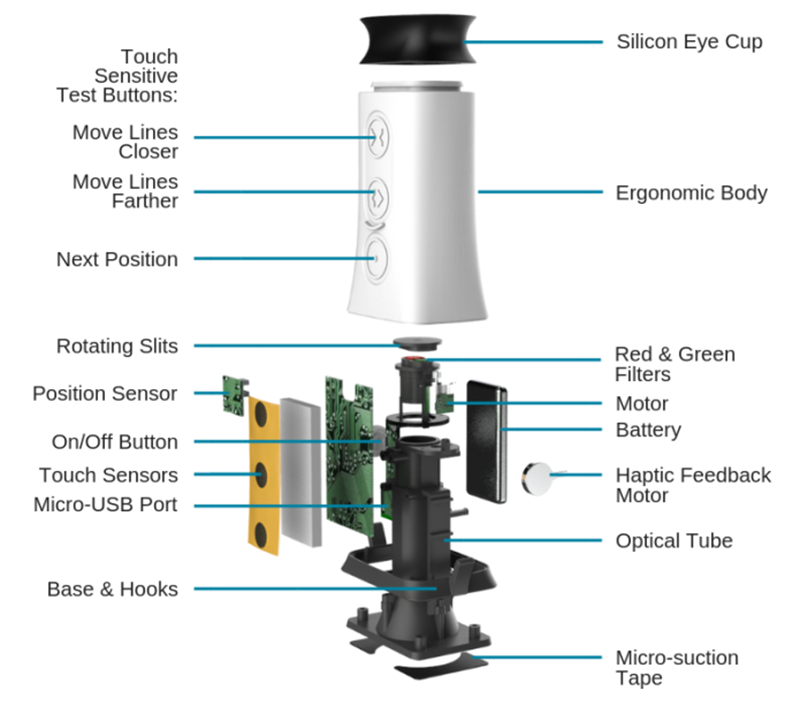 All of the computations are calculated in the EyeQue cloud. The more tests someone takes, the more information EyeQue has to aggregate, in which it can average out and remove bad data points.
Lastly, the PDCheck provides an accurate measurement of pupillary distance for more effective prescription eyeglasses. Often if the wrong PD is measured, glasses will feel uncomfortable and make the wearer feel dizzy. The patented PDCheck technology uses a smartphone camera to take a selfie, and then extracts the PD to an accuracy of +/-1 mm.