Bolton, UK — July 11th, 2011 —
Today, Ascribe announced it has been selected as a finalist for the
Microsoft Public Sector – Health Partner of the Year
Award.
"Ascribe is delighted to be recognised for our continuing
partnerships with NHS organisations that use our products and
services to help them improve the quality and cost-effectiveness of
services they provide to the public," said Stephen Critchlow,
CEO of Ascribe Ltd. "Our commitment to supplying
healthcare-focused Business Intelligence ("BI")
systems, such as the BI & Data Warehouse project delivered to
Birmingham & Solihull Mental Health Foundation Trust to improve
and develop clinical and managerial services, is enabling
healthcare organisations to establish a foundation for improving
their operating efficiency and delivering more informed clinical
care. We are especially pleased that a large part of this award
recognises our newly acquired business intelligence capabilities
from 21c, who were finalists in this competition last year and are
constantly recognised for innovation in their field. We look
forward to providing Business Intelligence solutions to more
healthcare organisations, enabling them to grow their service
delivery and improve patient care."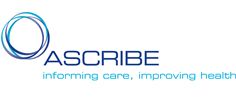 Ascribe logo
Awards were presented in multiple categories, with winners
chosen from a set of more than 3,000 entrants worldwide. The Public
Sector – Health Partner of the Year Award honors partners who have
exhibited excellence in providing innovative and unique services or
solutions based on Microsoft technologies to health customers. This
award recognizes Ascribe for demonstrating industry knowledge and
expertise, as well as consistent, high-quality, predictable service
or solutions to health customers. This partner also has shown
business leadership and success through strong growth in new
customer additions and revenue.
"We are proud to recognize this outstanding group from our
highly valued worldwide partner network as our 2011 Partner Award
finalists," said Jon Roskill, corporate vice president,
Worldwide Partner Group, Microsoft Corp. "We applaud the
unique perspective and creativity each of these companies brings to
solving customer business and technology challenges. Our strong
partnership along with their commitment to customers plays an
essential role in our mutual, long-term success."
Informing healthcare decisions using appropriate information,
and improving health outcomes through the use of informed clinical
intelligence have always been at the heart of Ascribe's vision and
mission. Ascribe Consulting has established itself as a trusted
partner in over 70 NHS Trusts and provides a wide range of health
and social care organisations with access to performance KPIs,
operational or clinical dashboards or direct access to data using
analytical tools. Ascribe Consulting create NHS Business
Intelligence Portals using the Microsoft® Business Intelligence
(BI) software stack, best practice data warehouse design
methodologies and most importantly an extensive health sector
experience.
The Microsoft Partner Awards recognize Microsoft partners that
have developed and delivered exceptional Microsoft-based solutions
over the past year.
Over 75% of NHS Acute Trusts use Ascribe systems and our
commitment to improving healthcare IT has made us a strategic
partner for a growing number of Trusts. Ascribe's clinical systems
are robust and scalable, from departmental systems through to
strategic enterprise-scale solutions. The company is a Microsoft
Gold Partner. In addition developing its own solutions, Ascribe
provides professional consultancy personnel for Ascribe, Microsoft
and other healthcare IT systems.
From Electronic Prescribing through to Paperless Clinical
Management and even Pharmacy robotic interfaces, Ascribe's breadth
of integrated systems has been proven to help Trusts improve their
efficiency and cut costs.
Ascribe employs 300 personnel through its operating companies in
the UK, Kenya, Australia and New Zealand. For more information,
please visit http://www.ascribe.com/
# # #
For additional information:
Stephen Critchlow, CEO,
Ascribe Ltd
Tel: +44 (0) 870 053 4545
Simon Mehlman, Marketing Manager,
Ascribe Ltd
Tel: +44 (0) 870 053 4545
Product or service names mentioned herein may be the trademarks
of their respective owners.