BedJet, a rapid cooling, heating and climate control system, has undergone a technology upgrade. BedJet uses a biorhythm temperature technology that allows people to program the temperature of their beds at every hour of the night. The goal of this technology is to help people sleep more comfortably and for longer periods of time. BedJet 3 dismisses your dreaded alarm clock by hacking into your body's natural biorhythm triggers to wake you up less intrusively.
The BedJet air-based cooling helps those who wake up hot and sticky at night, by offering therapeutic relief. The air-based warming heats up in just 60 seconds and provides instant warming relief. But if one of you likes the bed cold, and the other likes it warm, the BedJet dual zone setup allows you to keep half the bed cooled while the other half is heated.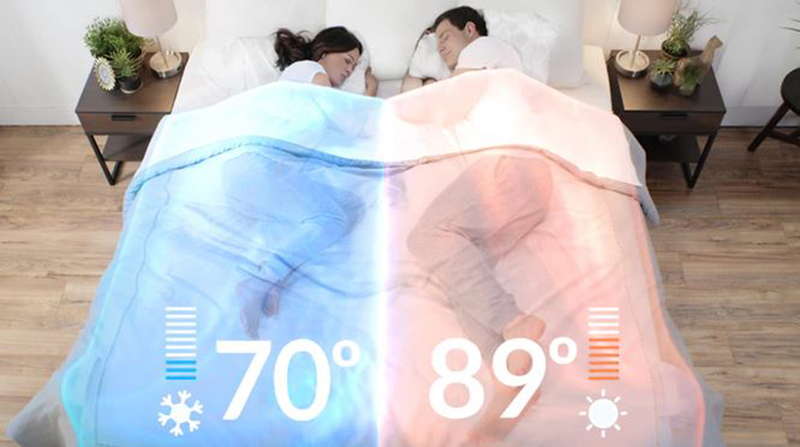 People spend about 30 percent of their lives in bed, and failure to get good sleep has been medically linked to heart disease, high blood pressure, stroke, diabetes, depression and more. By using sleep sensors, BedJet can monitor and educate individuals on their prior night's sleep.
BedJet uses muscular bed climate control to hack into your body's natural pre-programmed circadian biorhythm to alter what your body thinks it should be doing while you're in bed. These sleep science biohacks are sponsored by the National Institute of Health and the Dutch Institute for Neuroscience.
As our temperature alters throughout the night, sometimes making us uncomfortable, it can disrupt our deep REM sleep. This is our body not achieving the right body core temperature for deep sleep, and our brain will wake us up to make a manual adjustment.
By incorporating medical studies into the biorhythm temperature technology, it is also able to take into account your sex, age and body type in order to create a sleep temperature profile tailored for individuals.
Every hour the BedJet makes climate control adjustments in your bed to help your sleep faster and longer.