Cochlear Limited announced the commercial availability of the Baha 5 Power and Baha 5 SuperPower sound processors in the United States. The move completes the Baha 5 sound processor portfolio of bone conduction technology, according to the company.
The new sound processors are now available to those with greater levels of mixed hearing loss, up to 55 dB sensorineural hearing level (SNHL) for Power and 65 db SNHL for SuperPower.
Bone conduction systems are a proven medical option for adults and children with conductive hearing loss, mixed hearing loss, and single-sided sensorineural deafness meeting the candidacy criteria.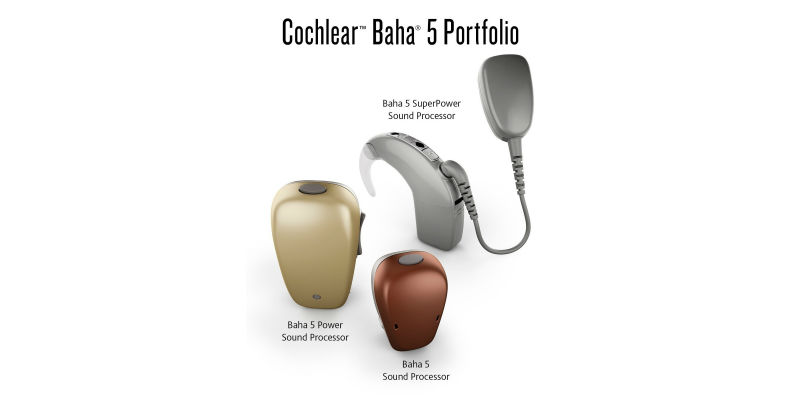 While a hearing aid tries to push sound through the damaged part of the ear, bone conduction systems bypass the damaged area and send sound directly to the inner ear. They are designed to help those who receive little or no benefit from hearing aids hear and communicate more effectively.
The portfolio provides customers with the ability to hear better across noisy environments, connect wirelessly to a variety of electronic devices, and provide direct-to-device wireless streaming and control with Made for iPhone support.
The Baha 5 devices include:
Baha 5: Launched last year, the small bone conduction sound processor has a fitting range up to 45 dB SNHL. It is also the implantable hearing industry's first Made for iPhone hearing device

Baha 5 Power: The newest device in the system, it is created for those who need additional amplification because of a greater degree of hearing loss up to 55 dB SNHL

Baha 5 SuperPower: Cleared by the FDA earlier this year, it is the strongest member of the Baha portfolio. It is also a behind-the-ear bone conduction solution with a fitting range up to 65 dB SNHL.
The SuperPower sound processor is designed to help those who often struggle more than most to hear and understand speech, especially in noisy situations. It features ear level, dual microphones to improve sound capture, an LED indicator light on the device to indicate if it is working properly, a flexible earhook offered in a variety of sizes for comfort, easy to use volume and program control buttons to allow users more control over their hearing, and it comes with a rechargeable battery.
The Power sound processor is designed for customers who need more power, longer battery life and on-device control. It provides users more control over their hearing by featuring a volume rocker for easy volume control and an LED indicator light on the device to indicate if the device is working properly. In addition, the device has a long battery life, providing up to 160 hours depending on streaming and daily usage.
Each device in the portfolio provides the customer an option between two sound processor connection options: An abutment system and a magnetic system.
For smart connectivity, the units offer direct-to-device wireless streaming and control for iPhone, iPad and iPod touch devices for phone calls, FaceTime calls and music in high-quality stereo sound, with no intermediary device needed.