BrainsWay (NSDQ:BWAY) said today that a study shows that deep transcranial magnetic stimulation (dTMS) plus standard medication was significantly more effective at reducing depression levels among major depressive disorder (MDD) patients than standard medication alone.
Researchers at the Psychiatric Hospital Sveti Ivan in Croatia conducted the 228-patient randomized controlled study independent of industry support. The results appear in the July 2019 issue of the Journal of Psychiatric Research.
Get the full story on our sister site, MassDevice.
Engineering Better Devices at DeviceTalks Minnesota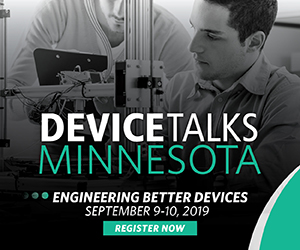 DeviceTalks Minnesota's engineering track is designed to provide attendees with with actionable lessons in a peer-to-peer format on topics such as:
Human factors engineering
Patient-centric device development
R&D trends
Manufacturing and scalability
Navigating the product development process from start to finish
"How We Built This" panels with top medical device groups
Join industry leaders and medical device professionals at the most awaited medtech conference of the year, DeviceTalks Minnesota.

Use code DT15 to save 15%!

REGISTER NOW