Even as most people have grown accustomed to using their phones and other digitally connected devices to trawl up whatever piece of information they need, there are a few topics that remain stubbornly complex enough that it's beneficial to still maintain a few hefty reference books up on the shelf. Many of those topics reside in the field of healthcare, and few are as critical to patient safety as the care of surgical instruments.
The new textbook The World of Surgical Instruments runs over 500 pages and offers a comprehensive examination of best practices in disinfection, maintenance, and repair of the tool surgeons rely upon every day in the OR. Written by Rick Schultz, the former founder and CEO of Spectrum Surgical Instruments, the book is designed to be a valuable resource for students and seasoned professionals alike.
To learn more, Surgical Products interviewed Schultz.
What prompted you to write the new textbook The World of Surgical Instruments?
As a subject-matter expert who has spent decades focusing on surgical instrument inspection, processing and education, I see the challenges sterile processing professionals face.
My first surgical instrument inspection textbook had six printings and sold worldwide, so I knew there was a deep desire for the information it contained. That said, it was time for a major update, so I developed the definitive guide on surgical instrument inspection for healthcare professionals and students.
What will readers find in the book?
Readers will find the book divided into a variety of easily referenceable tabbed sections, which include material a reader won't find in other textbooks.
Each section begins with Frequently Asked Questions (FAQs), which provide a simplified way to learn the material. There are 1,198 high-resolution photographs with picture-in-picture detail to see visual inspection points and common damage to surgical instruments. And a "How to Measure" section will allow the reader to improve count sheet accuracy.
There is also a complete chapter on surgical instrument repair. The material includes specific questions to ask a potential vendor when sending out a Request for Proposal (RFP), as well as education on what to look for when conducting a repair evaluation.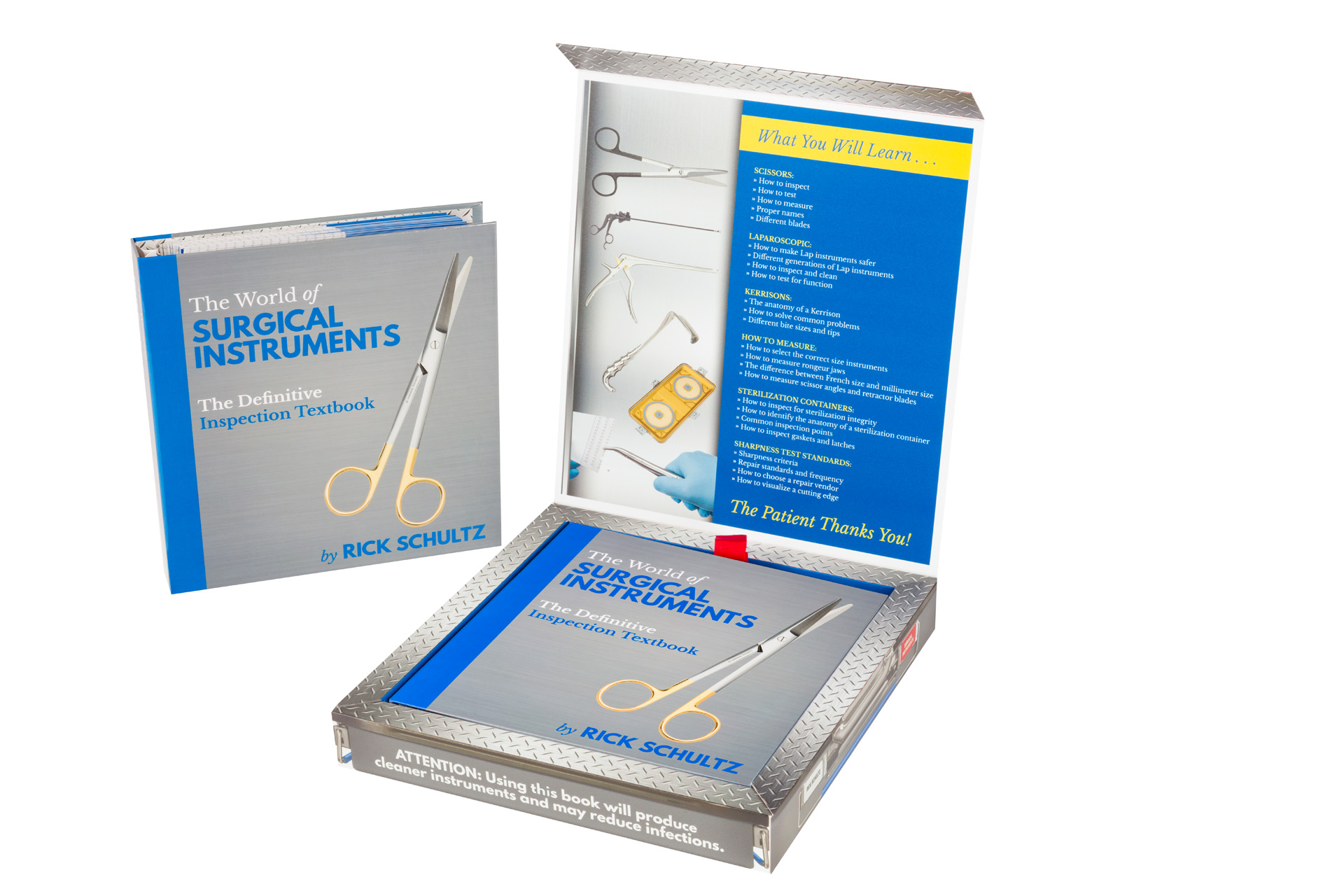 Who's the target audience for the textbook? Who will benefit from it?
The main audience is surgery, sterile processing, infection control and operating room professionals, surgical technologists, educators, and students.
Another group that will benefit from reading this book is the medical device industry. Many companies need help with their sales and service representative training, and this curriculum addresses the issues medical device companies have with training sales and service personnel.
What makes The World of Surgical Instruments unique as compared to other resources?
This textbook stands out for a variety reasons. It contains unprecedented content, including "How to Measure Surgical Instruments" and "The World of Surgical Instrument Repair." It's authored by a surgical instrumentation inspection and repair expert with decades of experience and numerous industry accolades
There are 20 section tabs for quick reference, such as "Scissors," "Laproscopic," "ENT," "Retractors," and so on. The book provides step-by-step guidance on how to properly process surgical instruments, and it has FAQ sections for additional in-depth learning
In terms of the book's design, its hidden spiral bound design and large book size allow it to lay flat, making it easy to use. And the premium packaging includes a unique box design for easy storage and longevity.
In the current environment, how important to do you feel it is for everyone working in a healthcare facility to be well-versed in the care and maintenance of surgical instruments?
It is extremely important for professionals working in a healthcare facility to be well-versed in the care and maintenance of surgical instruments. Proper instrument inspection, testing, and cleaning are critical factors in reducing hospital-acquired infections.
The foremost goal of this project is to increase patient safety. A smarter healthcare workforce is better for the patient and is key in reducing infections.