VolitionRx Limited today announced results demonstrating that its NuQ blood tests accurately detected 91% of colorectal cancer cases in a clinical study.
The study included 121 patients referred for colonoscopy at the university hospital, CHU Dinant Godinne – UCL Namur, in Belgium, who either presented with symptoms suggesting the presence of colorectal cancer or were high-risk subjects. Of these, 23 were found to have colorectal cancer. Investigators in the prospective study tested blood samples collected according to VolitionRx's standard procedures, taken from subjects prior to their colonoscopy, to determine whether a NuQ test could accurately predict the subsequent findings of the colonoscopy.
Analysis of the results revealed that a panel test of four NuQ biomarker assays, adjusted for age, detected 91% of colorectal cancer cases at 90% specificity. In addition the results showed equally accurate detection of early- and late-stage cancers. The analysis also revealed that the same panel test detected 67% of the type of polyps most likely to develop into cancer, demonstrating a potential for NuQ tests to accurately detect the complete spectrum of cancer development from pre-cancerous polyps through early-stage to late-stage colorectal cancer.
Colorectal cancer is one of the most preventable cancers, yet there are still 50,000 deaths and more than 130,000 new cases diagnosed every year in the U.S. alone1. Colonoscopy examinations provide a high percentage of detection, yet due to their invasive and costly nature, more than one third of adults of screening age in the U.S. are not screened with such a procedure2. The five-year survival rate for colorectal cancer is 90% when detected at stage I but only 13% if detected at stage IV.
Professor Lionel D'Hondt, Head of the Department of Oncology at CHU Dinant Godinne – UCL Namur, remarked, "The development of better methods for the early detection of colorectal cancer is critical for the improvement of patients' survival rates. We have found that a NuQ panel test detects colorectal cancer and pre-cancer, with high accuracy, indicating it may be useful as a routine clinical colorectal cancer blood test."
VolitionRx Chief Scientific Officer, Dr. Jake Micallef, Ph.D., added, "Current screening options for colorectal cancer are limited to invasive endoscopy procedures and fecal tests. Neither of these methods is patient-friendly and their uptake by the population at large is poor. In contrast, a NuQ panel test uses a tiny amount of blood and could be added to a routine medical check-up along with cholesterol, blood sugar, liver function, and other commonly administered blood tests. The study results demonstrate detection of 91% of colorectal cancer cases using an age-adjusted panel of four NuQ assays. Moreover, 87% of colorectal cancer cases and 67% of high-risk dysplastic pre-cancerous polyps were detected using an unadjusted panel of five NuQ assays alone, and no patient information. The study data provide evidence of the significant potential of our diagnostic NuQ tests for detecting colorectal cancer."
Cameron Reynolds, Chief Executive Officer of VolitionRx, commented, "To detect colorectal cancer and pre-cancerous polyps with such high accuracy in an affordable blood test is a notable development. VolitionRx has demonstrated detection rates of 90% or higher in pancreatic cancer, lung cancer and now colorectal cancer, showing our unique proprietary platform technology can accurately detect a variety of cancers. Even more encouraging is the accuracy in detecting early-stage cancers and pre-cancers; finding tumours before they spread is a truly crucial breakthrough that will improve the outcomes for cancer patients."
Detailed findings from the 121-patient prospective study on colorectal cancer (CRC) at CHU Dinant Godinne – UCL Namur include: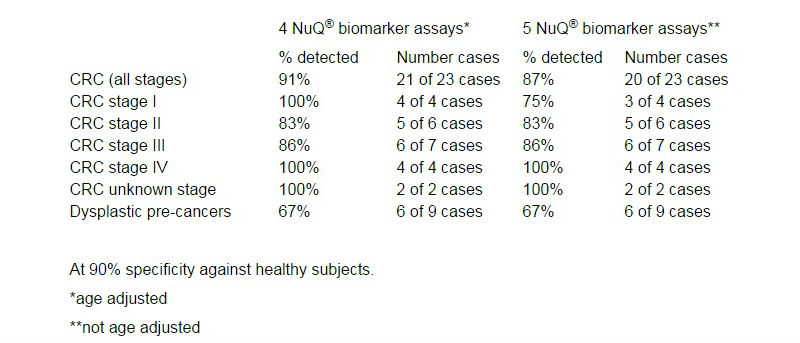 Other results from ongoing clinical trials assessing the effectiveness of VolitionRx's assays, include:
Colorectal Cancer and Pre-Cancerous Colorectal Polyps
Interim results from a 4,800 patient retrospective symptomatic population study (Hvidovre Hospital, University of Copenhagen, Denmark), released September 9 2015: Panel of four NuQ biomarker assays detected 81% of colorectal cancers and 67% of high-risk adenomas at 78% specificity.
Pancreatic Cancer
Results from a 59-patient retrospective study (Lund University, Sweden) published in Clinical Epignetics online journal (http://www.clinicalepigeneticsjournal.com/content/pdf/s13148-015-0139-4.pdf), October 7 2015: Panel of four NuQ biomarker assays plus CA 19-9 classical biomarker detected 92% of pancreatic cancers at 100% specificity.
Lung Cancer
Interim results (73 of 240 patients collected and assessed) from a prospective study (Liege University Hospital, Belgium), released November 19 2015: Panel of four NuQ biomarker assays detected 93% of lung cancers at 91% specificity.
References
1National Cancer Institute. "SEER Stat Fact Sheets: Colon and Rectum Cancer." April 2015. Available online at: http://seer.cancer.gov/statfacts/html/colorect.html . Accessed September 8, 2015.
2American Cancer Society. "Colorectal Cancer Facts & Figures 2014-2016." March 2014. Available online at: http://www.cancer.org/acs/groups/content/documents/document/acspc-042280.pdf . Accessed September 8, 2015.