Over the years, the effectiveness and long-term benefits of hip replacement surgery have been firmly established. Surgeons have a strong command of the ins and outs of the procedure, and countless patients undergo it with great success. Of course, no matter how safe and settled a surgical approach is, it can always get better.
Recently, the Conformis Hip Replacement System has entered the OR. Cleared by the FDA in June 2017, the first commercial procedures utilizing the system were performed earlier this year.
Utilizing the latest imaging and additive manufacturing technologies, the Conformis provides customized implants and a more comprehensive view of the patient's anatomy, making it easier for the surgeon to plan out the procedure. The result should be greater OR efficiency and a smoother recovery for the patient.
To learn more, Surgical Products interviewed Gregory Martin, MD, founder of Personalized Orthopedics of the Palm Beaches in Boynton Beach, Florida, and medical director of the Orthopedic Institute at Florida's JFK Medical Center. Earlier this year, Martin performed the first surgeries using the Conformis Hip System.
What can you tell us about the first procedures with the Conformis Hip System?
It was fairly intuitive. It's a project we've been working on for several years. During our design and development process, we performed a lot of these on cadavers, so this was the first live surgery. But because of all the planning over time, it was relatively straightforward.
What's unique about the Conformis Hip System?
I think the system really achieves two things.
The first thing is it turns hip replacement from an unguided operation into a guided operation. Most hip surgeries that are performed are really entirely dependent on the training, skill, and experience of the surgeon. It's basically freehand, unlike a knee replacement, where there's always been more instrumentation to guide the surgeon. Hip replacement this day is a relatively crude operation where you're dependent on the surgeon.
The first thing that this system achieves is it turns hip replacement into an accurately planned, guided procedure by using a CAT scan to come up with a detailed preoperative plan. It also utilizes instrumentation made using 3D printers to fit the patient and help the surgeon make the cuts in the right place and position the implant in the right place. So that's the first thing it achieves: it changes hip replacement from a crude, unguided operation to a guided operation.
The second thing, which is equally if not more important, is that you're putting in an implant that's individually made for the patient. The goal is to eliminate leg length discrepancies and discrepancies in the offset of the hip, where the hip is pushed out too far. We all know that people come in different shapes and sizes, but the implants don't. When we look at hips, they might come in a 125 degree angle or a 135 degrees angle, but if you're somewhere in between there's not always and implant that matches that.
It can be very challenging intraoperatively to match people's anatomy. The beauty of this technology is that you follow the plan and then you put the implant in. You take pictures and it really matches their anatomy exactly, which is really gratifying.
Since the Conformis Hip System creates efficiencies, do you think it also helps with OR turnover?
I think there's a potential for huge time savings. We struggle intraoperatively to really try to do the best job we can using existing technology to match patient's anatomy. Our best method of templating right now is just preoperative x-rays. So we do our best to come with a preoperative plan, but you never really know how accurate it is, because if the leg is just rotated a little bit and you take the picture, it might look like they have a 135 degree angle and then intraoperatively you might realize it's more like 125 degrees.
So what I do intraoperatively — what I spend about half the case doing — is really struggling to match the patient's anatomy and finding the best compromise between the angle, recreating the leg length and the offset. I spend a lot of time fiddling with that in a standard case.
With the Conformis, I know that's been all been executed preoperatively, so I can basically go right to the real implant and be confident that I'm giving the patient exactly what they need, nothing more, nothing less.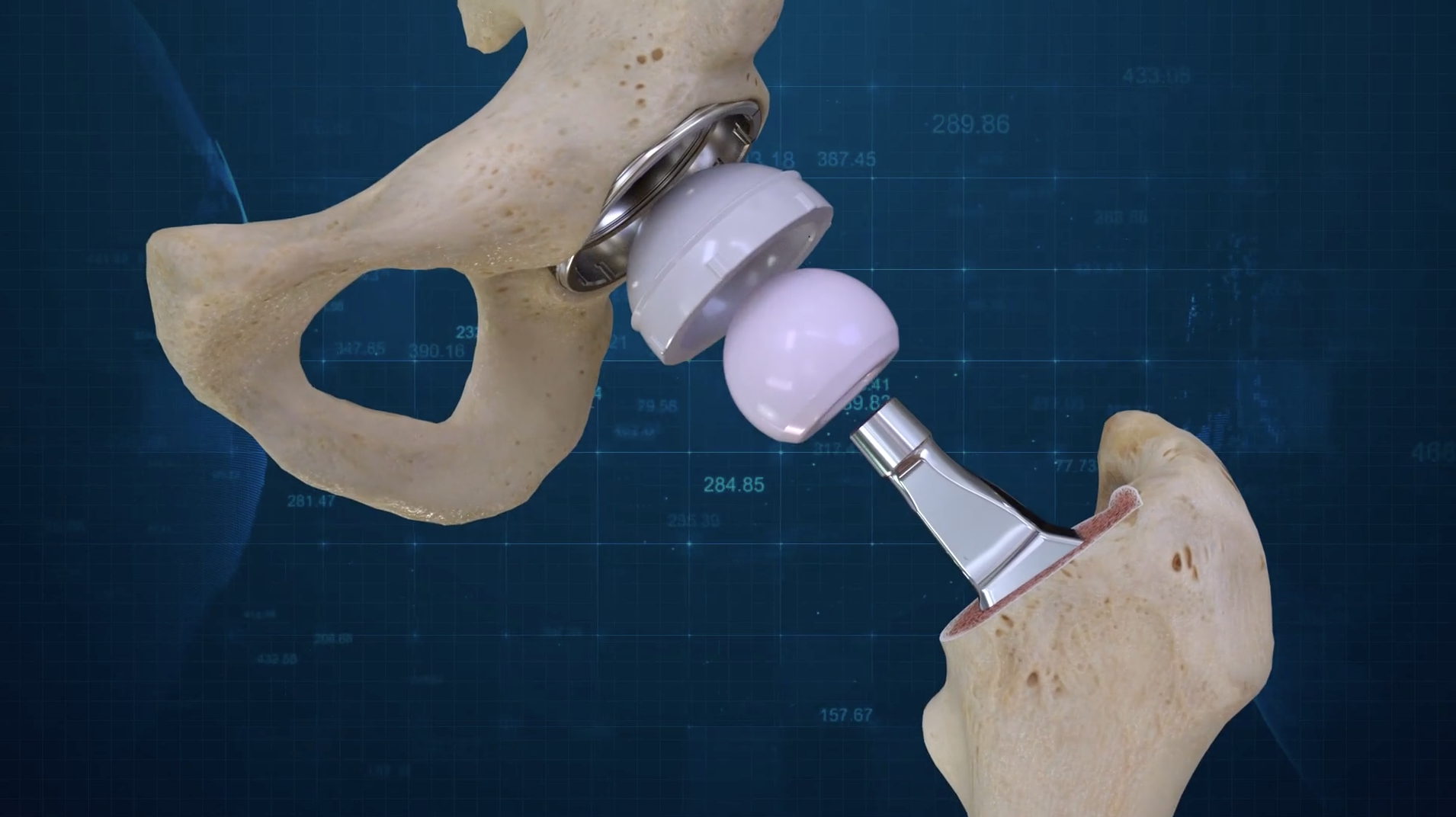 Do you also expect the implants to last longer?
We know that in order to get the best longevity from a hip, you need to place the implants correctly. That leads to ideal wear characteristics. If we give surgeons a tool to make sure they're putting these in the right position, that should lead to improved long-term wear and lower complication rates.
Hip replacement has been a very successful procedure with good, long-lasting results. But if the cup is put in too vertical, you can get excess wear. If it's not put in at the correct position, the hip can get dislocated, necessitating reoperation. So to be able to guide surgeons to put the implant in the right position and then also to create the correct soft tissue tension by giving the patient back their anatomy, I think we can see better outcomes in the long-term.
Does the customization also help when it comes to the recovery process?
I think it can be, because honestly one of the biggest issues we see after surgery is leg length discrepancies and if the leg is made a little too long, it does slow down the recovery. Most people end up, their pelvis balances and after a few months they feel better. But not all people. Some people have persistent leg length discrepancies and they never get better and it affects their back and other issues. So that's one of the real compelling things for me is to be able to be confident that I'm not abnormally lengthening the patient, just because I'm limited by existing implant combinations or don't have the information to execute on the appropriate plan.
Do you think patients will respond positively to the Conformis Hip System as an option?
Having worked with the Conformis knees for almost a decade now, I can tell you the patients understand it almost better than anyone else. If you tell a patient they can have a hip or a knee that's made for them, that's the only way they want it done.
For me as a surgeon — and I think if I were a patient — it just makes intuitive sense. If we have the technology and the capability to make something fit exactly, why would we not want that? We all know that if we put a shoe and it's a little bit too tight or a little bit too big, it doesn't feel right. So why do we expect we can implant medical devices that are not quite the right size and somehow that's OK, when the patient has to live with the rest of their life. So I think patients understand that and it resonates with them.
Is there anything else you'd like to add?
One of the arguments against this technology that we'll hear is that hip replacements do so, so well, how could you actually improve on them? I don't disagree, but the truth of the matter is that most people do well, but we really shouldn't stop at that.
We want to try to help every individual patient be as good as they can be. And while most people do well, there are certainly a fair amount of people that have leg length discrepancy or the hip was pushed out too far and they have chronic pain, their implants were not put in right so they have premature wear or they get dislocations.
This technology is about the individual and it's not about the procedure as a whole. I think there are a lot of benefits for the procedure as a whole, but the goal is to make every operation technically successful as it can be. I think that's a key point: It's about the individual.