Cornerstone among the only talent management solutions to
help organisations observe and measure employee competencies and
performance on the fly and in the field
London, September 16, 2010 – The ability
to manage
performance in industries such as
healthcare, manufacturing
and education can be a difficult task, especially when it comes to
roles where employee performance is best monitored in real time and
in relation to a very specific set of skills or
competencies. With this in mind, Cornerstone
OnDemand is adding an innovative new feature set to its
comprehensive learning and
talent management software solution:
Observation Checklist. The company will showcase
Observation Checklist and other new software enhancements at this
month's HR Technology Conference
& Expo, scheduled for September 29-30 at Chicago's
McCormick Place (booth no. 334).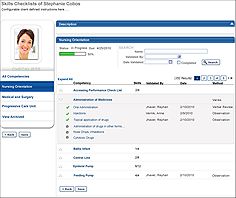 Cornerstone OnDemand's New Observation Checklist
Designed in collaboration with Cornerstone clients, Observation
Checklist takes a fresh approach to evaluating performance by
enabling organisations to assess and record an employee's
skills and competencies while directly observing specific
activities in the field. Automating what was once an
inefficient, paper-based process can also make it easier to track
and validate proficiency in specific skills, as well as gain
insight into competency levels across an organisation.
"Our top priorities are to deliver exceptional patient
care, heighten patient satisfaction, increase patient safety and
comply with standards for accreditation," said Jeanne Bonzon,
Director of Learning and Development for BJC HealthCare,
which has 26,000 employees across 13 hospitals and multiple
community health locations in the greater St. Louis area.
"We plan to integrate Cornerstone's Observation
Checklist module into our training and development process so that
our administrators and managers can easily track and monitor care
delivery across the hospitals and clinics in our network. It
also will help us to further standardise clinical competencies so
that nurses are able to migrate between our various facilities when
needed."
Observation Checklist tools can be used across many industries
when task performance must be observed and documented on the fly
and in the field. This is especially valuable for healthcare
organisations, which are required to observe clinical skills as
nurses are providing care. In a manufacturing setting, it can
help to ensure compliance with critical safety procedures.
Educators can use Observation Checklist to evaluate teacher
performance in the classroom. And retailers
and call centers can use the feature set for ensuring superior
customer service.
"CedarCrestone research shows that companies that automate
performance management processes can reduce operational costs by 20
percent," said Charles Coy, Director of Product Marketing for
Cornerstone OnDemand. "Cornerstone is now among the
only talent management software solutions to automate the
performance and competency observation process, helping users to
reduce tracking and reporting errors and ensure compliance.
When integrated with our learning platform, users also can assign
training to address skill gaps where additional support is
needed."
Recognising that one size does not fit all, Observation
Checklist is flexible to match the specific workflows and
regulatory necessities of organisations across multiple
industries. Organisations using Observation Checklist will
have the ability to:
Ensure that regulatory reporting is accurate and timely.

Use pre-integrated competency models specific to certain
industries.

Specifically define observation ratings and methods.

Identify gaps and areas in which additional training and support
is needed.

Run reports on-demand for access to completion data, upcoming
deadlines, specific competency achievement by roles or units, and
much more.
For more information about Cornerstone OnDemand, visit www.cornerstoneondemand.co.uk.
To read Cornerstone OnDemand's talent management blog, visit
http://www.cornerstoneondemand.co.uk/blog.
To follow Cornerstone OnDemand on Twitter, visit http://twitter.com/cornerstoneinc.
About Cornerstone OnDemand
Cornerstone
OnDemand empowers people around the world with on-demand,
integrated learning and talent management software and services for
connecting, developing and performing in the workplace.
Cornerstone's Software-as-a-Service (SaaS)-based solutions
span the workforce lifecycle, including onboarding, learning,
social networking, compliance, performance, compensation and
succession planning. The company also provides extended
enterprise solutions to help companies better train and collaborate
with customers, vendors and resellers. Available in 16
languages and supported by global, 24×7 customer care, Cornerstone
is used by more than 4 million active subscribers in 141
countries. The company is headquartered in Santa Monica,
California and has international offices in London, Paris, Munich
and Tel Aviv.
###
Cornerstone® and Cornerstone OnDemand® are registered
trademarks of Cornerstone OnDemand Inc.
Media Contact:
Michelle Haworth
Cornerstone OnDemand
Phone: +1 (310) 752-0178

mhaworth@cornerstoneondemand.com
Lena Ahad
Technology PR (for Cornerstone OnDemand)
+44 (0) 7908 725212