The Operating Room (OR) supply chain faces a unique set of challenges that, if not addressed, can drive up costs and can impact patient safety. When clinicians are forced to spend time on manual supply chain tasks, they have less time to care for patients at the bedside.
To better understand inefficiencies within the OR supply chain, Cardinal Health and SERMO polled 305 OR nurses, surgeons and supply chain stakeholders on their firsthand supply chain needs and perceptions.
The Cardinal Health Hospital Supply Chain Survey was fielded November 2 – November 15, 2017, using an online survey methodology. The samples were drawn from SERMO's Online Respondent Panel of Health Care Providers, which includes over 600,000 medical professionals in the United States.
The study included 305 respondents total from healthcare organizations varying in size, specialty, and practice area. Respondents included frontline clinicians (n=128), operating room supply chain decision-makers (n=100), and hospital/supply chain administrators (n=77). All survey data is on file at Cardinal Health.
Once the numbers were crunched, the results were eye-opening.
Clinician Burnout
It's no secret that the OR is one of the most expensive areas of the hospital to run, as well as one of the most stressful. Clinicians, especially surgeons, face high levels of burnout which can lead to turnover — or worse, increased risk of medical errors.
Contributing factors to burnout include time pressure and lack of control over work processes. In fact, when clinicians were asked about the most stressful part of their job, the number one reply (26 percent) was too much paperwork, followed by not having enough time for patients (23 percent).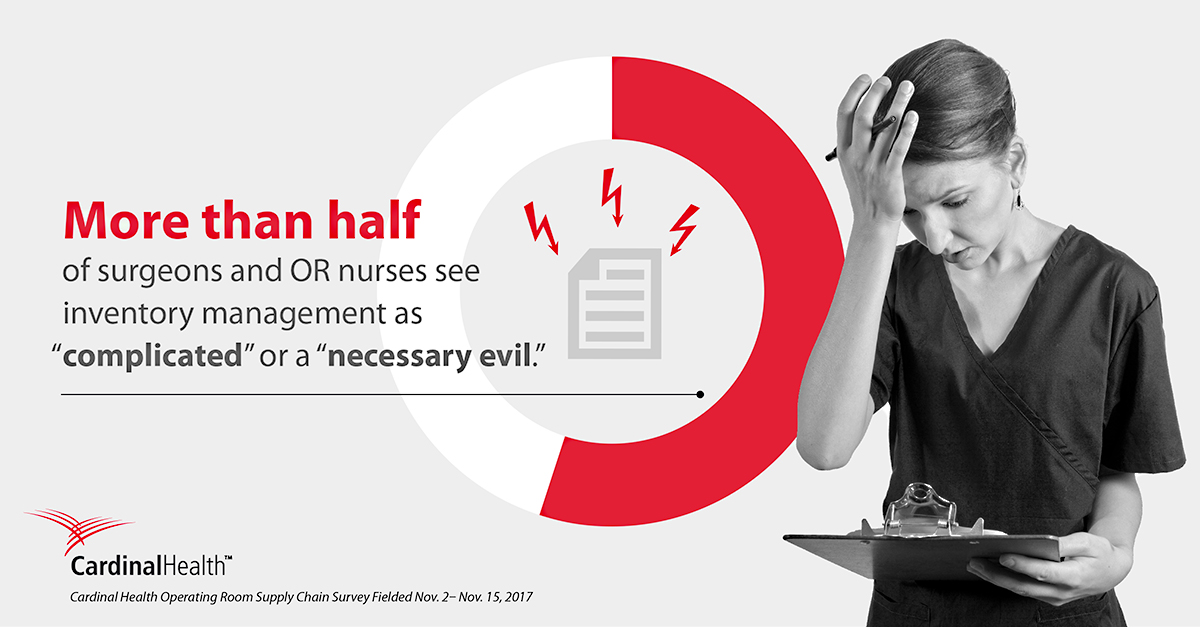 So how does this impact patient care? Clinicians with burnout are more likely to deliver a lower standard of care and have an increased chance of mistakes.
The supply chain is a critical piece of the puzzle; studies have shown that efforts to improve workflow can significantly reduce rates of burnout and support patient safety. It's essential to have systems and processes that put the right supplies in the right hands at the right time to decrease frustration and costly workarounds.
Patient Safety
Inventory management issues only amplify in the OR, which can lead to serious impacts on patient safety. For example, if a product is not available during a procedure, a nurse might run to the supply room which can delay a case, or worse, cancel a case entirely. In fact, nearly three-quarters (73 percent) of OR surgeons and nurses recall a time when a physician didn't have the right product needed for a procedure during the procedure.
More than two-thirds (69 percent) knew of time their organization had to delay a case because the right supplies were not on hand, and 40 percent knew of cancellations due to missing supplies.
The vast number and range of procedures, physician preferences, and sheer breadth of products needed to support those procedures further complicates this process.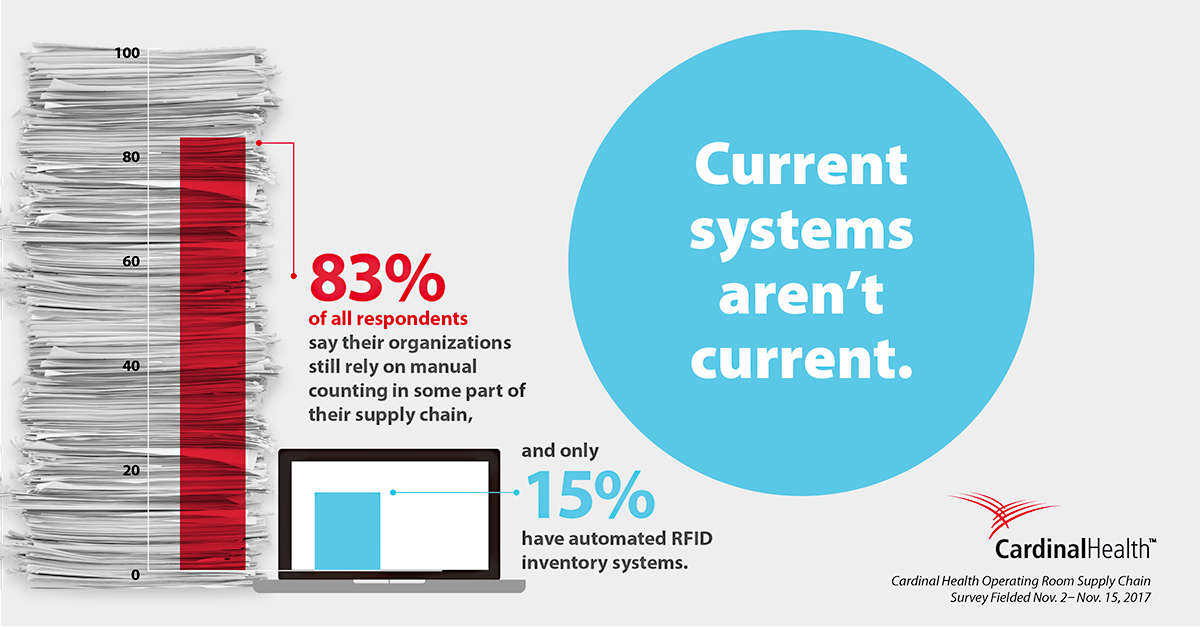 Many hospitals attempt to manage all of this through manual approaches and inefficient workflows. These manual practices are not sufficient to properly monitor supplies and allow for human error. This can impact patient safety, as evidenced by over a quarter (27 percent) of respondents who have seen or heard of an expired product being used on a patient.
Worse, nearly one in four (23 percent) have seen or heard of a patient experiencing an adverse event due to a lack of supplies.
Benefits Of Automation
Respondents recognize important benefits of an automating the supply chain, especially inventory management. These benefits include cost reduction, more time for clinicians to focus on patients, and tools that support better patient outcomes. Most (77 percent) agree that equivalent — or even better — patient care can be maintained while reducing costs.
The efficiency, accuracy, and data insights automated systems provide can transform inventory management to an essential ally, empowering all supply chain stakeholders to reduce costs while giving clinicians time back to focus on patient care.
Lisa Zierten has more than 20 years of experience in both consumer and business-to-business marketing. Additionally, she has worked on efforts for professional and consumer healthcare brands, med/surg disposables targeted to procedural area and materials management leaders, and surgeons.
A version of this story appeared in the July/August 2018 issue of Surgical Products.