For rural residents, traveling to doctor or therapy appointments can be burdensome, not only because of the commute but also due to limitations brought on by an illness or injury.
PhD student Chien-Nan (Shannon) Chen, along with PhD student Zhenhuan Gao and CSL Director Klara Nahrstedt(Computer Science), seeks to overcome these barriers with Cyber-Physiotherapy, a technology that would provide physical therapy care to patients in remote areas where medical resources are scarce. The system would allow patients to undergo injury assessments in their own homes or at a nearby facility.
Cyber-Physiotherapy, or CyPhy, employs 3D immersion technology, which Chen describes as "sort of a 3D version of Skype." Four cameras are set up in a circle, facing inward to capture footage of the patient standing in the middle. Chen noted that current models of long-distance telemedicine use 2D video, but the large body movements necessary for most sessions call for more advanced motion capture technology. With 360 degrees of camera angles, doctors can more clearly demonstrate and analyze movements for patients and hone in on the body parts of interest, such as an injured joint.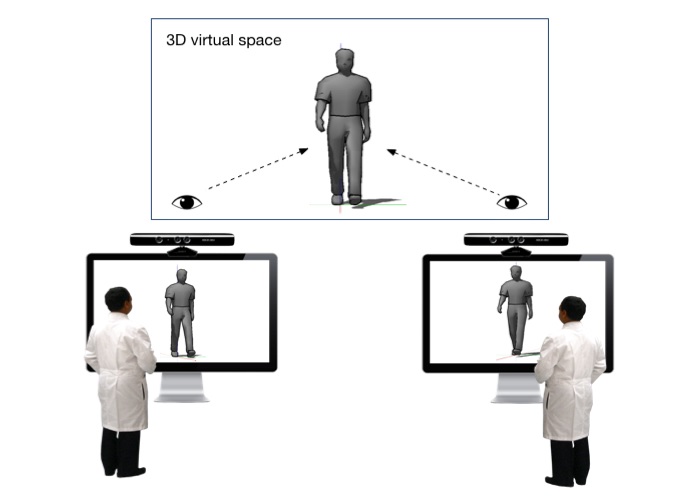 "The first meeting between the doctor and the patient has to happen at the clinic. Some assessment has to be done face-to-face," Chen said. "But after that, the doctor would give the patient a CyPhy kit to help with further treatment."
This kit would include the four cameras, a compression suit (which contains vital sensors), and a tutorial explaining how to assemble the system and use it properly. The patient could easily set up the cameras and don the suit, creating a "lightweight physical therapy studio." He or she would watch a video of exercises and copy them. Then the patient's movements would be recorded and sent to a doctor for viewing.
With no need to commute back to the clinic for a follow-up, users could save time, gas and money.
"Without the system a conventional therapeutic cycle might require about one in-person meeting per week," said Chen. "Perhaps with our system we can cut it down to one meeting per month or less."
The CyPhy system also would benefit doctors and clinics. It could improve the bottom line by automating the process of summarizing the recordings without the assistance of a person manually going through a video frame by frame, thereby reducing labor costs. It could also save physicians time, allowing doctors to see more patients. Filmed sessions could be compacted into concise summaries, in which the doctor can focus on the body areas and movements of chief interest. This would make it easy for doctors to review the sessions later and develop a more streamlined plan for rehabilitation.

For severe injuries and ailments, Chen said that this technology would probably not be the best method for rehabilitation. But individuals with less threatening, more common issues, such as degenerative physical diseases or athletic injuries, would be ideal candidates for use of the system.
Developing CyPhy requires the collaboration of several departments including engineering, computer science, medicine and applied health sciences. The Center for Wounded Veterans in Higher Education, which provides veterans with residential and non-residential support as they pursue education at Illinois, and the Jump Trading Simulation and Education Center in Peoria, Ill., will also participate in research and testing for the project.
Not only would this endeavor impact the medical field but could have applications in many other areas. The 3D immersion model could be used for scene investigation in hazardous environments, making it possible to survey and analyze dangerous locations remotely. Or it could be used in remote lecturing or even gaming.
Chen said that he's been involved with 3D immersion technology for about three years, but started working specifically on CyPhy this year.
The work recently landed Chen a spot as one of the top 10 finalists at the Center for Integration of Medicine and Innovative Technology's 2015 competition. It was also recognized at the ACM Multimedia Conference in 2014 and 2015, and the compression module (which lowers the bandwidth consumption) won the Multimedia Grant Challenge in 2013.