Biosensors, wearables, data & analytics, and security are only a few of the hot topics that will be explored at the upcoming Medical Sensors Design Conference. Held May 8-9 in Newton, Massachusetts. The conference will give designers the chance to learn about the latest advances in sensor technology and its applications including biometric design, clinical trials, wearables, and the impact on improving patient outcomes.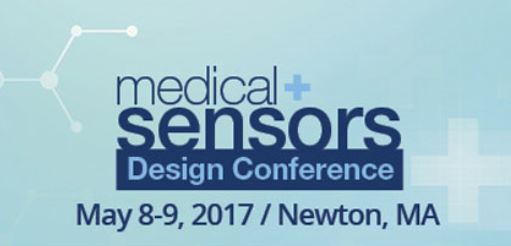 "Sensor technology in the medical field is no longer a futuristic dream, but rather a real-world reality impacting everything from patient care to clinical trials," says Bunny Ellerin, Conference Chair of the event. "This Conference was developed to bring together the industry's foremost experts who have leveraged innovative sensor applications, can share lessons learned, and provide attendees with the insight they need to leverage cutting-edge advances in their own context."
The conference organizer, the Sensors Group, has assembled some of the industry's most forward-thinking experts across research, technology, and medical practice who will present sessions on a wide range of sensor-related topics. The lineup includes:

Dr. Wasim Malik, Assistant Professor and Director for Neuromotor Signal Processing, Harvard Medical School discussing implantable sensors, data analytics and next generation devices;
Dr. Suzanne Steinbaum, Director, Women and Heart Disease, Lenox Hill Hospital, Heart and Vascular Institute addressing medical grade wearables and sharing lessons learned in her cardiac practice;
Abeezer Tapia, Global Head of Business Development for Lexington-based MC10 showcasing how Biosensors can revolutionize clinical trials;
Greg Tracy, CTO of Propeller Health highlighting how his organization designed FDA approved passive sensors to help patients with asthma & COPD;
David Putrino, PhD, Assistant Professor of Rehabilitation Medicine, Icahn School of Medicine at Mount Sinai and Ryan McKindles of MIT Lincoln Laboratory highlighting the impact of biometrics on the human performance industry.
Additional speakers include experts from Coto Technology, Lux Research, Microchip Technology, Northeastern University, Sophos, Texas Instruments, and more discussing additional topics such as wearables, data analytics, and security. In addition to inspiring keynotes, general sessions, and interactive panel discussions, attendees will also meet, learn, and gain inspiration by the top industry innovators at a focused exhibit area and invaluable networking receptions.
You can view the preliminary schedule by clicking on this link, or register to receive digital brochure containing the full line up of speakers by clicking here . Registration for the event is available at medicalsensorsconf.com/register.