Risk and safety are well-understood concepts in the OR and in hospitals more generally. Managing risk and ensuring safety are two of the major ways hospitals protect their human investment (staff) and, equally importantly, their patients. But there is always more that can be done to introduce and extend preventive measures and cut risk even further. In doing so, you can prevent not only injuries and exposure to dangerous pathogens and infection but also reduce and even prevent much of the overlooked significant direct and indirect costs.
The U.S. Centers for Disease Control and Prevention (CDC) estimate that approximately 385,000 sharps and needlestick injuries occur in hospitals in the U.S. each year. There is a significant institutional, practical cost to managing these occupational exposures. Naturally these costs vary based on the type, severity and patient infection status. Yet, when calculating all the various factors, even the least severe of these exposures can add up to significant expenses quickly.
Bigger picture-bottom line
Two recent studies clarify the broader health economic picture; breaking down detailed calculations of costs — bottom line: managing exposure is expensive.
O'Malley et al. examined:
Reporting time
Management and follow-up on exposures
Salaries (including benefits) to injured staff
Costs for lab testing and for post-exposure prophylaxis (PEP) treatment. Costs also included lost wages (for exposed personnel/days off work, wages involved for staff attending to and reporting the exposure)
The study collected data from a convenience sample of four U.S. healthcare facilities: a 600-bed public hospital, a 244-bed Veterans Affairs medical centre, a 437-bed rural tertiary care hospital and a 3,500-bed healthcare system. Data, each dependent on the source patient infectious status, revealed:
Mean overall total cost of exposure management: $1,687

Laboratory costs: between 25-45 percent of total cost
Wage costs: between 33-55 percent of total cost
Postexposure Prophylaxis (PEP) costs: between 5-42 percent of total cost
Actual costs (mean and range figures) from the O'Malley study reflect a wide range, becoming more expensive when the source patient is infected with an infectious disease (see figure 1). The mean cost of managing an exposure to a patient with hepatitis C is $650 and an HIV-infected patient is $2,577.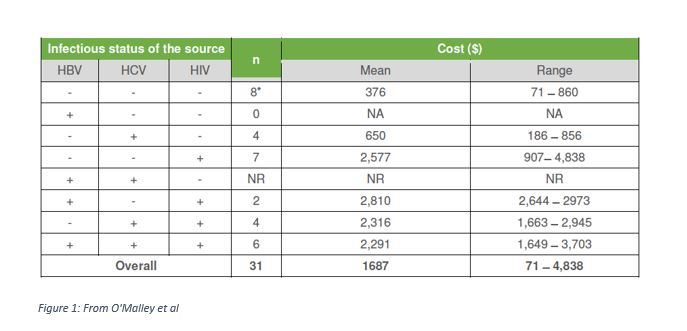 Solano et al undertook a similar cost analysis:
In Europe, costs are also high. This cost analysis, similar to that of O'Malley et al, revealed that costs in Spain vary greatly depending on the infectious status of the source patient but were nevertheless expensive regardless, for example, ranging from €172, if the patient tested negative for hepatitis B and C and HIV, to €1,503 if the patient were positive for hepatitis C and HIV.
Double gloving: Double down on extra protection
Double-gloving is a smart, easy, and effective way to introduce extra protection into standard practice for you and your entire OR team. Clinical data support the practice: implementing a hospital or department-wide double-gloving policy will reduce the total cost of surgical gloves. The cited studies explain the occupational exposure cost breakdown, so you can see how measures, such as double gloving, while slightly more expensive upfront result in a significant cost reduction overall.
Double-gloving is recommended practice as an extra layer of protection in all surgical procedures — not only high-risk cases.Professional organizations, such as the CDC, Association of Perioperative Registered Nurses (AORN), American Academy of Orthopedic Surgeons (AAOS), and the American College of Surgeons (ACS) all recommend double gloving. It has been proven to reduce the risk of spreading blood borne illnesses for both staff and patients. In a study comparing indicator gloves, detection of glove perforation during surgery was 36.8 percent with single gloves and 86.5 percent with the double-gloving system (a two-fold improvement).
There is now an extensive variety of double-gloving solutions available to clinicians, including thinner gloves that provide enhanced tactile sensitivity addressing a common objection to double-gloving. A survey amongst active surgeons reported that adaptation rates to double-gloving were achieved in most cases within two days.
A comprehensive, departmental or hospital-wide double-gloving regimen leads to greater sharps safety in the O.R. for everyone and generates positive health economic outcomes worth investing in. In most cases, adopting a double-gloving protocol will reduce occupational costs of injury reporting, and the minimally increased cost of additional gloves usage is offset by the overall savings.
Judith Seltzer is the Surgical Clinical Director, National Accounts for Mölnlycke Health Care. Her responsibilities include education, program development, and research facilitation regarding latex allergies, glove powder, barrier protection issues, and antiseptic agents. This includes planning, producing, and implementing clinical education for nurses and other health care professionals. Judi serves as an expert clinical specialist for acute and non-acute healthcare facilities, and hospital administrative professionals.
(Main image credit: AP Photo/Matt York, File)