Mellon Medical is unveiling a patented ground breaking global innovation in suturing technology. The company has developed a platform technology for suturing with a single hand. The Switch, a disposable precision-suturing instrument, enables surgeons to suture tubular and layered structures about twice as fast as the conventional technique. The technology is expected to reduce the risk of complications, resulting in improved patient outcome and a reduction of costs. Mellon expects market introduction of the Switch—which has been successfully tested by a large number of experienced vascular surgeons—in 2017, once final development and CE certification process have been completed.
Investors in the technology include Dutch Thuja Capital, PPM Oost, Brabantse Ontwikkelings Maatschappij (Brabant Development Company) and Rijksdienst voor Ondernemend Nederland (Netherlands Enterprise Agency). Besides its 8 cm model, Mellon has started the development of a micro surgery-model of the Switch, designed for a.o. coronary artery and arteriovenous fistula procedures. Mellon is in talks with a number of investment parties for the financing of this model.
Platform Technology
Mellon has developed a platform technology for suturing with one hand. The use of a straight needle in its device allows for suturing of all tubular and layered structures. Although market introduction is focused on vascular surgery, Mellon's technology can be used in a broad range of other disciplines, like general surgery, urology, gynecology and neurosurgery. With the development of devices with varying geometries, needles and sutures and with the development of a micro surgery model, a laparoscopic and a robotic variant, Mellon can deliver the full potential of its platform.
Conventional Suturing Versus the Switch
Classical suturing is a complex process and takes a long time to learn. Focus is on getting control over the needle. Surgeons using conventional suturing techniques perform several coordinated motions using both hands in order to place a single suture. The needle is positioned into the needle holder and passed through the tissue, where the needle is recovered by a forceps. The needle is then repositioned into the needle holder and the process is repeated with every suture. On average, 30 percent of the operation time is spent on suturing.
Mellon has managed to reinvent the technique of suturing and has already received several international innovation awards for this new invention, including one from the vascular surgeon community during this years' Charing Cross International Symposium for Vascular Surgery in London.
The Switch can be operated by lightly pinching the double-action buttons with thumb and index finger of one hand. The other hand is free to present the tissue to be sutured. This technique greatly improves the precision and efficiency of the suturing process, as surgeons no longer need to switch the needle between instruments and focus on getting control over the needle.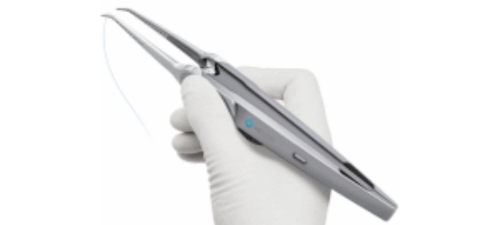 In the Switch, the needle is always secured in one of the two jaws. The predictable linear path followed by the straight needle causes less motion friction, reducing the likelihood of damage to the vessel wall and resulting in a high quality connection.
Mark Vrancken Peeters, vascular surgeon and Mellon's Chief Medical Officer, commenting on the innovation: "By collaborating with medical specialists, industrial designers and ergonomic experts in the development of the Switch, Mellon has been able to reinvent suturing, bringing suturing technology into the 21st century. Our mission is to improve medical procedures by providing the best possible tools. We believe our innovative platform suturing technology will improve patient outcome and reduce overall healthcare costs."
Easy to Adapt
The Switch is intuitive to use and the new method is easy to learn for skilled and newly trained surgeons. The comfort of one handed suturing yields more accurate suturing in less time. Once surgeons are familiar with the device, significant time is saved during a critical phase of the vascular procedure. A pilot test with an early Switch prototype was conducted with seven vascular surgeons, after which it was concluded that performing a vascular anastomosis with the Switch prototype is 44 percent faster than suturing in the classical way. Through a reduction of the arterial cross-clamping time, patient outcome is expected to improve.
Pre-Clinical and Clinical Field Studies
In the process of obtaining CE mark, Mellon will perform tests on pigs, where vascular surgeons will perform vascular anastomoses with the Switch on the groin and carotid arteries. Besides documenting the ease of use and the fail safety, histological studies will have to show that suturing with the Switch is more accurate and less damaging to the vessel wall.
MedCert, Mellon's Notified Body, performed a Clinical Protocol Review on Mellon's Pre-clinical and Clinical Regulatory Strategy. Although it is expected that no clinical trials are needed for obtaining CE mark, Mellon will start performing clinical trials after market introduction, to prove superior accuracy and the timesaving ability of its device. The safety and performance of the Switch® will be established as a result of existing research literature and the simulation of clinical practice through pig animal tests.
CE Mark
Mellon will be the legal manufacturer and will apply for ISO 13485 certification within six months after closing its B-round financing which is currently underway. The Switch and its accessories are considered to be a class III medical device (EU). MedCert (Hamburg, Germany) has been appointed as Notified Body (med-cert.com) The "Preclinical and Clinical Strategy" has been reviewed by the Notified Body: No human studies are expected to be necessary to prove safety of the device in clinical use. The necessary safety tests, which include durability testing, usability testing, bench testing and animal (pig) testing will be performed by a Dutch CRO. Mellon plans to obtain CE mark within a year after closing of the B-round financing.
For FDA, Mellon anticipates a 510(k) pathway, assuming the FDA would accept a rationale that shows the technological characteristics of the Switch are substantially equivalent to previously listed devices for general surgical purposes (Class II). Mellon expects a Premarket Approval (PMA) for the intended use in the central circulatory system (Class III in carotid artery surgery). None of the devices listed by the FDA compete with the Switch suturing device in open vascular surgery. Clinical studies are assumed to be part of the PMA to prove safety and efficacy. Mellon plans for FDA approval within two years after obtaining CE mark.
Building a Strong Portfolio
Mellon will develop different dimensions of the hand-held device, to cover the whole range of vascular surgery as well as procedures in other surgical disciplines. Mellon will start with an 8 cm version for accurate suturing of blood vessels in superficial wounds, and shortly thereafter introduce an 11 cm version for delicate procedures in deep cavities (vessels of about 1 cm in diameter). Next in its product portfolio is the development of a micro-surgery model, capable of suturing smaller vessels (1 to 3 mm in diameter). Thereafter, a laparoscopic model and a reusable (electrical) model with exchangeable jaws will be developed. In parallel, Mellon intends to develop other proprietary needle-suture combinations (e.g. PDS, vicryl) that can be used in the various hand-held devices.
About Mellon
Mellon Medical was founded early 2013 by Lieuwke de Jong and vascular surgeon Mark Vrancken Peeters, with the objective of developing a new medical device that enables more efficient and effective suturing of tubular and layered structures. Having long been aware of the complexity of suturing such tissue through his many years of surgical practice, Vrancken Peeters strongly believed that suturing with one hand could improve the procedure and therefore patient outcome. Driven by this belief and his desire to help more than one patient at a time, he traded his career as a surgeon to achieve this mission as CMO of Mellon.
(Source: B3C newswire)