E Ink, an innovator of electronic ink technology, is trying to revolutionize pharmaceutical labeling by announcing the availability of Faubel-Med Label, a smart label for investigational medical products. The Med Label is bringing new display designs to pharmaceutical packaging with low-voltage film technology.
The Med Label consists of an ePaper display and a booklet label that uses radio-frequency identification (RFID) technology, a combination of cloud computing and data analysis. This technology ensures the pharmaceutical packaging is continuously updated on demand. The bi-stable E Ink display provides expiration updates, even if the product is still sealed. This device will provide pharmaceutical companies the opportunity to relabel medications whenever data changes and mitigate the cost and time of clinical trials.
"The Med Label is a breakthrough product that makes the handling of investigational medicinal products in clinical trial supply chains so much easier," said Konrad Zachman, Head of Production for New Technologies at Faubel, according to Business Wire. "As we see a continuous growth in biologic products that require frequent updates on stability data, the Med Label emerges as a cost-effective, highly-efficient smart label that meets the demands of present and future compliance requirements."
By using real-time reporting, the pharmaceutical industry can provide an innovative solution to a vital part of medication: labeling.
Additionally, the Med Label is battery-free, contains an ePaper display that is always on and has a RFID tag. The low-voltage film uses 5v to drive the voltage rather than the typical 15v for electronic displays. This helps eliminate the power needed for labeling updates and speeds up the process.
The digital display of information does not require any additional reading devices to access information on the display. At any time, an individual can see the status of a package in real time.
Although, this is the first time E Ink smart label has been used in a clinical trial, it is not the first time E Ink has been used in drug packaging and labeling.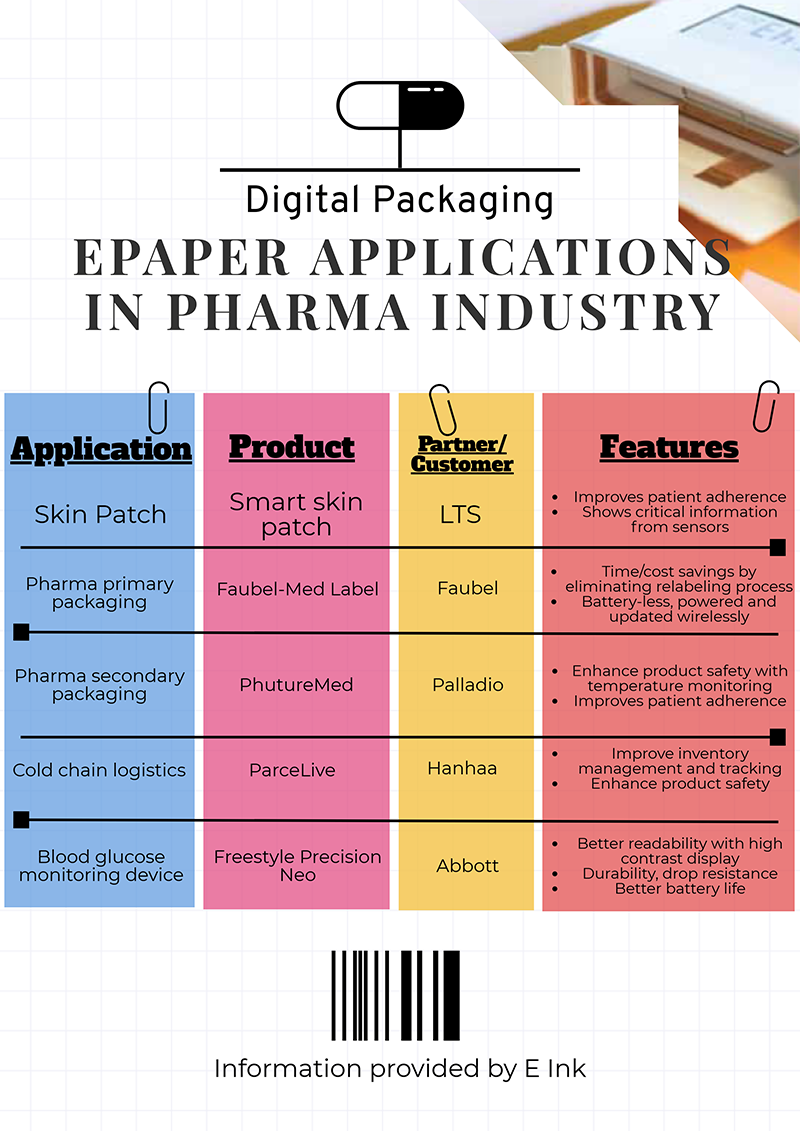 E Ink is currently partnering with Palladio, LS and Faubel. They are optimistic to continue integrating their technology into the pharma and healthcare industry. In the future, they hope to expand the ePaper application to point of care medical devices, biological products and more.
"The potential to enhance and simplify clinical trials is endless," said FY Gan, Executive Vice President of Sales Center at E Ink. "We're excited to collaborate with industry leaders like Faubel to provide system integration capability for not only the pharmaceutical industry in a total solution, but a wide range of smart packaging applications that deliver the best customer experience of using e-paper for digital transformation,"