Edwards Lifesciences Corporation has received FDA clearance for its HemoSphere advanced monitoring platform. This technology provides clinicians with exceptional clarity on a patient's hemodynamics, or the factors that manage blood flow, to help them make proactive, timely clinical decisions. It's also a scalable platform that can be tailored to meet the needs of each patient and clinician.
"The HemoSphere advanced monitor enables simplified visual clinical support, which is particularly important in the care of our most complex, critically ill patients," says Davinder Ramsingh, MD, director of Clinical Research and Perioperative Ultrasound and associate professor, Department of Anesthesiology, Loma Linda University Medical Center. "Clinicians can choose the clinical support screens that best suit their needs and monitor the pressures and blood flow of the right heart as conditions change, informing potentially life-saving decisions on behalf of their patients."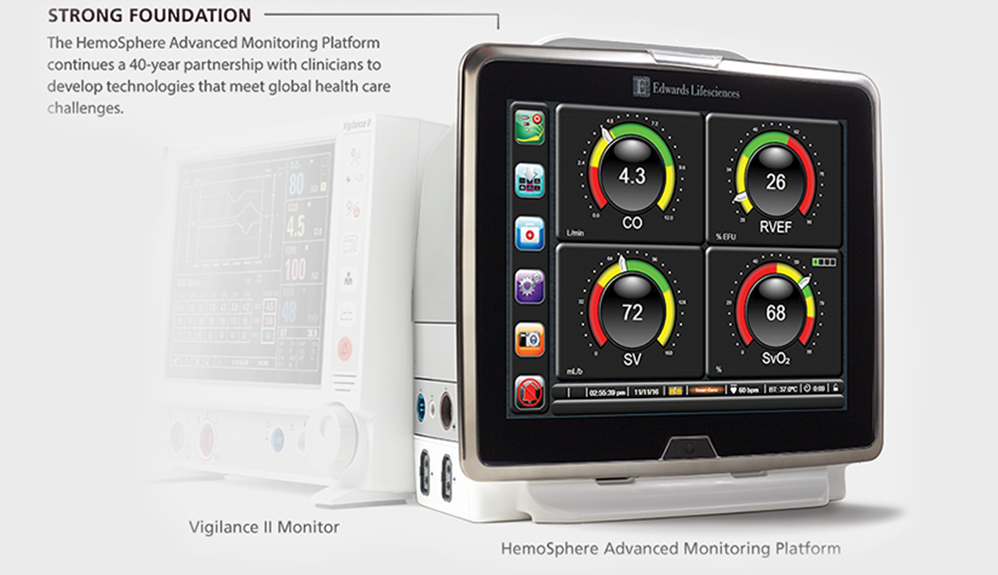 Representing the next generation of hemodynamic monitoring, the HemoSphere advanced monitor is wireless-enabled and allows clinicians to collect a patient's hemodynamic data, which they can evaluate to improve patient care. The platform incorporates high-quality, visual clinical support screens and an intuitive touchscreen, and clinical teams can adapt the system to meet the needs of their care environment. The HemoSphere advanced monitor is currently compatible with the Edwards Swan-Ganz pulmonary artery catheter and Oximetry catheters.
"The HemoSphere advanced monitor builds on Edwards' more than 50 years of experience in providing clinicians with technology and education to help improve patient care and lays the foundation for future advancements in hemodynamic monitoring," says Catherine M. Szyman, Edwards' corporate vice president, critical care.
Hemodynamic monitoring is the measurement of blood circulation and cardiac function that allows clinicians to evaluate whether enough oxygen is being delivered to a patient's organs and tissues. Healthcare providers use this information to detect changes or problems in a patient's health, which allows for more informed, immediate treatment decisions.
The HemoSphere advanced monitor is also approved for commercial use in Europe, Japan, Australia and New Zealand.