The Excellence in Surgical Products (ESP) Award winners were announced in the November/December 2015 issue of Surgical Products. "Our readers are surgical industry experts who pride themselves on being educated professionals on the cusp of innovation," said Editor Rebecca Rudolph. "That is reflected in all the Excellence in Surgical Products awards we publish, and certainly held true this year as many cutting edge and innovative technologies were recognized."
Winners in the OR visualization category included:
First Place: Stryker's Clarity Video Enhancer

Originally designed for the U.S. Department of Defense, the Clarity Video Enhancement System was utilized to increase video surveillance quality when compromised by obstructed ground and areal environments. Realizing the distinct benefits of the System from visualization standpoint, the technology was then applied to medicine. The high-tech algorithm-based technology has now been condensed to one, slim console to support seamless integration with your Operating Room. Clarity addresses and minimizes key obstructions that plague many endoscopic surgical procedures, such as plume, fog, condensation, and debris, while visually enhancing tissues and intra-body structures of interest for better discernment of possible abnormalities and surgical guidance during ablation and resection. Clarity is equipped with three unique algorithms for clarifying, sharpening, and enhancing, each providing distinct advantages to optimize enhancement and ensure patient safety. Surgeons have the ability to utilize the functionalities of this unique system over surgical footage both intra-operatively and post-operatively, making it a versatile and autonomous tool to any surgical environment.
For more information, visit: www.stryker.com
Second Place: Black Diamond Video's Gesture Control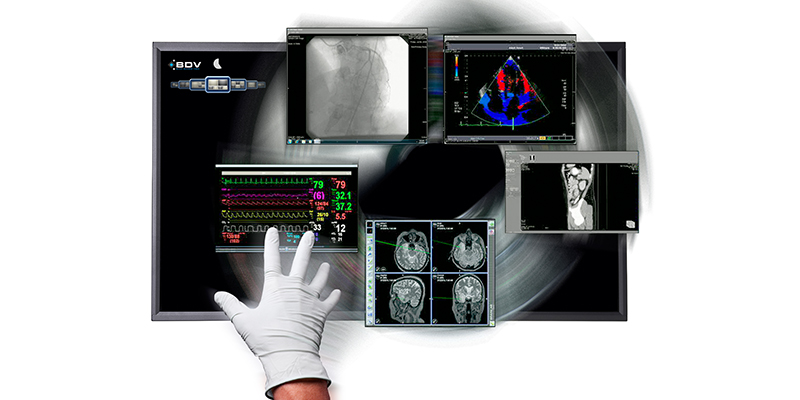 Hybrid ORs require intuitive control of complex OR technologies to maximize procedural efficiency and patient safety. Black Diamond Video has developed an innovative solution for controlling video within the hybrid OR: BDV Gesture Control, a complement to BDV's Integrated Digital Surgical Suite solution.
With BDV Gesture Control, a clinician simply waves his or her hand to select the number and arrangement of video sources shown on the 8MP display mounted in the OR. Clinicians using BDV Gesture Control are able to make these changes easily from bedside, rather than pausing to request these changes from the circulating team. BDV Gesture Control helps the surgical staff's focus to remain on the patient, supporting efficient procedures and positive surgical outcomes.
For more information, visit: blackdiamondvideo.com
Third Place: NDS Surgical Imaging's Radiance Ultra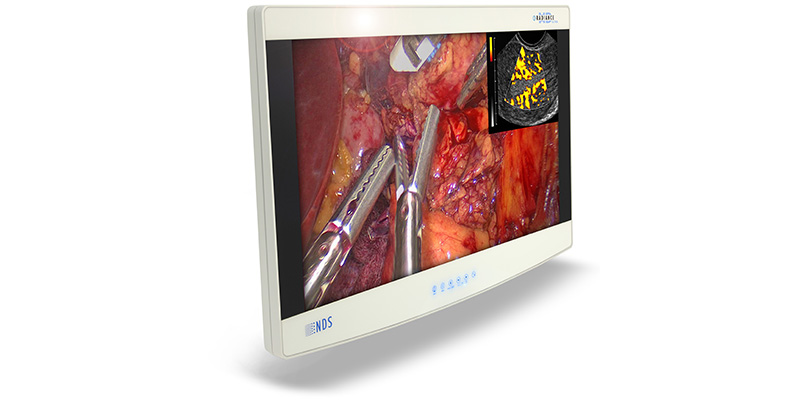 The new Radiance® Ultra 27-inch surgical display from NDS is the first to incorporate Corning® Gorilla® Glass for added durability. Offering excellent scratch and impact resistance, the edge-to-edge glass front panel is also easy to clean and disinfect, enabling faster OR turnaround.
Featuring the brightest LED backlight in its class,* the Radiance Ultra is designed to overcome glare in high ambient light environments, allowing surgeons to more easily visualize recessed anatomy.
Proprietary Medi-Match™ color calibration technology, in combination with NDS's Intelli-guard™ backlight stabilization system, gives clinicians added confidence that the color of tissue and other anatomy is rendered accurately and consistently from one display to the next over years of operation. The 27-inch Radiance Ultra has a front liquid Ingress Protection rating of IPX6, the industry's highest.
For more information, visit: www.ndssi.com
*The highest output luminance at 6500°K color temperature, 900 cd/m2 (typical)