Buyouts like Medtronic's (NYSE:MDT) $1.7 billion acquisition of Mazor Robotics (NSDQ:MZOR) dominated the headlines in 2018, but industry veteran Shayan Bhattacharyya found himself intrigued by the smaller deals that didn't make the press.
"The things that keep me interested are the deals that are the tuck-in, bolt-on acquisitions," Bhattacharyya said at DeviceTalks West in Costa Mesa, Calif., last month. (Bhattacharyya was part of a panel of experts discussing the state of M&A in medtech – and the forces driving startups to seek an exit.)
"The classic medtech model has been to go into a new therapeutic area," he added. "But now we're seeing complementary plays. Now that you have the product, how can you help a hospital or a practice manage patient flow better? I've seen a number of those smaller plays and that's not to be ignored."
Get the full story at our sister site, MassDevice.
Engineering Better Devices at DeviceTalks Minnesota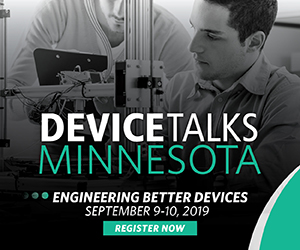 DeviceTalks Minnesota's engineering track is designed to provide attendees with with actionable lessons in a peer-to-peer format on topics such as:
Human factors engineering
Patient-centric device development
R&D trends
Manufacturing and scalability
Navigating the product development process from start to finish
"How We Built This" panels with top medical device groups
Join industry leaders and medical device professionals at the most awaited medtech conference of the year, DeviceTalks Minnesota.

Use code DT15 to save 15%!

REGISTER NOW