A collaborative effort between the University of Maryland Medical Center and Harpoon Medical of Baltimore has yielded a device and procedure intended to transform the the treatment protocol for a serious cardiovascular disease from open heart surgery to a far less invasive approach. Among the innovations that come with the procedure built around the Harpoon TSD-5 is the ability to perform the surgery without stopping the heart's beating.
The Harpoon TSD-5 is designed to provide a minimally invasive surgical solution for degenerative mitral regurgitation (MR), which the University of Maryland Medical Center notes is the most common valvular disorder in the heart. Rather than opening the chest, surgery utilizing the Harpoon device enters the heart through a mini-thoracotomy on the left side of the torso, right below the breast.
Once the surgeon has access, an introducer valve is entered into the incision and through to the left ventricle. That provides a pathway for the device. Using echocardiographic imaging, the surgeon brings the tip of the device to the mitral leaflets, where it stabilizes the flaps and anchors artificial cords that will do the work of the ailing natural cords.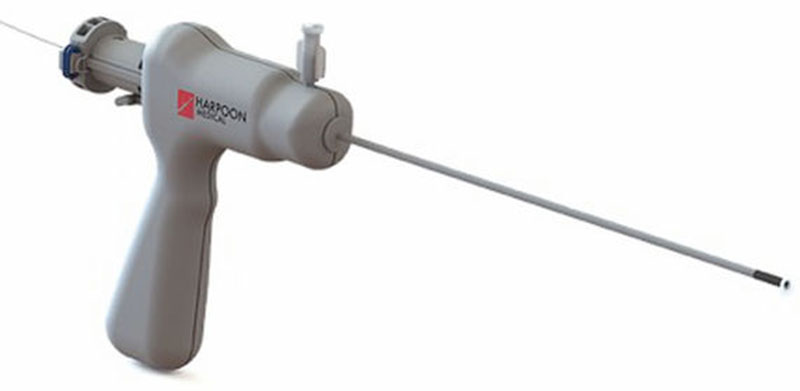 The fact that there's no bypassing of the heart's normal functioning while the cords are put in place is especially valuable, according to James S. Gammie, MD, the chief of cardiac surgery at the University of Maryland School of Medicine and a chief investigator on the device. In a press release, he says, "The heart's fully loaded and beating and we can just adjust the length of the cords to optimize the result, and only when we're really happy do we tie it off."
A major benefit for the patient is a quicker recovery time. Rather than the weeks of focused follow-up care mandated by open heart surgery, those undergoing the procedure with the method afforded by the Harpoon TSD-5 could potentially be discharged from the hospital one day later.
Results of the first safety study of the device were recently published in Circulation, a journal published by the American Heart Association. The study involved a total of 11 patients who underwent the procedure at two facilities in Poland. Researchers reported a 100% procedural success rate with stable results after 30 days.
While promising, the device has more tests to clear before it's a widely available option in surgical suites. By then, however, researchers hope its applicability can be expanded to include bileaflet prolapse and complex mitral degenerative pathology.