Hologic  (NSDQ:HOLX) said last week that it has acquired approximately 46% of SuperSonic Imagine (EPA:SSI) for $42 million in its first step toward buying the French ultrasound device maker.
SuperSonic Imagine's main shareholders — Bpifrance, Andera Partners, Auriga Partners, Mérieux Participations and CDC PME Croissance — sold all 10.8 million of their shares to Marlborough, Mass.-based Hologic at a price of €1.50  or $1.68 per share on Friday.
Get the full story on our sister site, MassDevice.
Engineering Better Devices at DeviceTalks Minnesota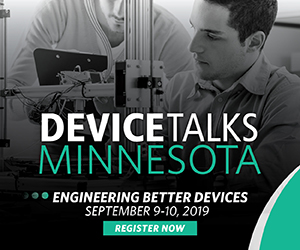 DeviceTalks Minnesota's engineering track is designed to provide attendees with with actionable lessons in a peer-to-peer format on topics such as:
Human factors engineering
Patient-centric device development
R&D trends
Manufacturing and scalability
Navigating the product development process from start to finish
"How We Built This" panels with top medical device groups
Join industry leaders and medical device professionals at the most awaited medtech conference of the year, DeviceTalks Minnesota.

Use code DT15 to save 15%!

REGISTER NOW