Arizona Oncology has developed a new tool to protect prostate cancer patients from the negative effects of radiation therapy. SpaceOAR hydrogel is the first FDA-cleared spacing device to protect the rectum in men undergoing radiation therapy for prostate cancer.
SpaceOAR hydrogel is a temporary injectable gel that protects the rectum in men undergoing radiation therapy for prostate cancer, decreasing the likelihood of side effects. It is intended to temporarily position the anterior rectal wall away from the prostate during radiotherapy for prostate cancer, creating space to protect the rectum from radiation exposure.
"Creating space between the prostate and rectum is an important advance that significantly diminishes the rectal dose during radiation treatments, and thereby reduces the likelihood of side effects," said Curtis Mack, MD, radiation oncologist with Arizona Oncology.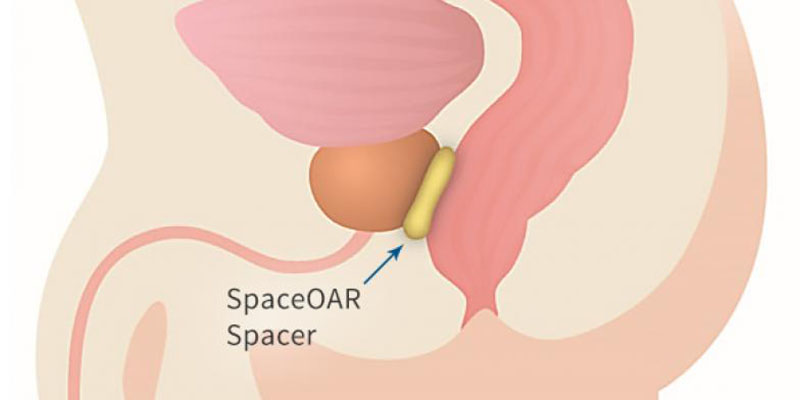 Because of the close proximity of the prostate to the rectum, prostate radiation therapy always results in some radiation to the rectum causing side effects in some patients. The SpaceOAR System creates space and pushes the rectum away from the prostate and the high dose area. It is placed through a small needle, as a liquid, but quickly solidifies into a soft gel that expands the space between the prostate and rectum. The hydrogel spacer maintains this space fully for about three months by which time the radiation therapy is complete, then liquefies and is absorbed and cleared from the body by 6 months leaving no trace behind.
"I have found the space that is created to be between 7 and 12 mm, which is significant when you consider the normal 3 mm margin," Dr. Mack said.
FDA clearance was granted following completion of the SpaceOAR System prospective, multicenter, randomized clinical trial. SpaceOAR patients experienced a significant reduction in rectal radiation dose and severity of late rectal toxicity when compared to control patients who did not receive SpaceOAR hydrogel. The full pivotal clinical trial results have been published in the peer-reviewed Red Journal.