Masimo (NSDQ:MASI) stock is up about 5% in value today after the Irvine, Calif.– based maker of noninvasive patient monitoring technologies and sensors reported fourth-quarter results that beat analyst expectations.
Masimo reported yesterday evening that it earned $46.9 million, or 83 cents per share, off $223.1 million in revenue for the quarter ended Dec. 29. Masimo lost $7.7 million, or 15 cents per share, off $207.9 million in revenue for the same quarter a year ago.
Analysts polled by Yahoo! Finance predicted fourth-quarter earnings of 73 cents per share off $219.96 million in revenue.
Get the full story on our sister site MassDevice.
Engineering Better Devices at DeviceTalks Minnesota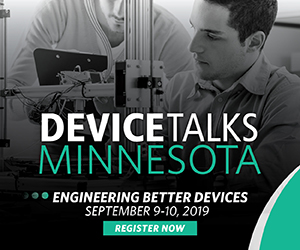 DeviceTalks Minnesota's engineering track is designed to provide attendees with with actionable lessons in a peer-to-peer format on topics such as:
Human factors engineering
Patient-centric device development
R&D trends
Manufacturing and scalability
Navigating the product development process from start to finish
"How We Built This" panels with top medical device groups
Join industry leaders and medical device professionals at the most awaited medtech conference of the year, DeviceTalks Minnesota.

Use code DT15 to save 15%!

REGISTER NOW