The job of an occupational therapist requires creativity, ingenuity and adaptability. We're constantly searching for ways to teach patients how to best adapt and maximize function when faced with a physical or cognitive challenge. We analyze daily living activities, like taking a shower or cooking a meal, to ensure therapy approaches support those activities so patients can live as independently as possible with the best quality possible.
One of the most common challenges most individuals will face after a hospital stay or therapy visit is getting in and out of a vehicle. It's such a simple activity, but an important experience that can set the tone for a patient's outlook as they enter the next step in their recovery. Yet, it's not been given the attention it deserves.
In the first half of 2010, Virginia Mason Medical Center in Seattle performed 500 total hip or knee replacements, and 379 of those patients were discharged to home by car. Not one of these patients was able to realistically practice the skill of getting in or out of a car before being discharged. Additionally, in a hospital setting, it is the nurses or hospital transporters who help patients transfer into cars. So while they perform this duty with the utmost care, they are not physical or occupational therapists with specialized training who are best qualified to teach and modify this task in real time. That's when the lightbulb went on, and my peers and I identified an opportunity to improve safety and quality of patient care. We started the process of creating a therapy "car" that would better prepare patients for one of their most important recovery milestones.
Our hospital's Physical Medicine and Rehabilitation (PMR) team owned a mockup retail car for training, but it was outdated, inconveniently located and functionally limited. We decided to innovate our own solution as part of a "moonshine" project, building a product that would meet all patient, team member and environmental needs. To get there, we followed a sequence of moonshine steps:
Understand functional and flow needs
Design ideas through sketching or any other creative tool available
Build small tabletop prototypes
Test and simulate
Modify and change as needed using more simulation
To get started, we participated in a two-day kaizen event (improvement workshop) in July 2011 supported by hospital leadership. Our team of five included a physical therapist, occupational therapist, patient care technician, hospital transporter and a specialist from Virginia Mason's Kaizen Promotion Office. Team members from these various disciplines were specifically chosen to ensure we had perspective on every aspect of the patient discharge experience. Our goal was to create something that would allow 100 percent of patients to be able to practice the car transfer prior to discharge.
On day one, our first hurdle was to get the team past any ideas or expectations of what a car should include. That included things like a door that would open and close, a seat that would move, a full front seat or the need for a dashboard. Next, we asked ourselves to identify what aspects the car would need to be functional for a patient and team member. These became the core functional attributes that guided us through the design, criteria we knew must be included for this to be a success:
Easy setup – under one minute
Easy adjustability – less than three pieces to change
Transportable – weighs less than 50 pounds
Compact – fit into a 53-inch space
Few moving parts – less than 10 moving pieces
Easy cleanup – less than one minute
Safe and stable – weight rate to 350 pounds
Adjustable legroom – sedan versus SUV
Adjustable seat back angle – 45 to 70 degrees
Adjustable ground clearance – 5.5 to 8 inches
Roof and door line – must support full weight of user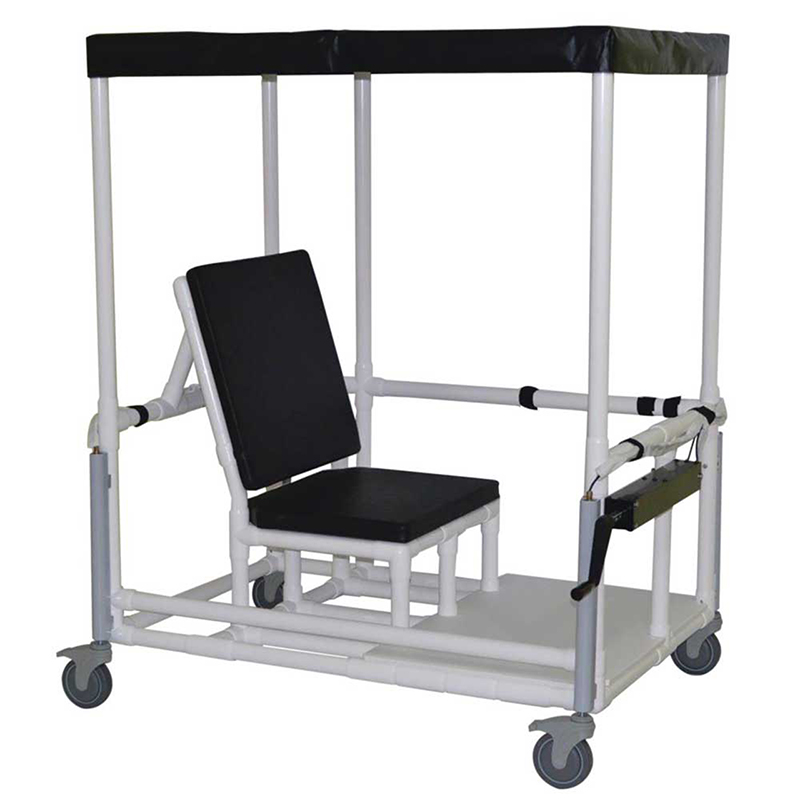 Abandoning any preconceived expectations of what makes up a car, we broke into teams and set out to develop tabletop models addressing the needs we identified. We were able to use any medium, but were required by our team leader to explain the reasons behind each design element chosen.
We were lucky to have a Creform representative with an engineering background available to our team on the first day. Creform is a strong, lightweight construction system that uses metal tubing and connectors in a variety of configurations. Using a visual representation of the space where the chair would be used, our mockup and list of functional attributes, he was able to develop a schematic that matched everything we had envisioned.
On day two, our team assembled the prototype but still had several hurdles to overcome. First, we needed pneumatic lifts that were easy to maneuver so the height of the seat could be adjusted to match the height of the car transporting the patient home. We also needed a seat approved by infection control and, most importantly, we needed the PMR team to thoroughly test the prototype and note necessary improvements and changes. The PMR team's initial suggestions were implemented on the final day of the kaizen event. We then took the prototype to Virginia Mason's orthopedic unit for additional trials with therapy team members.
Our five-person team monitored the trials over the next several months. Along the way, we determined a need to reinforce the roof line to make it sturdier while getting in and out of the car. The test team also discovered a need for an armrest on the left side of the seat for patients to use when pulling themselves into the car, or to push off while getting out. We also installed locally made, custom cushions that met infection control guidelines.
After five months of testing, the testable prototype was completed and ready for patient trials on Dec. 23, 2011. Once approved for patient care, standard work was created for use of the car and attached to the prototype. Although it is transportable, our team chose to keep it in one location.
Patients have been using the prototype since early January 2012, and we're excited to say we met our goal of having 100 percent of our patients access and use the car. We're also excited to hear how much therapists enjoy using the car as part of their treatment plan.
Projects like these require constant fine-tuning, so we continue to solicit feedback from patients. We have added typical car heights so we can now adjust to the appropriate seat height for each individual patient's car.
Even more exciting, we were able to license the therapy car for commercial production and distribution so patients around the world now have access. Additionally, our hospital also benefited by integrating lessons learned into its instructions and materials management process.
This project demonstrated the true definition of moonshine – using innovation and creativity to fill a need. We are excited to see how its impact has expanded beyond that one need. It will have a long-term benefit for our hospital and an even larger benefit on the patient population.
Click here for more information on the therapy car, or visit www.VirginiaMason.org.