There are many extra roles that skilled surgeons can take on, but few are quite as unique as Honorary Police Surgeon for the New York City Police Department. The handful of healthcare practitioners who hold that title are the first called upon when a member of the force or one of their family members arrive at an area hospital with a serious injury.
The most recent addition to the ranks of NYPD Honorary Surgeon is Harrison Mu, MD, the Director of Neurosurgery at Jamaica Hospital Medical Center, in Queens. To find out more, Surgical Products interviewed Mu via email.
Can you tell the Surgical Products readership about the NYPD honorary police surgeon role?
An honorary police surgeon is a physician who acts in a consultant capacity to the New York City Police Department. Appointment is by the NYPD Police Commissioner. He or she provides medical consultation, services, and expertise to those sick and injured members of the NYPD and their families.
Logistically, how does it work when you or one of the other honorary police surgeons is called upon by a member of the NYPD?
Service may be provided either in the office setting or hospital setting. In the office setting, the NYPD member and family would schedule and be seen expeditiously. When it is an emergency, this is often in the hospital setting. The NYPD supervising chief surgeon's office often calls for consultation in the area of expertise, either for direct care if the hospital is one at which the honorary surgeon is at or as second opinion if it is at another institution. Furthermore, assistance may also be asked in the form of expediting care of the NYPD member or family and ensuring the highest quality of care.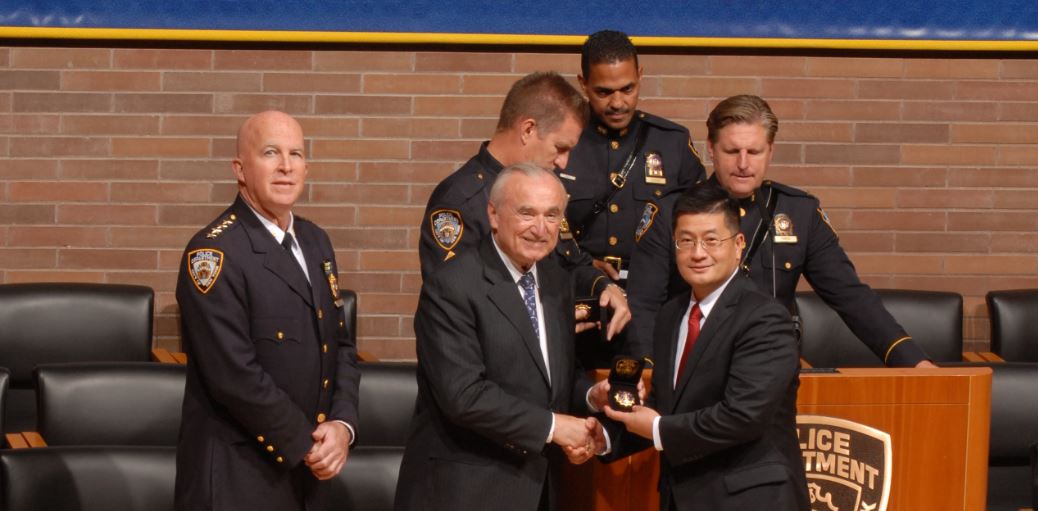 Do you need to be prepared for a different level of physical trauma when the call comes because an officer was injured in the line of duty?
I need to be available at any given time 24/7. I am fortunate to be Director of Neurosurgery in a Level I Trauma hospital which is capable of handling the worst emergencies.
Do you see the Honorary Police Surgeon role as one that serves the larger community beyond the NYPD officers?
In addition to my professional qualifications and expertise, my history of taking care of many NYPD members was taken into consideration. It is an affirmation that I and my hospitals are capable of providing the highest quality of care. The surrounding communities benefit from this care.
Anything else you'd like to add?
This honor has given me the chance to give back to the community of people who take care and protect us everyday. I take this responsibility seriously.