America's growing struggle with the opioid epidemic was elevated this past year, as national headlines documented how this non-discriminatory condition can affect anyone, anywhere. According to the Centers for Disease Control and Prevention (CDC), 78 people die every day in the U.S. from an opioid overdose.
Unfortunately, a recent survey found that 1 in 10 surgical patients prescribed an opioid reported becoming addicted to or dependent on the drug. With an estimated 70 million patients in the U.S. undergoing surgery and receiving an opioid annually, these findings suggest as many as 7 million patients could develop an opioid addiction or dependency this year.
However, surgery doesn't have to be an inadvertent gateway to opioid abuse or misuse. Surgeons can play a significant role in stopping the opioid epidemic by working with patients, having open lines of communication, and being receptive to new innovations that can help improve patient care.
Educating and Empowering Patients
According to a national survey, 79 percent of patients admit they would prefer a non-opioid pain management option to control their postsurgical pain. Based on this insight, it is important surgeons make every effort to offer their patients these desired alternatives.
To help combat the societal burden in my practice, I've implemented an opioid-sparing enhanced recovery protocol for managing postsurgical pain which has not only decreased my total knee replacement patients' pain scores, opioid use, and length of hospital stay, but has also improved their overall satisfaction with the postsurgical recovery experience.
The preoperative protocol avoids opioids entirely and relies on the synergistic effect of non-opioid medications, while the intraoperative protocol involves a periarticular injection of EXPAREL (bupivacaine liposome injectable suspension), saline, and bupivacaine. Bupivacaine provides immediate postoperative pain relief and EXPAREL provides continued relief for the first few days due to its advantageous pharmacokinetic profile of release of bupivacaine form the liposomes over time.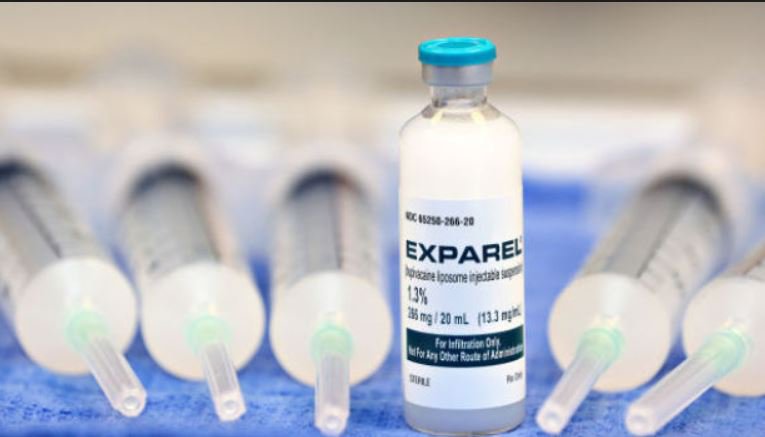 The new approach we've taken has the potential to reduce, or in some cases completely eliminate, opioid requirements post-surgery.
It is important that patients are empowered and educated about the options available to manage postsurgical pain, especially since less than a quarter of patients from the same national survey reported discussing non-opioid options with their clinicians.
Surgeons can help foster that dialogue by promoting helpful resources, such as PlanAgainstPain.com, which provides a customizable discussion guide to ensure patients ask their surgeons the right questions prior to surgery.
Tailoring Techniques for Surgeons
Surgeons can take an active role in selecting and implementing new medical innovations that can continuously optimize their standard of care and, as a result, allow patients to familiarize themselves with new pain management options. While healthcare education for the medical community can be a challenge due to the increase in surgical and nonsurgical interventions, it is important that medical teams continue to find ways to evolve their practice and protocols to ensure a meaningful impact on patient care.
Virtual reality training is one innovative solution for healthcare providers to consider, as it provides a risk-free environment for surgeons to hone their skills.
Recently, the first virtual reality simulation for analgesic infiltration in total knee arthroplasty (TKA) was debuted at the 2016 American Association of Hip and Knee Surgeons (AAHKS) conference. This immersive, hands-on training experience provided an opportunity for surgeons to gain experience utilizing the recommended technique for administering EXPAREL as a component of a periarticular injection.
Utilizing a handheld haptic device, surgeons can experience sensory feedback while performing the injection, adding realism to this TKA procedure. In fact, the haptic technology allows the user to actually "feel" the injection depth and the resistance while injecting the various tissues in a knee replacement model.
Following the virtual tutorial, surgeons receive immediate feedback on their technique. These real-time insights help surgeons understand how meticulous infiltration provides patients with prolonged pain relief.
Another convenient way for surgeons to enhance their surgical techniques is, surprisingly, through gaming, as there are now convenient mobile applications that surgeons can access right from their smartphone or tablet. For example, surgeons who couldn't attend AAHKS can practice EXPAREL infiltration techniques on TKA via the Touch Surgery app. By having a training app available on-demand, surgeons can create replicable outcomes that will ultimately improve patient care.
It is imperative that healthcare professionals continue to evolve their practice to include the latest innovations and non-opioid options. This approach, coupled with educated patients, is a huge step towards providing optimal patient care and reducing our reliance—and in many cases overreliance—on opioids after surgery.
Stan Dysart, MD, is a practicing orthopedic surgeon at Wellstar Kennestone and Pinnacle Orthopaedics in Marietta, GA.