Relievant Medsystems said it has halted enrollment in a clinical trial of its Intracept lower-back pain device due to the device's superiority over non-surgical management.
The Level I Intracept study found a "highly significant reduction" in the Oswestry Disability Index (ODI) score in patients treated with the Intracept procedure over patients in the non-surgical management arm. The trial's independent data management committee recommended that investigators stop enrollment and offer Intracept treatment to control-arm patients, according to the Minneapolis, Minn.-based company.
Get the full story on our sister site, MassDevice.
Engineering Better Devices at DeviceTalks Minnesota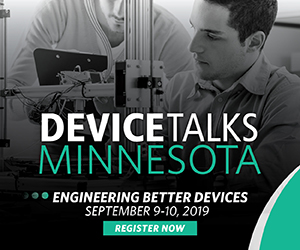 DeviceTalks Minnesota's engineering track is designed to provide attendees with with actionable lessons in a peer-to-peer format on topics such as:
Human factors engineering
Patient-centric device development
R&D trends
Manufacturing and scalability
Navigating the product development process from start to finish
"How We Built This" panels with top medical device groups
Join industry leaders and medical device professionals at the most awaited medtech conference of the year, DeviceTalks Minnesota.

Use code DT15 to save 15%!

REGISTER NOW