The operating room is first and foremost a place of healing, doctors and surgical staff bringing a patient through a trying medical challenge. It's also a place of teaching and learning, an educational process that has been transformed over the years by rapidly advancing video technologies.
Video opens up a whole new array of educational possibilities, especially when combined with the vast reach of the internet to facilitate distance learning. Too often, though, the tools that provide OR access to a variety of teachers and students are an afterthought, which risks compromising the care being delivered.
That's the dilemma the Florida Hospital Nicholson Center addresses with the B-Hive, a mobile broadcast hardware tool that uses video conferencing technologies to provide a new level of ease for advanced surgical training on a mass scale.
To learn more, Surgical Products interviewed Steven Thekan, digital services supervisor at the Nicholson Center and co-creator of the B-Hive.
What are some of the key features of the B-Hive?
The B-Hive is the most adaptable mobile broadcast hardware that accepts almost any video feed that is common in an OR, including medical robots, C-Arms, ultrasound imaging devices, and laparoscopic cameras.
A remote video engineer then switches and controls all of the videos to provide a high-quality production broadcast, which allows for a unique and customized learning experience. The end viewer is able to see the broadcast on any desktop, tablet or smartphone.
What specific needs does the B-Hive address?
After 10 years of broadcasting and recording surgeries, our team has encountered barriers such as cost, OR space, and OR distractions, so we sought to solve these needs.
When broadcasting or recording in an active OR, we would have to bring in a camera operator, video engineer, audio engineer, director, and all of the professional AV equipment. These resources are not only costly, but also interrupt the normal flow and set up of the ORs.
With the B-Hive, we send one low-footprint device and have all the engineering and camera work happen remotely, so the OR team can focus at the task at hand.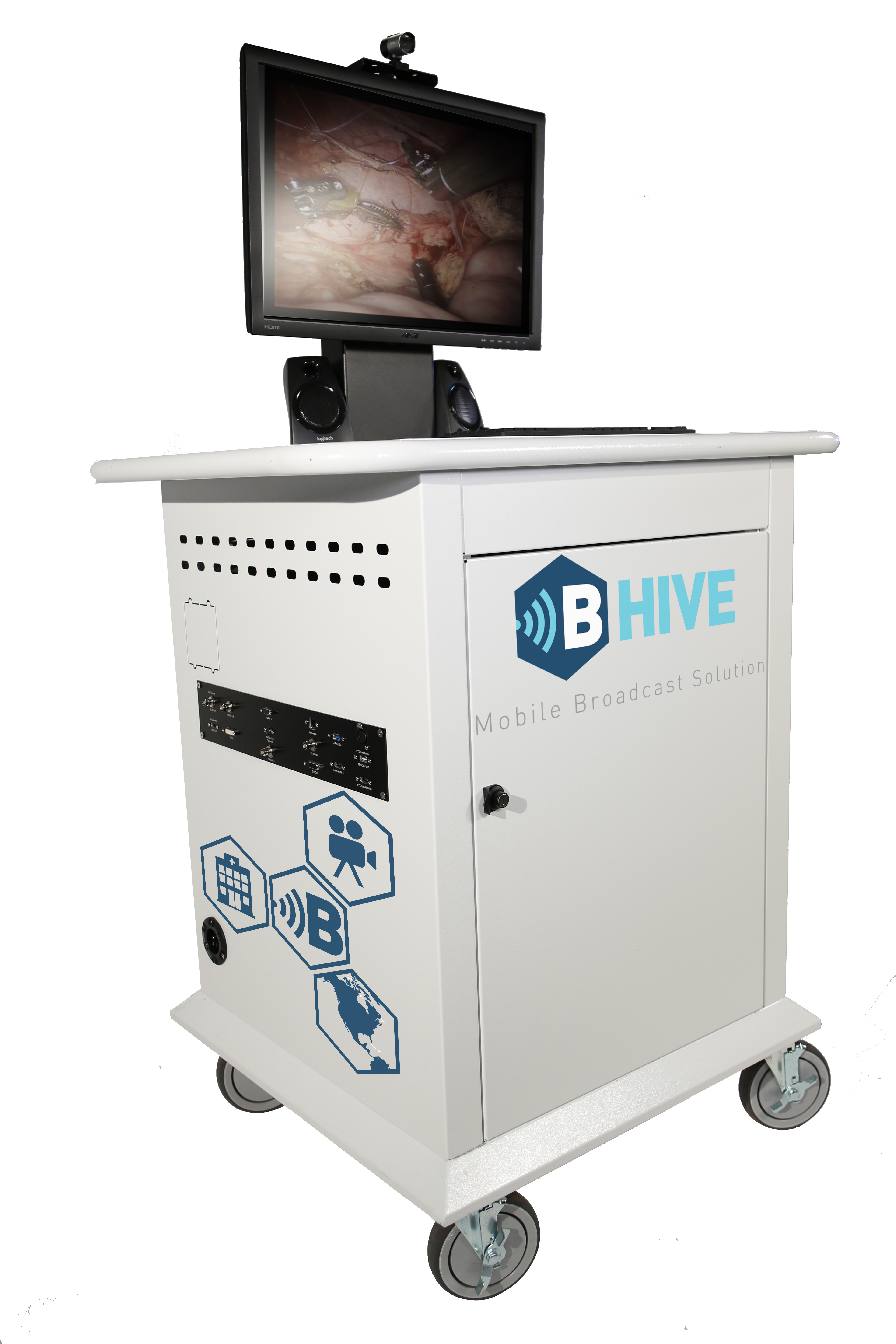 How does the B-Hive change the dynamic in training sessions?
As remote learning continues to thrive, the B-Hive is positioned to be a more economical tool, with easy bi-directional communication. The bi-directional communication allows for real time conversations between surgeons and medical teams across the globe. With in-person training becoming more expensive, this platform allows live surgery observation and learning to take place from the comfort of your home or from an audience at a convention or training center.
What are the technical requirements for the B-Hive? How tech-savvy does a user need to be in order to comfortably interact with it?
The only technical requirement is getting an internet connection in the OR. Besides working with a hospital's IT department, the system is very easy to set up. If the OR staff can connect their medical devices to the screens in the OR, they should be able to connect those same devices to the B-Hive.
After all the sources are connected, the remote engineer controls everything, so members of the OR staff don't need to touch the system again. They also provide support services throughout the set-up process.
What are the main benefits for healthcare facilities that want to move to a remote learning model?
The main benefit is the ability to get more learners from around the world to view the latest techniques and new ways of performing surgical procedures. This tends to be a more cost-effective way of training vs. flying learners to a specific location.
Is there anything else you'd like to add?
The B-hive is a remotely operated, bi-directional, mobile broadcast studio. Here, we provide direct surgeon-to-learner communication capabilities using multiple vantage points to make sure every moment is captured. This unique and customized learning experience increases the level of interaction available to remote learners.
It is adaptable to any device. It seamlessly connects almost every medical device image source and converts to a broadcast signal. And It saves time and money from travel and production services
It is all inclusive. All cameras, cables, microphones and adapters are included when utilizing the B-Hive. Our team provides support services and troubleshooting help before, during and after the surgery.
After the live recording has taken place, our team can create a recorded video to share with your team. And our remote engineers are able to add lower third descriptors or commercials throughout the surgery if you wanted to provide more text-heavy content to supplement the video feed.