Masimo: +38%
Pulse oximetry-giant Masimo has clocked in a solid 2017 performance so far, seeing shares rise more than 38%, beginning the year at $67.40 and hitting $93.26 as of March 31.
Masimo produces a wealth of pulse oximetry and other advanced diagnostic solutions, including its Root patient monitoring and connectivity platform. The company has also delved into personal devices with its MightySat fingertip pulse oximeter.
Last month, Masimo
released data
from a study comparing its noninvasive SpHb measurement to conventional HbL measurements for patients undergoing liver transplantation.
Results from the trial indicated equivalence between the 2 methods, which may position the company's equipment as a go-to for monitoring Hb during liver transplants due to the real-time results.
Engineering Better Devices at DeviceTalks Minnesota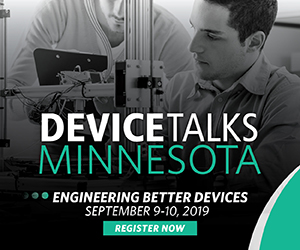 DeviceTalks Minnesota's engineering track is designed to provide attendees with with actionable lessons in a peer-to-peer format on topics such as:
Human factors engineering
Patient-centric device development
R&D trends
Manufacturing and scalability
Navigating the product development process from start to finish
"How We Built This" panels with top medical device groups
Join industry leaders and medical device professionals at the most awaited medtech conference of the year, DeviceTalks Minnesota.

Use code DT15 to save 15%!

REGISTER NOW