Smith's lawyers are seeking to move the case to arbitration.
The complaint, filed Jan. 16 in U.S. District Court in Massachusetts, accuses Smith of printing out a confidential Optum in-depth healthcare market analysis just a minute before printing out his resume. It was the same day that he spoke with the healthcare innovation venture nicknamed ABC, now led by Dr. Atul Gawande and supported by Amazon, Berkshire Hathaway and J.P. Morgan Chase.
Get the full story on our sister site MassDevice. 
Engineering Better Devices at DeviceTalks Minnesota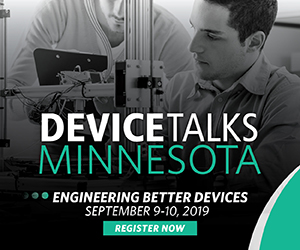 DeviceTalks Minnesota's engineering track is designed to provide attendees with with actionable lessons in a peer-to-peer format on topics such as:
Human factors engineering
Patient-centric device development
R&D trends
Manufacturing and scalability
Navigating the product development process from start to finish
"How We Built This" panels with top medical device groups
Join industry leaders and medical device professionals at the most awaited medtech conference of the year, DeviceTalks Minnesota.

Use code DT15 to save 15%!

REGISTER NOW