Vascular Graft Solutions today announced that it received CE Mark approval for its Frame FR external support for AV fistula repair.
"We are excited to launch the Frame FR platform, a holistic solution for repair, stabilization and prevention of recurrent vascular access disease," founder and CEO Eyal Orion said in a press release. "In the past 10 years, we have become a global leader in developing and commercializing external supports for prevention of vein graft disease in coronary and peripheral bypass. After extensive pre-clinical and clinical research, we are glad to expand our solutions to hemodialysis patients and hope to address one of the leading causes of morbidity and mortality in these patients – the toxic effect of the vascular access on the heart."
Get the full story on our sister site, MassDevice.
Engineering Better Devices at DeviceTalks Minnesota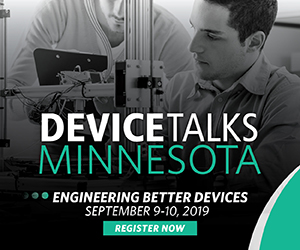 DeviceTalks Minnesota's engineering track is designed to provide attendees with with actionable lessons in a peer-to-peer format on topics such as:
Human factors engineering
Patient-centric device development
R&D trends
Manufacturing and scalability
Navigating the product development process from start to finish
"How We Built This" panels with top medical device groups
Join industry leaders and medical device professionals at the most awaited medtech conference of the year, DeviceTalks Minnesota.

Use code DT15 to save 15%!

REGISTER NOW