I love working in the MedTech industry. Over the past 10 years I've had the privilege of assisting inventors, start-up companies and teams of multiple stakeholders take their ideas from the drawing board to the marketplace, a job which is both exciting and incredibly fulfilling.
I can recall sitting in a very dark room for hours on end, counting photons of light with an initial prototype for validating a proof of concept for a future diagnostic system. That said, I wouldn't consider myself a "techie".
I admit to being quite boring in this area; you won't find me on Facebook, I've never owned an iPhone, and would rather spend my spare time tinkering with 19th century steam engine technology then writing code on a raspberry pi.
So, as someone who loves working in technology but who tries to integrate it modestly into my everyday life, I'm surprised by my longing to own a wearable device.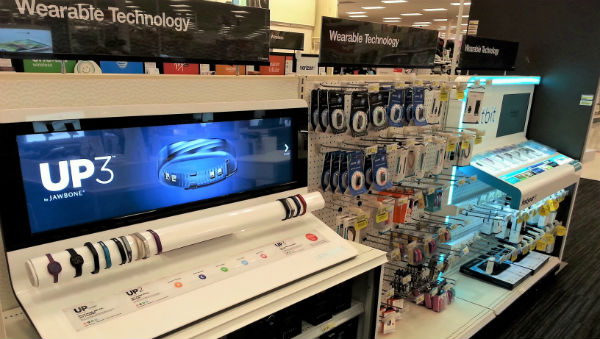 The Benefits of 'Obtaining Better Health Through Better Data'
The fact that we can obtain better health through owning and using commercially available wearables is not a new concept. As we associate better health with better fitness, you could say that wrist-worn or chest strap heart rate monitors from the last 20 years (although these aren't really medical devices) have provided a template for some of the wearables we have today.
These sorts of products can be worn by the user without impeding their ability to perform tasks, while providing them with information that can be used to inform a decision to take corrective action.
For example, a runner's wearable device informs him that his heart rate is too high, so he reacts accordingly, slows his pace and decreases his heart rate back to an appropriate level, and continues with his run.
The technology in wearables today and the information they can provide has advanced dramatically. From a single device, e.g. smart watch, I can keep track of multiple vital signs along with fitness-related activities, at the same time as trying my hardest to look fashionable. But this is not why I'm attracted to such products. There is holistic reason behind my interest, a realization of the implications of wearable and sensor technology trends compared with conventional healthcare.
I owe this realization to Erik Viirre M.D. Ph.D. from the University of California San Diego, Department of Neuroscience, who gave an influential presentation on "Challenges in Developing the Next Generation of Diagnostics: The Role of Prizes" at the Next Generation DX summit in August 2016.
Erik made a valid observation; we already give individuals control over their medical care (purchasing off-shelf medication and having responsibility for dosage), so why should we give them more? His answer: speed, accuracy, empowerment and results.
Erik's talk focused heavily on the Nokia Sensing XCHALLENGE, and what this means for the future:
"A $2.25 million global competition to accelerate the availability of hardware sensors and software sensing technology that individuals use to access, understand, and improve their health and well-being."
As outlined by Dr. Viirre, the XCHALLENGE is about "obtaining better health through better data, by using the next generation of sensors to gather accurate, real time health information."
The implications of this are huge. They include:
The marginal cost of a test is FREE
Access to the test is INSTANT
Time with the doctor is UNLIMITED
Although, I cannot go out and purchase a wearable which replaces my general practitioner in the conventional sense, the trend for this technology suggests that, from an information point of view, we are heading that way. In some ways, the 24/7 harvesting and interpretation of your body's data will open a doorway to predict, quite accurately, future threats to our overall health.
By purchasing a wearable in today's market, and making the choice to use the information that it provides me with to take action involving changes in my lifestyle, I have my healthcare in the palm of my hand. In a matter of seconds, I can observe, "Oops my levels are a bit off today, better leave the last donut for tomorrow." This is the simplest example, but shows how data will shape our decisions, and lead to actions that improve our health.
Here's an interesting question then:
Are "Wearables" as a Technology Where the Internet Was in the Late 90's?
My answer is yes.
The wearables we've had in the past are like websites in the early days, they simply provided us with information. The wearables we have today are like ecommerce websites that provide two-way communication, transactions, marketing and information-exchange. It's only a matter of time until the technology used on the bench is packaged into wearable devices or mobile accessories that can perform sophisticated testing on your person. You will become the Point of Care!
We use the internet to control all aspects of our personal finances, submit and pay taxes, buy and sell products, book hotel rooms and use it to store all of our documents and pictures. Why would our eventual dependency on wearable technology to monitor our health be any different to the way the Internet has infiltrated our everyday lives today? Wearables (just like current health apps on cell phones) will establish their place within the internet of things (IoT), assisting with big data for diagnosis and provide you access to your doctor wherever you are; an Uber for MedTech.
An Opportunity for the Consumer (and the Patient)
As I admitted at the start of this blog, I'm not usually swayed by the latest gadgets in the stores, but for me personally wearables can provide me with greater 'value' than the latest home theater system. As a consumer I see purchasing a wearable as an investment in my health, and as a patient it can be something I use now to save on my medical bills later. As Erik Viirre said in his presentation, wearables give me instant and unlimited access to information on my health, and the cost per test is free (once I've made my initial purchase).
The dollar cost per test (or per time with the doctor) is something I can really appreciate after moving to the U.S. from the UK. At the initial signs of any symptoms, your first thought shouldn't be "how much is this going to cost?" Unfortunately, this is a sad reality for many patients who decide to take the risk and go untreated.
Wearables can help manage and reduce cost, but more than that, can save valuable time too – such as preventing the trip across town to the practice.
An Opportunity for MedTech Companies
According to the International Data Corporation (IDC), the worldwide wearables market increased 67.2% from Q1 of 2015 to Q1 of 2016.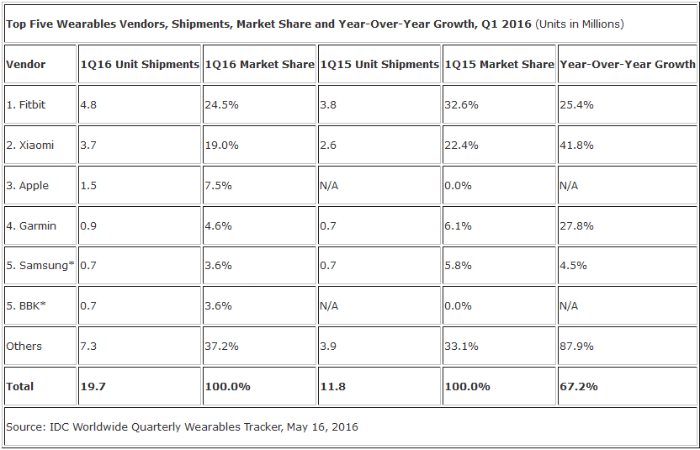 If the non-techie consumer like me is interested in purchasing a wearable now, in addition to the on-trend, tech-savvy people already wearing them, and if such products are to be as innovatively disruptive as has been predicted, then MedTech companies may want to consider integrating such products into their technology strategy.
Over the next few years wearables will start to account for larger percentages of sectors, such as Point-of-Care, that make up a significant proportion of the overall medical device market. There is a great opportunity for traditional medical device manufacturers, but investment in their knowledge base and capabilities may be needed in areas like sensor technology, rechargeable battery technology, communications and User Experience (UX).
Wearables should now be an important consideration for the medical device manufacturer's portfolio of technologies. And it's not a market to get left behind in – especially not now it's entering the mainstream. After all, you wouldn't want to end up like a late 90s website, would you?
________________________________________________________________________________
Thomas Jull, ITL VA Inc.'s Vice President. The company began operating from Richmond, VA in May 2013, initially offering service and aftersales support for products manufactured by ITL in the UK and sold into the U.S. market. The Virginia facility is now working to provide a domestic contract manufacturing service. It also provides a route to market for companies looking to break into the U.S. medical device market. As well as expanding into manufacturing, ITL VA offers a pay-as-you-go medical device consultancy service for product development.