LifeSignals has introduced the Life Signal Product platform, a family of semiconductor chips optimized to enable the development of mobile and wearable applications in medical and health monitoring for life-critical applications. The product family was developed and industrialized in collaboration with STMicroelectronics and 3M to meet the stringent needs of the medical market.
"The Life Signal Platform will help OEMs address the desperate need for clinical-grade disposable and reusable wearables for a variety of markets ranging from human monitoring applications such as in-hospital patient monitoring, remote health monitoring, wellness, fitness, worker safety, and senior care, to veterinary healthcare such as pet, equine and livestock monitoring," said Surendar Magar, LifeSignals CEO and Founder.
The LSP family currently consists of two silicon devices and developer support items:
LC1100 Life SignalProcessor, a single-chip solution for disposable clinical-grade biosensor patches – The core chip of the product family, the LC1100 enables the creation of low-cost, low-power wireless biosensor patches, smart clothing and other wearable devices that can continuously capture multi-parameter life signals with clinical accuracy. The LC1100 can communicate that resulting data to monitoring devices, smartphones, tablets and the cloud, continuously operating for days with only coin cell batteries.
LC5500 UWB, a companion receiver chip – A receiver chip that is optionally used in mobile and certain fixed receiver devices. The LSP chipset's hybrid radio (featuring Wi-Fi, Ultra-Wideband and Medical-Band standards) was invented to deliver wire-grade connectivity across multiple parallel wireless channels when multiple subjects are being monitored wearing LSP-based biosensors.
Developer Support Items for OEMs – The LSP family is supported by a full suite of hardware and software development tools, including a development board and a software development kit (SDK) for customers to design desired customized devices based on LSP. In addition, production-ready reference designs are available for multiple product types – including patches, smart clothing-based designs, receiver devices, etc. Various apps are available for iOS and Android devices.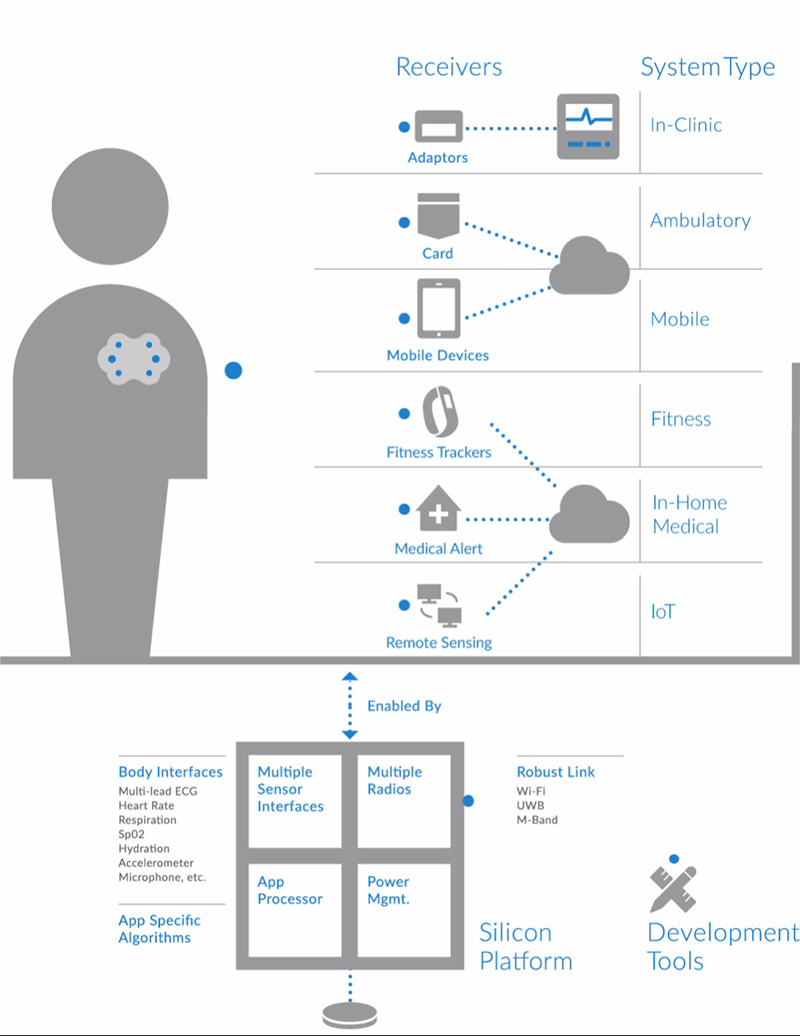 The Developer Support resources for the LifeSignal platform includes a reference design for the Life Signal Patch, a fully disposable multi-parameter biosensor worn on the chest that can be used to collect physiological data in clinical and remote monitoring settings. Click here for the reference design's data sheet. Other reference designs are available for several other monitoring and recording devices, including a Smartphone-compatible cardiac monitor.
Additional information on the LifeSignal chip set, development resources, and other application reference designs can be found on the Products and Services page of the LifeSignals web site.