As patient expectations concerning the quality, transparency and availability of healthcare services are setting a higher bar every day, patient-centered digital-health solutions are a vital component in the evolution of healthcare delivery. These are able to empower people to play an active role in managing their own healthcare, improve clinical outcomes, reduce costs, enhance patient-physician relationships and enrich patient experience. During the first quarter of 2016, digital health funding went from $981 million to $1.8 billion.
The rise of connected health devices is among the major trends that are revolutionizing healthcare. The worldwide wearables market leaped 171% in 2015, accounting for 78.1M units. Just like smartphones today, in the next few years, continuous monitoring of various bio-physiological parameters will be part of our day-to-day experience, influencing health promotion, disease prevention and disease management.
Wearables today collect and present user's data – steps, distance, calories, heat rate etc. Yet, they do not provide the user with personalized guidance, tailored to the user's habits and responsive to the user's actual achievements. It is if a GPS navigator would provide only the distance to the destination without providing the route. This is currently the biggest hurdle to longer-term influence of wearables on behavior, as people are not moved to action by "data dumps."
Sweetch, an Israeli startup, is developing what is about to be the 'Intel(ligence) Inside' of wearables. Using machine learning predictive analytics methodologies applied to wearable produced datasets, the company developed a Behavioral Analytics Engine that serves as a personal digital health coach, guiding the user to achieve activity goals, with emphasis on long-term adherence and engagement. The software continuously processes and analyzes various aspects of the user's life habits in real-time, taking into account demographics, schedule, actual activity patterns, and location — and presents the user with personalized, dynamically changing recommendations that are tailor fitted.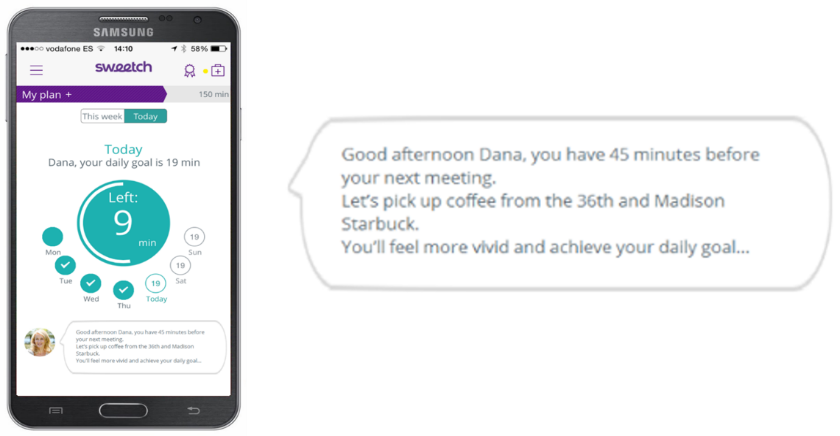 Sweetch's first application is diabetes prevention. Pre-diabetics constitute the largest pool of future diabetics. According to the American Diabetes Organization, around 86 million U.S. adults are pre-diabetic. Achieving 150 minutes of activity per week has been proven to reduce pre-diabetes to diabetes conversion risk by 58%. Unfortunately, about 80% of pre-diabetics do not adhere to this vital WHO, CDC, and American Heart Association activity recommendation, especially in the long run. Currently, all Diabetes Prevention Programs rely on human coaching, which is expensive and not scalable.
The app will be available to pre-diabetic patients through a "prescription" issued by their physician. Once prescribed, the medical team will get proactive notifications in cases of continuous non-adherence, so they will be able to personally support engagement. Beyond the effect on improving health and quality of life, patients may be able to save$1,100-$5,600 per year.
The app is about to start its first clinical trial at a one of the leading U.S. medical institutions.