Three-dimensional (3D) printing in healthcare could be as disruptive to the healthcare sector as the Internet has been to the retail sector and will become a standard part of the healthcare portfolio, says leading data and analytics company GlobalData. In particular, medical device manufacturers can use 3D printing to overcome limitations of traditional methods by prototyping and direct part manufacturing in small batches.
A study conducted for the company's Disruptor Tech database revealed that, 3D printing can revolutionize the supply chain by closing gaps between sourcing, production and distribution. The technology can directly create 'clinical trial ready' devices, doing away the need for expensive tooling of computer numerically controlled (CNC) and computer-aided manufacturing (CAM) as in the conventional process. This can not only cut down costs but also shorten the time a device takes to reach the market.
Bonnie Bain, PhD, Global Head of Pharma at GlobalData says: "What sets apart 3D printing from other methods is unmatched customization with high accuracy, its ability to test multiple configurations and create a patient-specific device more accurately. 3D printers can dramatically reduce the cost of custom-made medical devices, including hearing aids, dental implants, hip replacements and artificial limbs."
The use cases of 3D printing in healthcare are not limited to medical devices. A 3D-printed drug to treat epilepsy has been approved by the US Food and Drug Administration. Impressive work is being carried out in tissue engineering and bioprinting of organs. Recently, researchers have 3D printed the most sophisticated artificial cornea ever. A prototype for a 3D bioprinter to create completely functional human skin has been presented by scientists. In future, the aim is to create replacement organs for humans such as the heart and liver.
Bain continues: "As the performance and scale of industrial 3D printing platforms continue to evolve, 3D printing is increasingly finding a way into mainstream manufacturing processes. At present, 3D printing for manufacturing is a discrete, mostly off-site process but, over the course of the next decade, 3D printing will find itself incorporated into existing production lines, with objects printed on demand as the production process proceeds.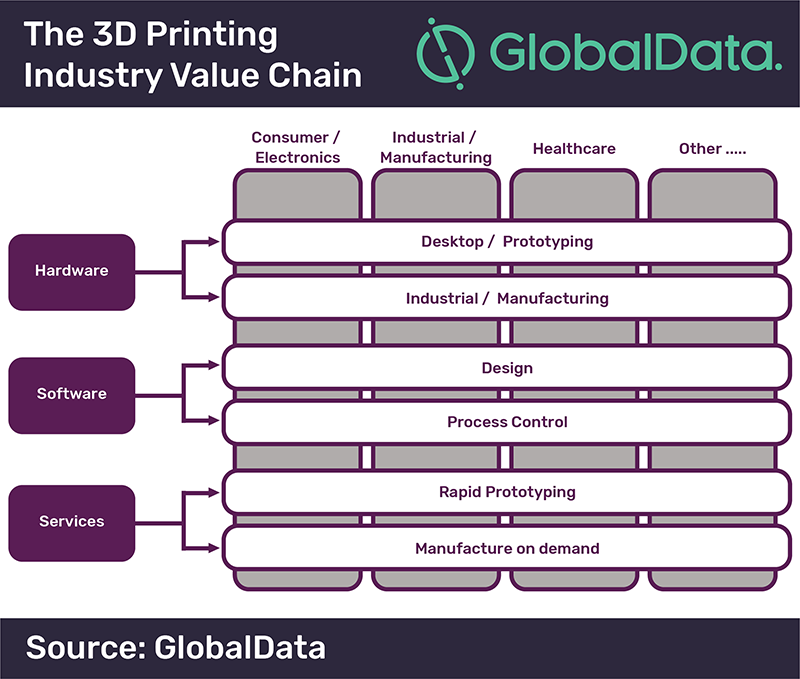 "Despite health and safety regulations as main barriers, the prospects of 3D printing remain positive and the market is gaining momentum. While small- and medium-sized healthcare companies have already realized the importance of 3D printing, industry leaders have started blazing trails in collaborations. 3D printing is already used in healthcare but is still largely seen as a novelty. However, over the next 12 – 24 months, 3D printed implants will complete the first stages of clinical trials and the scene will be set for 3D printing to become a standard part of the healthcare portfolio," concludes Bain.