Access to records and security of information vastly
improved

Space in emergency department now used for an expanded
children's area not storage
London December 8, 2010 – Kodak (NYSE:EK)
today announced that Barnsley Hospital NHS Foundation Trust's
Emergency Department has installed a File Stream electronic
document management solution (EDMS), with Kodak i1320 scanner and
tethered A3 flatbed accessory, to manage the emergency records of
70,000 patients seen every year. The hardware and software
was supplied by Staffordshire-based, Ascot Business Solutions, in a
deal worth around £15,000.
Serving a rural and urban population of around 225,000 people,
Barnsley Hospital's Emergency Department has a clinical staff
of seven consultants, 18 doctors and around 50 nurses who provide
emergency medical care 24/7, seeing on average 200 people per
day.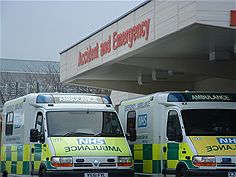 Barnsley Emergency Department
A huge volume of paper is generated as a result which was
causing the department issues in terms of storage, management, and
then subsequent access to information. Records were kept in
department for 6 months, then moved to a basement area for a year
and ultimately transferred to a remote and inaccessible area of the
hospital – nicknamed 'The Bunker' – for
long-term 5 year storage.
Dr Dyfrig Hughes, project leader, explains, "The longer
records are in storage, the harder they are to find as each
movement increases the chances of files getting mislaid.
Something only needs to be slightly misfiled for it to become a
really time consuming effort to later source. Secretaries were
traipsing to-and-fro to get emergency cards which clearly
isn't productive or efficient."
Each time a person visits, an emergency department record is
produced – a document containing 5 or 6 sheets of A4 which
lists the patient's name and address, demographic
information, a summary of the treatment provided, along with a
letter to the GP which summarises the problem and care given.
With the high volume of people treated annually, the department was
sinking under paper, while also consuming a lot of precious space
which could be better utilised for clinical care.
Dr Hughes adds, "Accessing records is important especially
when treating children's illness as the past medical history
is important, and we often need records for legal purposes when we
have to support the Police with their inquires. With the old
paper-based system, we just weren't able to access
information quickly or easily."
The emergency department first considered scanning emergency
records some years ago, but it was a small flood in 2008 in the
storage area which tipped the balance and the Trust recognised it
needed to implement an alternative computer-based
solution.
Reseller, Ascot Business Solutions, supplied File Stream's
EDMS solution and a Kodak i1320 departmental scanner, with
tethered A3 flatbed accessory, for use in the reception area.
Mark Ingram, Ascot's managing director, says, "Barnsley
Hospital took a package from us. A Kodak scanner
solution was recommended because of the reputation for reliability,
and ability to integrate and working faultlessly with File
Stream."
Compact but high performance and ergonomically designed, the
duplex Kodak i1320 scanner can process 40 pages a minute in
colour[1]– both sides – and documents up to 34 inches
long, making it an excellent desktop workhorse for the
department.
Featuring 600 dpi optical resolution, the i1320 scanner comes
with Kodak's Perfect Page imaging technology which ensures
that the best possible scanned images are produced first time,
every time irrespective of paper type which is ideal for a hospital
environment.
Gary Jones, File Stream's UK marketing manager, said,
"It's a busy little scanner. When you arrive in
the emergency department, the receptionist extracts information
from the PAS[2] about who you are, prints a top sheet, adds blank
pages for medical staff to then fill in and puts the whole lot in a
folder. This then follows the patient around, making a loop
around the department, with the whole file then scanned in at the
end, and the paper destroyed."
The File Stream EDMS has also improved the integrity and
security of the emergency record. Urine tests, blood results
and heart tracings are all produced using different pieces of
coloured paper which the Kodak scanner easily copes with.
Everything is now scanned and incorporated in the electronic file
thus avoiding any possibility that paper could go astray.
Accessible to authorised medical staff, searching for
information is now a breeze and can be done on date of birth, date
of attendance, GP, gender, emergency department number and so
on. The new system allows doctors to email documents to each
other if required and offers instant access to information on
patients. Dr Hughes explains, "If I am on a ward, I can
call up the notes on a patient who came in the previous day without
the need to find the physical records or ring down to secretaries
to ask them to find or copy them."
In addition, a lot of time and effort managing emergency cards
is saved, with the storage space in the department freed to make
room for an expanded children's area.
Neil Murphy, Kodak's UK sales manager for document
imaging, says, "For a relatively modest investment, Barnsley
Hospital has installed a simple-to-use yet robust departmental
solution which does away with paper and means staff can focus
on helping critically ill patients get better rather than wasting
time managing an unmanageable paper process."
– Ends –
[1] 60 pages per minute back & white, and
grayscale
[2] Patient Administration System
About Kodak
As the world's foremost imaging innovator, Kodak helps
consumers, businesses, and creative professionals unleash the power
of pictures and printing to enrich their lives.
To learn more, visit www.kodak.com and follow our blogs
and more at www.kodak.com/go/followus.
More than 75 million people worldwide manage, share and create
photo gifts online at KODAK Gallery–join today at www.kodakgallery.com.
Choose from the widest selection of Kodak digital cameras,
all-in-one inkjet printers, pocket video cameras and more at http://store.kodak.com.
Contacts:
Tom Herbst PR Limited
Tom Herbst
Director
Tel: +44 (0)207 274 9937
Mobile: +44 (0)7768 145571
EMail: tom@tomherbstpr.co.uk
File Stream Limited
Gary Jones
Marketing Manager
Tel: 0118 932 8900
EMail:
gary@filestreamsystems.co.uk
Web: www.filestreamsystems.co.uk
Ascot Business Solutions Limited
Mark Ingram
Managing Director
Ascot Business Solutions
Tel: 0845 3510579