As antimicrobial resistance (AMR) continues to loom in the presence of public health, there is an apparent need for innovative antibiotic testing solutions. Now, in order to fight AMR, Hewlett-Packard (HP) and the Centers for Disease Control and Prevention (CDC) have announced a program installing HP printers as part of CDC's Antibiotic Resistance Laboratory Network (AR Lab) that prints pharmaceuticals in order to speed up antibiotic testing.
The idea for this collaboration originated when Annette Friskopp, VP and GM of Specialty Printing Systems at HP, and Dr. Jean Patel, microbiologist and science lead for CDC's Antibiotic Resistance Laboratory Network, happened to sit by each other at lunch when attending a conference. Friskopp began describing HP's small molecule dispensing capability with print technology that was being used for research purposes. Patel immediately said she was looking for a way to apply new antibiotics to test patient samples. Soon after this meet-and-greet, the HP team was visiting Patel's researchers at the CDC headquarters. Here, HP demonstrated how the dispensing technology could simplify CDC's workflow.
"CDC found the D300e printer to be reliable, consistent, efficient, and the only means to test new antibiotics which are not already in commercially available test panels," said Friskopp. "After the CDC completed extensive testing and validation of our D300e printer, they created the program to deploy to four AR Labs."
This year-long pilot program will allow Antibiotic Resistance (AR) Labs to assist hospitals and physicians to test patient samples for people with highly resistant infections by "printing" drugs.
Ultimately, the printing capabilities will help test new antibiotics that cause side effects. These new antibiotics can save lives when used to treat infections caused by resistant bacteria, but doctors need specialized testing methods to know if these new drugs will work. If susceptibility testing is not available, doctors cannot always determine the most effective antibiotic for their patient. This is where the HP printer comes in.
CDC will use HP's inkjet-like printing technology to dispense drugs for testing. In order to use the printer, labs place the new drug solution into the printer, similar to adding ink to an ink cartridge. The 96-well plate provides 96 small test tubes that contain samples of the germs causing a patient's infection. Multiple drugs can be tested at once, also known as a microdilution minimum inhibitory concentration (MIC) panel. If the germs can grow in the wells once the drugs have been placed, then the germ is most likely resistant to that drug. The results are then sent to the healthcare provider, which allows them to prescribe the drug accordingly at a specific dose.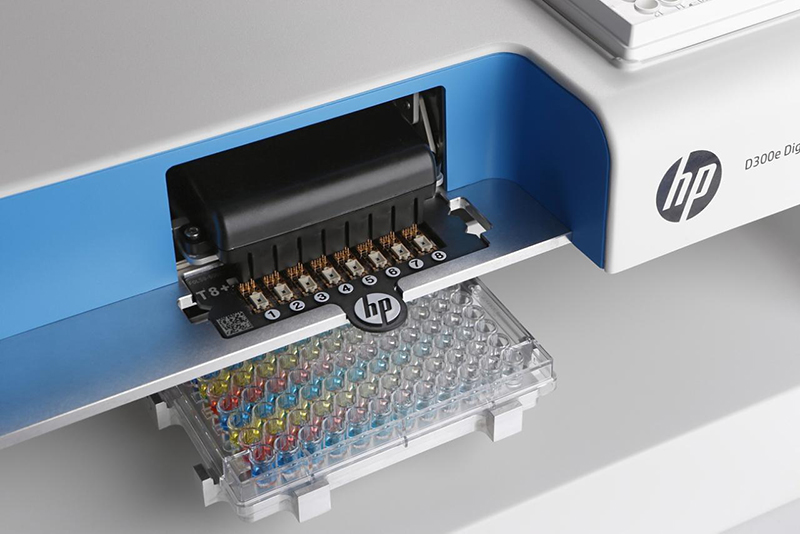 "By assisting physicians to determine the best antibiotics for a particular patient, we hope patients get better faster, thereby reducing the overall patient treatment cost," Friskopp said.
Currently, the lab is prioritizing testing for highly resistant bacteria, with pan-resistant bacteria as the focus. After the year-long pilot comes to an end, HP and CDC will evaluate the project and hope to expand their research to labs nationwide.
"To save lives and protect people, it is vital to make technology accessible to hospital labs nationwide," said Patel. "We hope this pilot will help ensure our newest drugs last longer and put gold standard lab results in healthcare providers' hands faster."