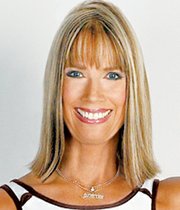 JAZZERCISE INC.
CEO: Judith Sheppard Missett.
Revenue: $96 million for 2009-2010.
No. of local employees: 90.
Investors: N/A.
Headquarters: Carlsbad.
Year founded: 1969.
Company description: Franchises a workout
program using choreographed dance steps set to music with
independent instructors.
Judith Sheppard Missett is still stick kicking up her heels,
literally and figuratively.
The 60-something Missett, founder and chief executive officer of
the 41-year-old, Carlsbad-based Jazzercise Inc., continues to teach
classes that use dance steps for an aerobic workout and continues
to be recognized for her business savvy.
Entrepreneur magazine recently put Missetts dance fitness
franchising business in a number of top categories in its annual
2011 Franchise 500 list.
The magazine ranked the franchisor No. 1 in the business fitness
category and 21st in the fastest-growing franchises category.
The magazine also ranked the privately held concern No. 4 in the
rankings of top home-based and low-cost franchise categories.
And it gave the concern a No. 17 position overall on its closely
watched list.
Not bad for a business doing $96 million a year in sales, and
with a network of 7,800 instructors teaching 32,000 classes in 32
countries.
Hearty Presence
San Diego State University management professor Congcong Zheng
says it is rare for a franchise, especially a fitness franchise, to
survive so long and yet do so well.
Only one-third of all businesses survive after the first 10
years, said Zheng. By still being in business 41 years, they have
done extremely well.
Franchising is a good way to go, but franchisors have to create
a very stringent and vigorous process to qualify the franchisees so
that the two can be successful, she added.
Missett started out in 1969 teaching a dance class once a week
in Chicago while she was a student in theater arts at Northwestern
University.
The classes were second in command to everything else I was
doing, recalled Missett during an interview with the San Diego
Business Journal.
However, students loved the workouts, and clamored for more
classes to better fit their schedules, especially after she moved
to Southern California in the early 1970s.
Instructors Step Up
So Missett started hiring instructors as independent contractors
to handle demand, and was soon running a thriving enterprise.
Its what I loved doing, she said. Not for the money.
She decided to transform the business into a franchise operation
in the early 1980s due to the headache of managing so many workers,
which was more than 1,000 at the time.
It was a strategic decision, she said, adding. (But) it wasnt
much of a decision for me to make.
It made life a lot easier.
At the time, franchising was still in its infancy, more centered
on hamburger chains and print shops than dance routines posing as
exercise classes, she says.
We wanted them to feel like they owned a piece of their own
business, that they had the power to do things within my
parameters, she said. So being a franchisee worked beautifully.
Changing Growth Pattern
These days, Missett is fine-tuning the business plan to keep the
company growing.
Most franchise owners rent space for their classes in
noncommercial buildings, such as the local recreation center or
town hall. Its a part-time operation.
But thats changing.
Now, were moving toward more brick-and-mortar fitness centers,
she said, because of the flexibility.
At the company-owned workout center in Oceanside, for example,
52 classes are offered weekly.
The business has opened a second company-owned center in the La
Costa Towne Center in North County, and counts 300 franchisees who
now have their own facilities and operate under the Jazzercise
Fitness Center nameplate.
Our customers dont have a lot of time to work out, so when you
can only teach five classes a week, that doesnt give your customer
a lot of choice, she said.
Besides La Costa, Jazzercise Fitness Centers in the county
include locations in Oceanside, Vista, San Marcos, El Cajon, Poway
and Bonita.
The franchisor charges $1,000 plus 20 percent of sales for
classes for the basic level, and up to $75,000 for franchisees who
open a stand-alone fitness center.
Family Takes Active Roles
Daughter Shanna Missett Nelson serves as president.
Both mother and daughter continue to teach classes.
In fact, the elder Missett is still involved in the choreography
and other details of the classes that are taught worldwide.
Every 10 weeks, she readies a DVD with 90 new choreographed
routines that franchisees can use to assemble a workout. The DVD
includes different music and different ways to combine the steps to
keep the routines fresh and up-to-date.
Thats my joy, said Missett. But I love the business part,
too.
Young McCarthy, a 16-year veteran instructor who is a former
franchisee in North County as well as a paid teacher at the two
company-owned fitness centers, likes the diversity, with one class
in Oceanside containing more than 60 students people of all ages,
while two others in La Costa average the more typical 20.
She says its not often that one can do what one loves and make
money doing it.
Its really rare to be able to meld the two in life, she said. I
didnt realize that at the time when I was 18 and just starting. But
I see that now.
Tom York is a contributing editor for
the San Diego Business Journal.