Fifty-five million times a year, American women go to their gynecologist for a Pap Smear. After waiting a few weeks for the results, more than 3.5 million of them are called back to the physician for a follow up visualization of the cervix. Beyond the stress related to possibly having cancer, the women are then subjected to a colposcopic exam, and all too often, a painful biopsy. Then more stressful waiting for a final diagnosis from the pathologist.
Cervical cancer develops slowly, allowing for successful treatment, when identified on time. Regions with high screening compliancy have low mortality rates from this cancer. In the US, for instance, where screening rates are close to 90%, only 4,200 women die from cervical cancer, annually, or 2.6 women per 100,000. However, the screening process in the developed world is long, complicated and not optimized.
In developing regions however, cervical cancer is a leading cause of women death. Over 85% of the total deaths from this cancer are in developing countries. Regions suffering from low screening rates include not only Africa, India and China, but many Eastern European countries as well. According to an OECD report from 2014, the cervical cancer screening rates in Romania and Hungary are as low as 14.6% and 36.7% respectively. The mortality rates in these countries are high, 16 in 100,000 women in Romania and 7.7 in 100,000 in Hungary.
The current screening process for cervical cancer detection is long, beginning with a Pap or HPV test. Cytology results take weeks to receive. A positive result requires follow-up testing by colposcopy and often biopsy. In countries where there is little access to medical care, or where screening compliancy is low, the chances of successful detection via this multi-step process are small. Developing regions and non-compliant countries require a point of care diagnostic method, which eliminates the need for return visits.
Additional limitations to cervical cancer screening are the low sensitivity and specificity rates of Pap tests and the high false positive rates of HPV test, leading to unnecessary colposcopies. Both cytology and colposcopy testing are highly dependent on operator proficiency for accurate diagnosis.
Biop has developed a new technology for the optimization of this process, into one, three minute, painless optical scan. The vaginal probe uses advanced optical, imaging and non-imaging technologies to identify and classify epithelium based cancers and pre-cancerous lesions. The probe is inserted into the vaginal canal, and scans the entire cervix. The resulting images and optical signatures created from the light, and captured by the sensors, are analyzed by the proprietary algorithm. The result is two pictures, on the physician's screen; a high resolution photograph of the patient's cervix, immediately next to a hot/cold map indicating a precise classification and location of any diseased lesions.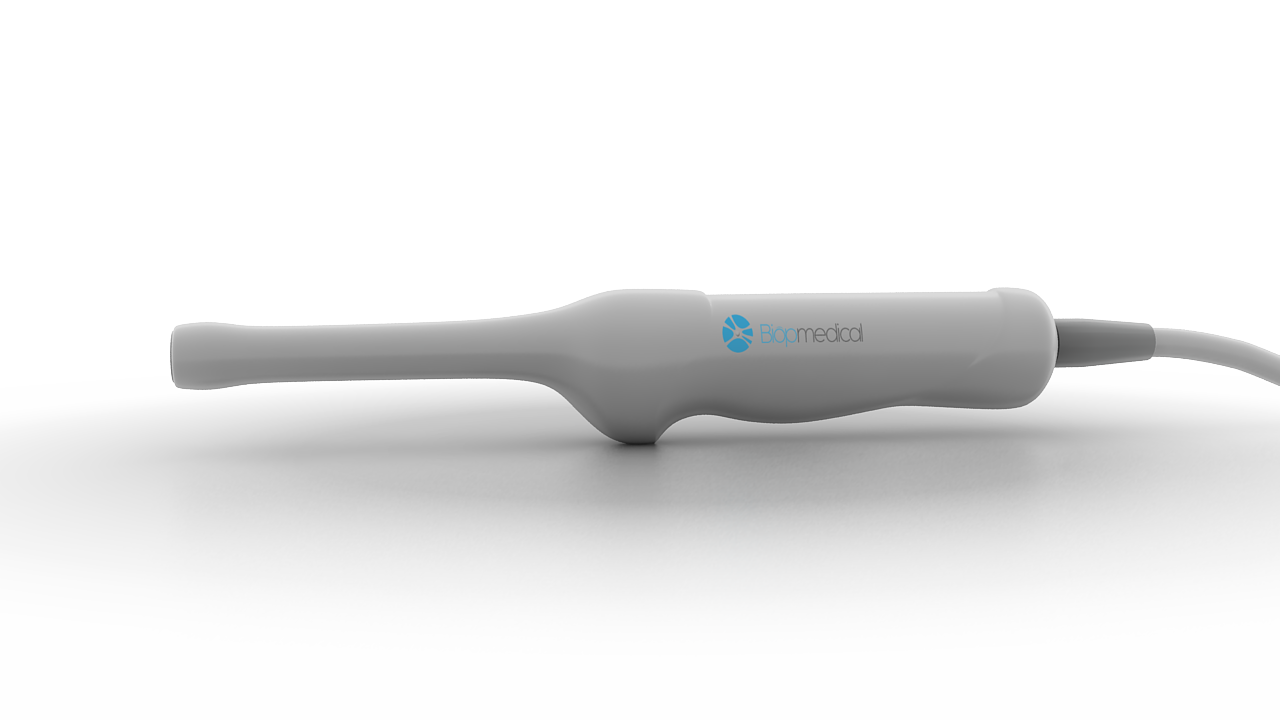 The medical care giver can also take a panoramic photograph of the cervix from outside of the vaginal canal, similar to a traditional colposcope. This can provide the practitioner with complete information of any other vaginal lesions, including any not on the cervix itself.
The data collected from the scan is uploaded, anonymously to the propriety and secured cloud using big data tools. Biop can also be used in an ambulatory or field setting, allowing for mobile cervical screening, similar to mobile blood units and mobile breast cancer screening programs.
For the physician, this new technology creates a better work flow, real time diagnosis, and ability to take any needed biopsies from a precise location, significantly reducing the incidence of unnecessary biopsies. Once the scan is performed, whether by the physician or a nurse, the data is automatically uploaded to the Electronic health records (EHR), and stored for follow up. The physician no longer has to record the details of her physical examination into notes for the EHR, saving additional time and hassle. Follow up exams are automatically compared to earlier exams, with any changes automatically noted. This creates time savings which can be used to see additional patients, or hopefully, to better communicate with the patient about their current health. Moreover, this provides a more accurate diagnosis and ensures that data is not lost.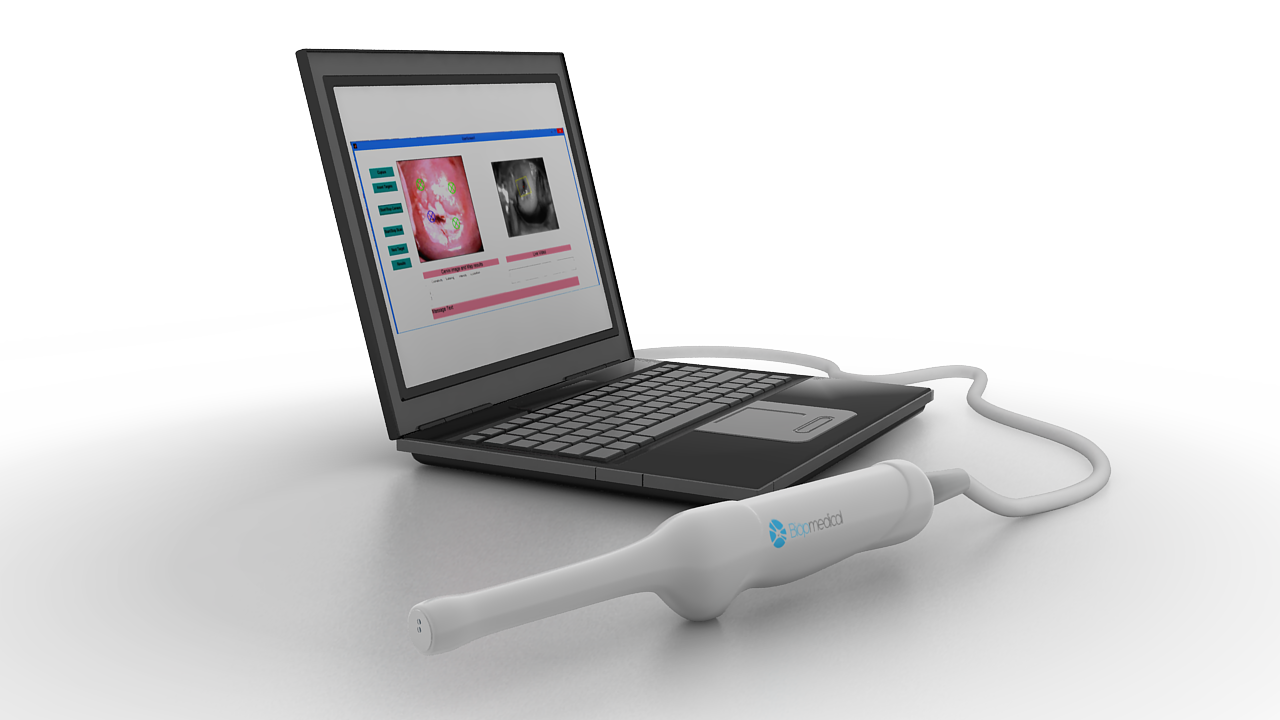 For the patient, the optical system creates a painless cervical cancer screening program, where the patient can get immediate results, and a pain free experience. In areas where socialized medicine has created a long wait between an abnormal Pap and an appointment for a colposcopy, the long lines can be reduced significantly, creating a better prognosis for women who have cervical cancer.
With a shorter exam time, and non-user dependent capabilities, this technology can also increase the physician revenues and throughput by presenting a modular device which allows real time results along with a shorter procedure.
For the medical system, the "sample free biopsy" will reduce the already tremendous strain on pathologists by drastically reducing the number of biopsies taken. It will also reduce the need for endless follow up appointments. And, of course, in areas with a dearth of physicians, low cost, mobile screening by paraprofessionals will create a screening process which can save more than a quarter million lives per year!
Biop's vision is to improve women's health care everywhere. In the developed world, the company aims to optimize the current cervical cancer screening process into a more comfortable, more reliable, and lower cost alternative to the existing layered screening program. In the developing world, the point of care solution will allow for a robust screening program which can reach virtually every at risk woman.
Biop is a graduated of IBM's Alpha Zone Accelerator and was finalist in the 2014 Cleveland Clinic Summit.