Bair Hugger forced air warming technology is used extensively in healthcare facilities, which also means there's an abundance of data about the impact of the product. Now 3M, the manufacturer of Bair Hugger, is making some of that data more accessible.
3M recently released a research compendium offering summaries of more than 200 articles that have been published about Bair Hugger, ranging from 1989 to this year.
"It's the most widely studied warming solution," says Al Van Duren, director of scientific affairs with 3M's Patient Warming Business. "Over 200 million patients have been warmed with Bair Hugger, so it's widely used and widely studied."
The research papers are listed in chronological order, accompanied by brief overviews of the information they contain. The compendium is also equipped with an index, letting interested parties dig deeper into specific topics around the Bair Hugger and patient warming.
Already a robust assemblage of information, the compendium is expected to keep growing.
"This is a living document," says Van Duren. "We intend to update it probably twice a year, depending on how many new research papers are published. We want to keep it current. We recognize that many of our customers are extremely busy and don't have the time to search the clinical literature, so we're trying to make it easy for them to take a look at the important research."
Presumably some of the updated research will touch on the innovations to Bair Hugger that 3M debuted last year. The multi-position upper body warming blanket provides more flexibility in use of the forced air technology, covering an array of surgical positions with a single blanket.
"We literally reengineered this blanket by reconfiguring the channel patterns and the perforation patterns," says Mark Scott, business development manager for 3M Bair Hugger Normothermia Solutions.
The blanket can be configured multiple ways — such as folded back 180 degrees onto itself or 90 degrees out of plane — without negatively impacting performance. It suits nearly every position because of the ability to sculpt the blanket around the patient.
Covering more surface area with a single blanket was a goal 3M met because of clear needs expressed by healthcare professionals.
"What we've done with this product was driven by customer feedback," says Scott.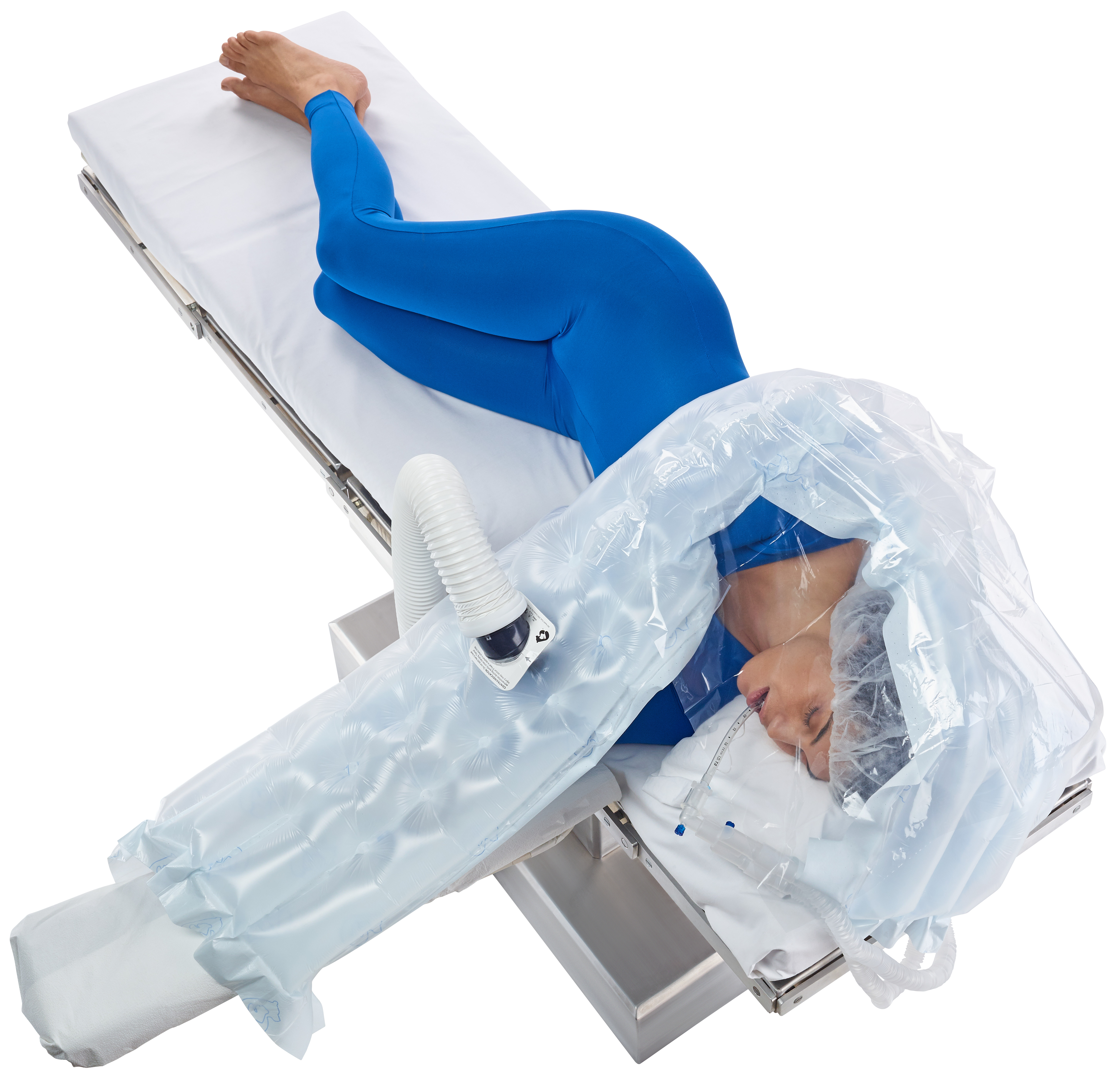 Van Duren says the introduction of the multi-position upper body warming blanket and the release of the new research compendium represents 3M's commitment to improving patient care.
"We recognize that many people are unaware of the importance of normothermia with respect to infection prevention, so part of our efforts are related to educating our customers," notes Van Duren. "Additionally, we recognize that because of the shorter duration of surgical times that our customers might not always have the time to get patients warm intraoperatively, so we're focusing a lot of our effort on the importance of prewarming patients."
The research compendium is available free of charge at the 3M website.