Everyone in the OR can agree quality visualization equipment is critical to patient care and outcomes. Surgical Products' readers validated this notion. It is naive to say the step from standard-definition (SD) monitors and video equipment to high-definition (HD) did not offer clinicians any benefit. However, cost is the biggest barrier between ORs and exciting, new equipment.
Since 4K is the latest advancement in visualization, that barrier can be significant, but, as we have seen with HD, time will reduce this burden and eventually, it will become the next step in visualization. How can I be so sure? Here's why:
1. Surgeons Love It
Any show I attend, surgeons, nurses and other surgical team members stop and stare at the screens. The colors, definition, detail – all of it – is enticing to watch. But, they also immediately realize the potential benefits of these enhanced features. Data is still being compiled on how much this technology impacts case time, patient outcomes and other factors, but it is hard to imagine that cannot be measured.
Surgeons might not have the buying power they used to, but their input is respected by facilities that need to retain respected, quality clinicians.
2. More Complex Cases
Multiple factors are increasing the number of complex cases, from shifting patient demographics to the demand for minimally invasive procedures. The direct correlation from complex cases to ad demand for better technology can be made across the United States and the world.
3. Consumer Market is Adopting 4K
While there is normally some lag time between the consumer market and medical environment in technology integration, experts say the reason the sharp transition from SD to HD existed was because surgical teams expected the technology in their living rooms to be in the OR.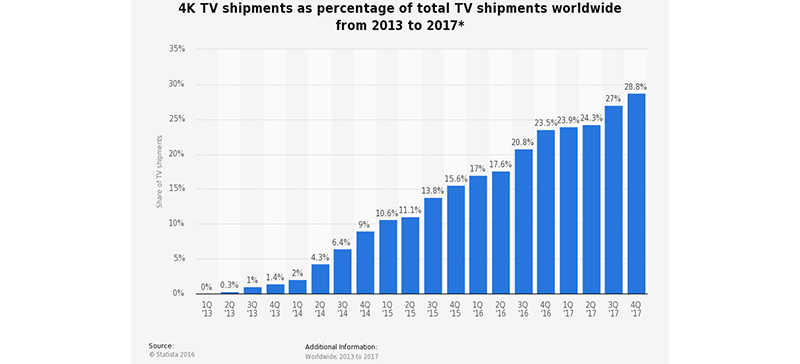 The same phenomenon is predicted with 4K. About the time HD was released in 2013, nearly 2 percent of TV purchases worldwide were 4K. By the end of 2015, that was nearly 16 percent. AllianceBernstein projects in 2017, more than a quarter of TVs purchased worldwide will be 4K. HD saw a similar increase, but it has now bell-curved, due to the launch of 4K.