Healthcare facilities attempting to run their supply chains in the most efficient manner surely know that relying on barcode and RFID technologies can help tremendously. Digging deeper into the particulars of precisely how the technology helps processes can still yield revelations, though.
The benefits of ongoing research are certainly apparent to GS1, the organization that develops global standards for barcodes and other forms of business management communication. For example, GS1 recently released a pair of case studies of great interest to the healthcare industry.
GS1 worked with CentraState, the not-for-profit healthcare system based in New Jersey, for one of the case studies. The other examined the efforts of Mercy Health, the major Catholic health ministry with facilities across Ohio and Kentucky.
In each case study, GS1 found that strong standards in the implementation of barcode and related technologies made a significant impact in facility operations, both enhancing patient care and preserving budget dollars.
Importantly, the case studies together confirm an often overlooked truth. Technology itself isn't the answer. It's just as important to be sure the right technology is being introduced and that solid standards are being met and upheld.
To learn more, Surgical Products interviewed Greg Bylo, vice president of healthcare for GS1 U.S.
You've recently completed some case studies around how the use of GS1 standards impacted healthcare providers. What can you tell us about the case study with CentraState?
As a preamble, I'd like to look back to 1974, when that first barcode was put onto a Wrigley's gum package. When you start to look at the reason for barcodes, if you capture data manually, you have a 4 percent error rate. When the retailers started to look at miskeying of information, the efficiency of scanning instead of keying in data really drove the need for barcoding in retail.
Fast forward to the two case studies. What you see in CentraState's case is that if they keyed everything into the system — into their electronic health record, or EHR — it would take 74 seconds to get everything in there, using the drop down menus, using the extensions, etc. By automating with barcodes, they were able to reduce that to 23 seconds, saving almost 40 seconds worth of time.
If you think about it, each of those procedures that they have maybe is using between 20 to 40 products that need to be keyed into that EHR. Then multiply that number by the 7000 procedures they do per year in the OR. It's a huge amount of time saving.
So it really goes back to that fundamental drive to improve the efficiency. By improving the efficiency, they have now freed up time for clinicians, they have freed up time in their ORs, which then allows them to service more patients.

What did you learn in the research work with Mercy?
So Mercy noticed the same kind of thing from an efficiency perspective, but what they saw was that by scanning that barcode, they could do some more sophisticated checks. They could verify it was not recalled, they could verify it was not expired, and they were also able to keep track of what was used. Therefore, they were able to automatically and electronically update their preference cards. They didn't have to check additional inventory and then put away inventory that they didn't use in that procedure. That was a huge improvement.
What really caused this to happen was a collaboration between supply chain, the nursing staff, and the staff that oversees the ORs.

Does tracking the items in the supply chain more effectively also help facilities reduce the amount of wasted items in a procedure?
That is definitely one of the components of it. There's this situation where you pull items out and then they don't get used, but you have to dispose of them because they were exposed and they can't be used again.
Another benefit to reducing waste is that hospitals don't need to throw as much away and the disposal costs go down.
How do the data generated by these approaches impact surgical teams?
I think one of the things that happened in the Mercy case study was that at the very end of the procedure when the surgeon was handing it over to have someone else finish up, they were able to turn to the head nurse and say, "OK, what did it cost me?"
They knew exactly what was used, and they could also throw that disposal piece in there, too. They were able to get real time data about the procedure, which was very, very powerful.
What are the most significant ways in which integrating a system using GS1 standards can impact the supply chain management of a hospital or other healthcare provider?
Well I think every hospital has to figure out where their real pain points are. What keeps them up at night? That's where you focus the use of barcodes initially, because then you can show how you've been able to eliminate that pain point.
Look at the recall process. As long as you're following procedures and entering the products in clearly and accurately, you can track and trace the products throughout the entire hospital. You can then quickly — by scanning — go through all of that material to find the expired and recalled products faster than you did the past.
And if you use RFID tags, you don't even have to sit there and scan each piece. You can scan a shelf and you can start to pick up all of the RFID tags. You can do it better, faster, and more efficiently. You can pull that recalled product off the shelf, get it out of harm's way so a patient is not exposed to it, so that you can make sure that your hospital is going to be operating to the highest level of patient safety.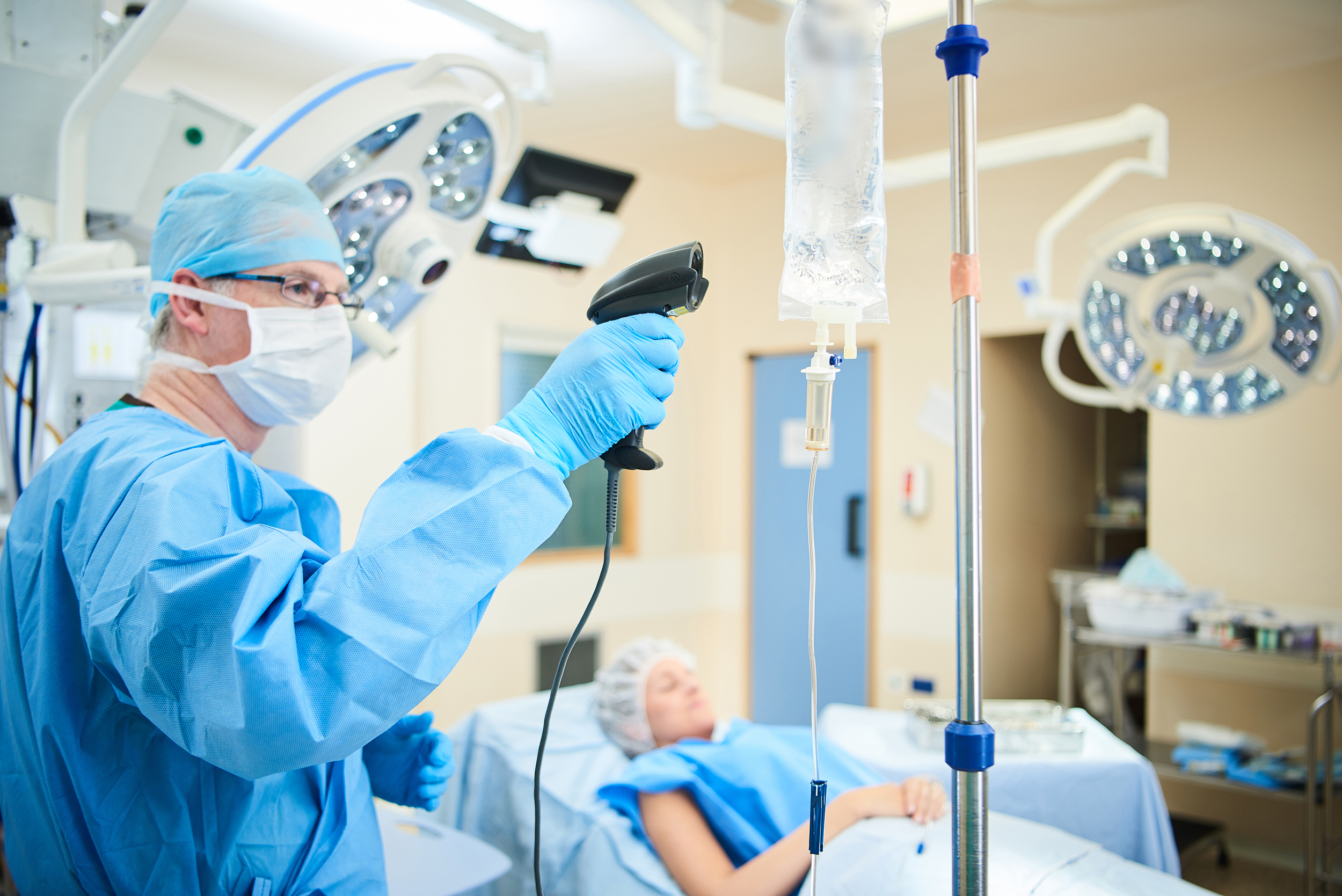 Many facilities use some version of GS1 standard. Have you seen any integration of the technology that you think is particularly innovative?
This past year we worked with five different pharmaceutical companies and the Dana-Farber Cancer Institute in Boston. There's a white paper about this, focusing on the use of barcodes in clinical trials.
In the clinical trial process, you have this random selection of products that are being applied to each of the patients and you have to track that from the source of the manufacturer all the way to the patient, which could be a global process.
The use of barcodes, and the use of one standard, allows you to uniquely identify that product and each of its particular variations all the way down to that patient.
Dana-Farber has on average about 750 active drug studies at any time. Each of these manufacturers is shipping their products — labeled differently, using different processes. All of these items need to be hand keyed, which has a 4 percent error rate. If they make a mistake, then the clinical trial results could be wrong. There's an efficiency concern, plus an accuracy concern.
If everything was labeled, then all of these clinical trial products could be scanned, the information would go to the digital receiving system, and then you would have accurate information all the way down to the patient level. You get good, reliable information that goes back to the clinical trial. It's very, very key to getting good results.
How many times is OR staff looking for something, some piece of equipment that they don't know where it is? RFID on equipment in a hospital would facilitate understanding where that product is, finding it, and picking it up right away. You can dial that RFID scanner to look for a certain product and go room by room and find the specific one, and you can automatically check to make sure it's within calibration for whatever procedure you need it for.
Do you think the use of GS1 standards will grow even more pervasive in the future? Are there areas it might move into that some might find unexpected?
Two years ago, when we were talking to hospitals, they would say they had around 20-25 percent of product coming in with barcodes they could trust, in part because of regulations.
Today, most manufacturers are putting them on medical devices, and pharmaceutical products. You're now at around 80-85 percent that have barcodes. We have critical mass. Previously, the product volume wasn't there.
And we're moving closer to federal regulations calling for implantable devices to be captured in order to get reimbursed. If that happens, you'll see most providers moving to consistent, standardized barcodes.