Battlefield tested in the most austere military environments for over a decade, the power of Silverlon antimicrobial silver-nylon wound technology is now quickly making its way into civilian operating rooms, hospitals, and healthcare facilities around the globe.
Although silver compounds have been around for centuries and used for medical applications since the 1800s, research on effectiveness in treating wounds and preventing infection has progressed significantly in recent years. Nowhere has the distinct advantages of silver been tested more intensely than in the hands of military surgeons and medics.
Faced with treating some of the most severe injuries in circumstances presenting relentless challenges to infection control, the antimicrobial advantage of Silverlon technology — proudly made in the U.S. — has earned its stripes.
Proud Military Heritage
Serving in the military is an honor and duty that comes with great reward and unprecedented risk. Courageous men and women have endured some of the most horrific injuries imaginable in some of the most severe environments.
To treat military combat injuries, Silverlon antimicrobial technology was originally pioneered by Chicago-based Argentum Medical and is now extensively used by every branch of the U.S. Military.
Studies have shown Silverlon to be highly effective in hostile military environments. In 2003, Silverlon was evaluated at the U.S. Army Institute of Surgical Research Burn Center (home to the Department of Defense's only Level 1 Trauma Center) on Fort Sam Houston in San Antonio, Texas. The USAIR Burn Center quickly adopted Silverlon wound care technology and continues to use it extensively in the management of burn and blast injuries and chronic wounds.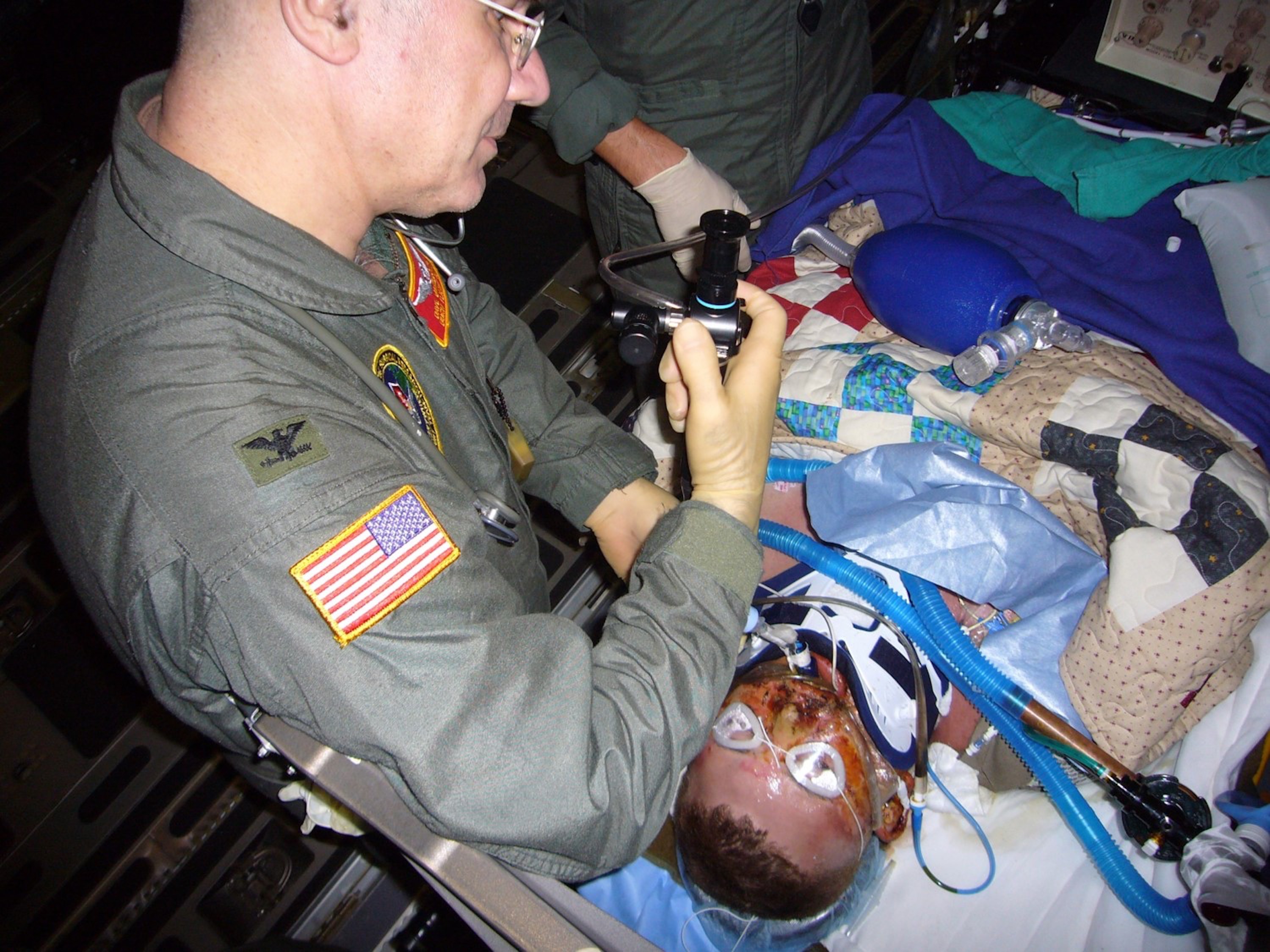 Silverlon burn and wound care products and protocols are also used by the U.S. Air Force Critical Care Air Transport (CCAT) teams and are taught at the U.S. Air Force School of Aerospace Medicine Critical Care Air Transport Basic Course. It is also incorporated into numerous deployed Medical Tactical Combat Casualty Care kits and supplied in bulk to Combat and Support Hospitals and Tactical Forward Surgical Teams. It is also included in burn care protocols in the Joint Theater Trauma System Clinical Practice Guideline.
Power Of Pure Metallic Silver
This priority use of Silverlon wound care products is due to critical factors of utmost importance in military medicine.
Most critically, pathogens encountered in contemporary wartime practice are increasingly resistant to antibiotics. Topical therapy applied to open combat wounds must provide broad-spectrum antimicrobial coverage that is effective against a broad spectrum of bacteria and fungi.
Among silver-based dressings, there are significant differences — not only in the way they employ silver, but in the types and amount of silver compounds used.
Silverlon uses a unique silver-plating process that delivers more pure metallic silver in the dressing than any other silver-based dressing — up to 100 times more than impregnated dressings and five times more than crystalline silver dressings.
The sustained release of silver ions within Silverlon dressings are capable of eradicating Methicillin-resistant staphylococcus aureus (MRSA) in four hours and pseudomonas in less than two. The antimicrobial activity remains effective for up to seven days.
Far From Supply Lines
Medical support of military operations often involves treatment of injuries under harsh conditions, often far from supply lines. Initially stocked by the U.S. military as a burn dressing, Silverlon is now used as a universal dressing for all types of combat wounds, including massive soft tissue injuries, open fractures, blast injuries, and traumatic amputations.
Compared to conventional dressings, Silverlon dressings are lightweight, durable and flexible to conform to diverse wound surfaces. Easy to store and transport, Silverlon's efficacy is not affected by severe temperature changes and has a five-year shelf life.
Silverlon products are easy to use and adapt for a wide variety of wounds. The simplicity of Silverlon is particularly beneficial for personnel without medical training. Most importantly, Silveron's broad-spectrum antimicrobial properties are effective in hostile, isolated, and unpredictable environments where basic medical provisions, such as clean water, are tenuous.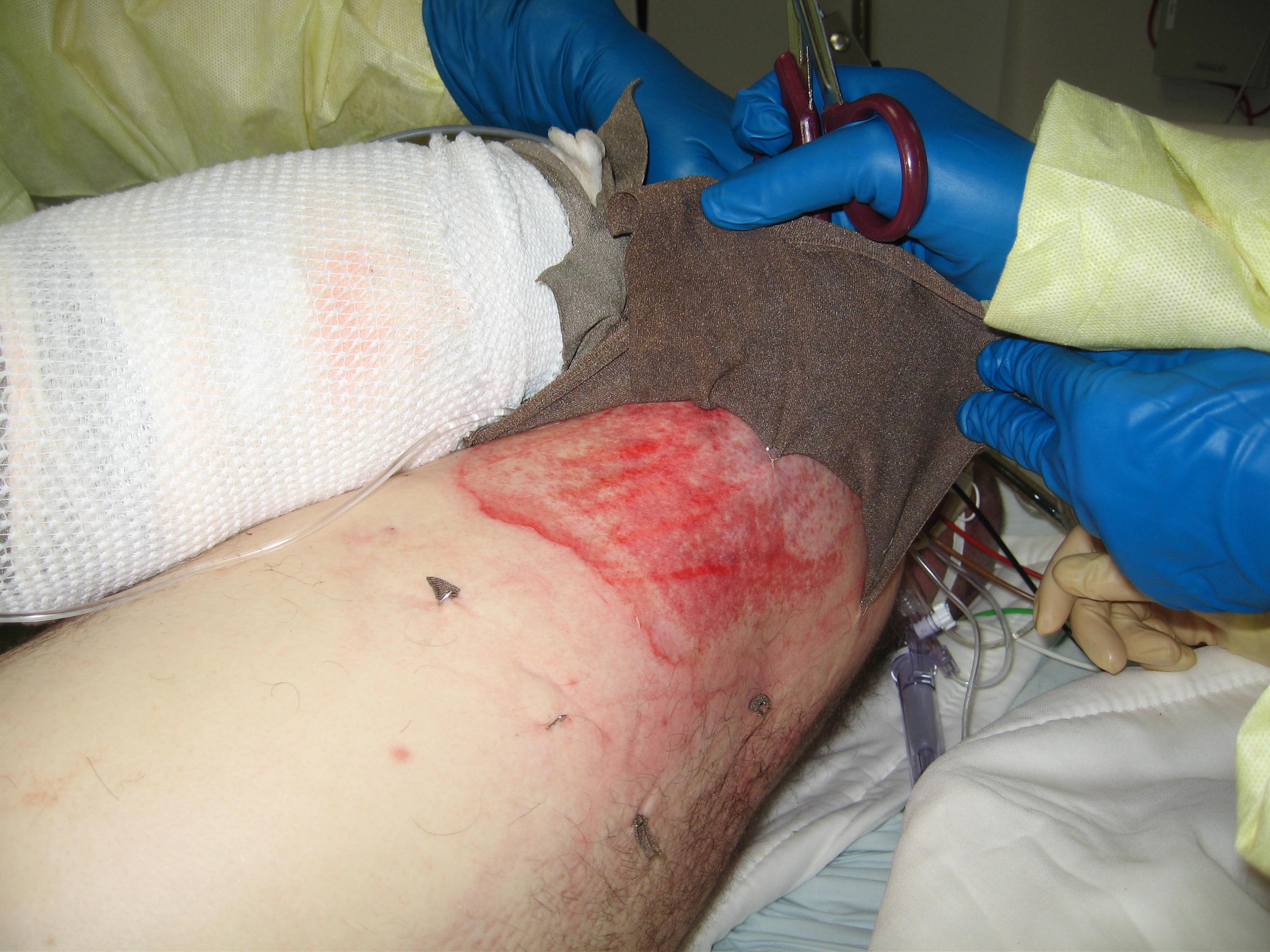 In military environments, time and circumstances are limited for frequent dressing changes. Because of its seven-day efficacy that reduces the need for frequent changes, Silverlon allows the military to conserve medical resources. It's particularly valuable when military medics need to rapidly stabilize and evacuate wounded personnel, a feat that often requires airlift or convoy operations, often through hostile territory, with patients handed off between multiple teams of care providers.
In addition, military facilities are often tasked with the emergency or long-term treatment of local populations when injured or burned which further stresses medical supplies.
Silverlon dressings are effective in preventing bacterial overload in patients with a significantly decreased immune system due to the poly trauma of combat injuries.
Transfer To Civilian Hospitals
As they transition from military service to leadership roles in civilian healthcare settings, veteran medical professionals are influential advocates for Silverlon. Collectively, their firsthand field experiences with Silverlon continue to extend valuable education to their civilian colleagues.
With increasing secondary infection rates and rise in medical costs, Silverlon's antimicrobial effectiveness has captured the attention of infection control experts, surgeons, and hospital and clinic administrators. Major medical facilities in the U.S. are increasingly transitioning to Silverlon, particularly in light of the findings in many published clinical research studies demonstrating its effectiveness.
Today, Silverlon is used by surgeons, nurses, and healthcare professionals around the world on surgical wounds, intravascular catheter-related wounds, and to better manage burns, skin grafts, and other chronic wounds.
For example, a clinical research study conducted by the University of South Florida and Tampa General Hospital published in the Journal of Intensive Care Medicine, showed that Silverlon antimicrobial dressings decreased Central Line-Associated Bloodstream Infections (CLABSI) by 46 percent compared to chlorhexidine gluconate-impregnated sponge dressings.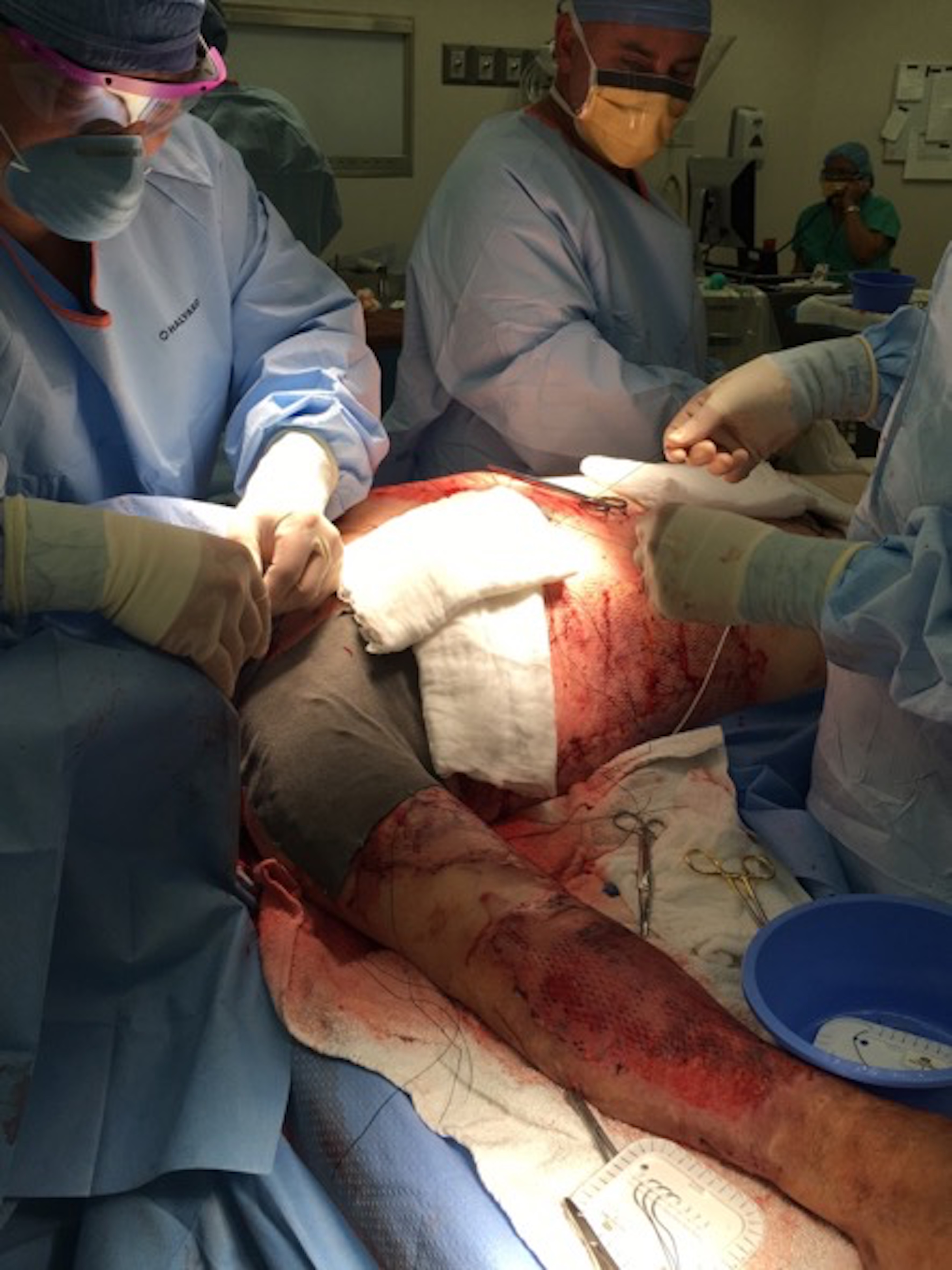 Since the study period, Tampa General Hospital has maintained the reduced CLABSI rate for six years by implementing the use of Silverlon in seven different ICUs: medical, coronary care, neurological, burn, surgical trauma, cardiothoracic, and vascular.
The study also found the reduction in CLABSI rates was associated with an estimated cost savings of $4,070 to $39,600 per 1,000 catheter days.
National Emergencies
While its use quickly expands within civilian healthcare settings, Silverlon continues to be a leader in supporting the United States with proactive initiatives to protect both military members and civilians in the event of a catastrophic event.
To prepare for radiological and nuclear emergencies, the U.S. Department of Health and Human Services (HHS) announced in October that it will work with Argentum Medical to repurpose Silverlon technology for radiation injuries of the skin.
As a privately held company, Argentum has been awarded a three-year, $8.4 million contract with the Biomedical Advanced Research and Development Authority (BARDA), part of the HHS Office of the Assistant Secretary for Preparedness and Response (ASPR). BARDA supplies the Strategic National Stockpiles (SNS) which becomes available in case of a significant or catastrophic event. BARDA supports advanced research, development, and procurement of medical countermeasures for contingency operations to prepare for national security threats.
Radiation injuries of the skin can be life-threatening and require reliable, versatile, and sustained antimicrobial protection. The contract validates Silverlon's clinically-proven antimicrobial efficacy, safety, and multidisciplinary application — critical factors in meeting the demand to quickly treat different types of injuries from a mass casualty.
Under a separate contract with BARDA, Argentum Medical is nearing completion of studies required to apply for FDA clearance of Silverlon for skin burns caused by sulfur mustard chemical weapon exposure.
With the powerful testament of its battlefield-tested heritage, Silverlon continues to be used extensively by the military as well as civilian surgeons and healthcare professionals around the world. Silverlon products have continued to expand from surgical wounds to negative pressure wound therapy, chronic wounds, burns, skin grafts, and IV and catheter-related wounds.
As Silverlon research and collaboration expands in both military and civilian medical arenas, the ultimate battle to improve clinical outcomes is something we all can get behind.
Michael I. Arnold is a consultant for Silverlon wound care products, specializing in in military applications. He served as a Senior Enlisted Medical Advisor (SEMA) for Marine Forces Special Operations Command. With Special Operations combat deployments in both Iraq and Afghanistan, he brings his experience working with Silverlon in the field to civilian hospitals and clinics.