Stryker's Spine division demonstrated its new 3D-printed Tritanium C Anterior Cervical Cage, an interbody fusion device designed for use in the cervical spine, at the recent Congress of Neurological Surgeons (CNS) Annual Meeting, in Boston.
The Tritanium C Anterior Cervical Cage is the latest spinal fusion implant constructed from Stryker's proprietary Tritanium In-Growth Technology, a novel, highly porous titanium material designed for bone in-growth and biological fixation.
The unique porous structure of Tritanium is created to provide a favorable environment for cell attachment and proliferation, as demonstrated in an in-vitro study. The Tritanium material may be able to wick or retain fluid, in comparison to traditional titanium. Tritanium is inspired by the microstructure of cancellous bone and enabled by AMagine, Stryker's proprietary approach to implant creation using additive manufacturing, also known as 3D printing.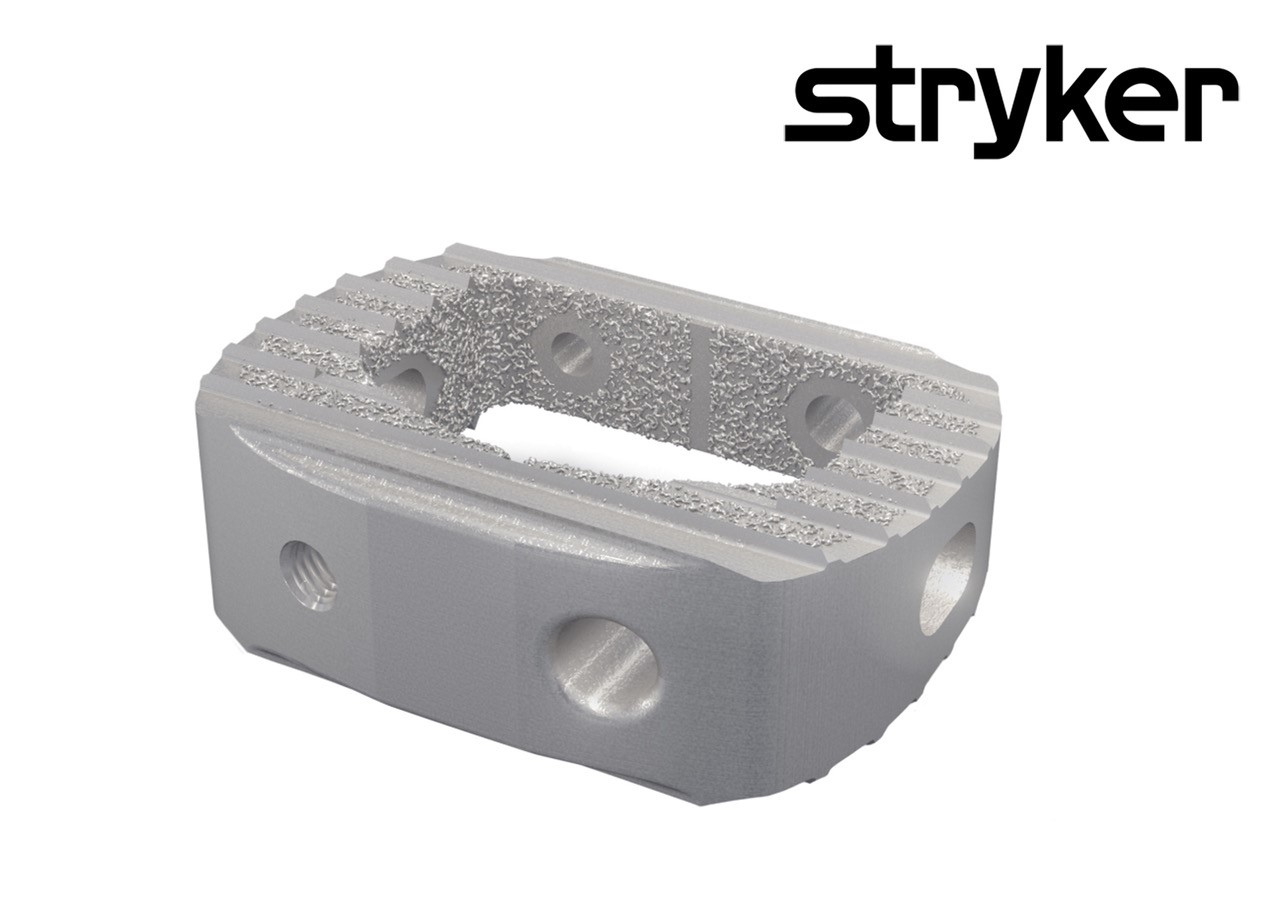 "Stryker's Tritanium Technology is 'engineered for bone,'" says Bradley Paddock, president of Stryker's Spine division. "Our growing line of Tritanium implants reflects our commitment to being at the forefront of technology advances in spinal surgery, and to providing our surgeon customers with a range of options to address their preferences and meet the needs of their patients."
According to Mohammed Faraz Khan, MD, Hackensack University Medical Center, N.J., one of the first surgeons to use the new cage, the benefits of the Tritanium C Anterior Cervical Cage are clear.
"In my opinion, this new addition is going to make all the difference in this space," Khan says. "The inserter used with the system was super sleek and easy to use."
The Tritanium C Anterior Cervical Cage received 510(k) clearance from the FDA in September 2017 and will be available to surgeons in Q4 2017. It features an open central graft window and lateral windows to help reduce stiffness of the cage and minimize subsidence. In addition, the large graft window allows for bone graft containment. Engineered for stability, the cage has serrations on the superior and inferior surfaces designed to allow for bidirectional fixation and to maximize surface area for endplate contact with the cage. Its smooth posterior edges help to facilitate insertion and to protect soft tissue and anatomy. The Tritanium C Anterior Cervical Cage is offered in a number of footprints, heights, and lordotic angles to adapt to a variety of patient anatomies.