To provide clinicians a point-of-care wearable ultrasound system, Evena Medical launched Eyes-On Glasses 3.0 last month. These are intended for deep tissue vascular imaging. While they have an obvious use for nursing staff while starting IVs, Dr. Mel Harris, the chief medical officer for Evena, said they could also benefit surgeons.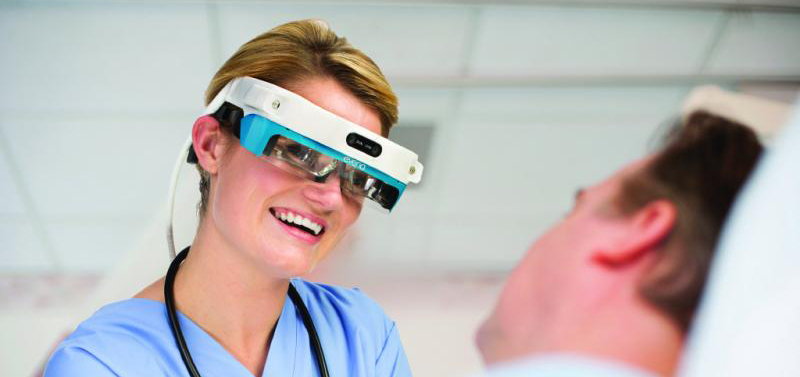 To learn more, Surgical Products connected with him.
What need in the market do these smart glasses fill and why does this need exist?
All surgeons require timely information during surgical procedures. This information can be in the form of intraoperative dynamic imaging to better localize pathology, guide intraoperative biopsies, limit the extent of surgical resection, improve surgical staging, guide surface incisions for deep lesion resection and avoiding intraoperative surgical errors such as injury to vascular structures or ureters. Additional information is provided to the surgeon by simultaneously having the ability to retrieve previous imaging studies or other pertinent patient data archived in electronic medical records. The real time imaging is brought to the surgeon via either intraoperative, apps based ultrasound or the use of multispectral near infrared light imaging with or without contrast agent enhancement or both. Evena's Eyes On Glasses is the only wearable imaging platform in the world that combines sound and light imaging onto one wearable platform with full integration into a hospital's electronic medical records.
Why is image connectivity an important feature of these glasses?
In this modern era more and more things are being connected to each other. We see this on a daily basis in business, home, daily life devices and healthcare to name a few. People are connected to things and things are connected to things in what is termed the Internet of Things (IoT). The purpose of it all is to improve the life of the end user. The surgeon who has access to this integrated connectivity can only be expected to optimize their surgical efforts. The result is better surgical outcomes, more efficient use of operating room time and improved patient satisfaction.
What are the challenges to using smart glasses like these?
The adoption of either a new technology (multispectral infrared light) or a new iteration of older technology (ultrasound) is challenged by the phenomenon called "pushback." When time honored methods are challenged by new technology, the initial response of the user is commonly to resist adoption. This was dramatically demonstrated when surgeons first were faced with the decision to adopt the use of intraoperative staples versus suturing. The evidence was very clear that stapling is much faster than suturing by hand, and also more accurate and consistent. Now stapling is standard practice. The use of smart glasses will have a similar resistance and the accumulating evidence for its adoption will overcome this inertia to change.