#5 – Colored undergloves increased awareness of perforations to synthetic outer gloves from 12% to 56% and reduced time to awareness from 67 seconds to 42 seconds.1
#4 – Colored undergloves can help improve occupational safety. Research shows that most punctures are tiny and identified only after surgery, not at the time of the incident.2
#3 – Double-gloving is recommended for invasive surgeries by the CDC3, OSHA4, AORN5, ACS6, AAOS7, ICS8 and WHO.9
Click here to see the top 2 reasons – and request a sample of Protexis® Blue-Colored Undergloves today!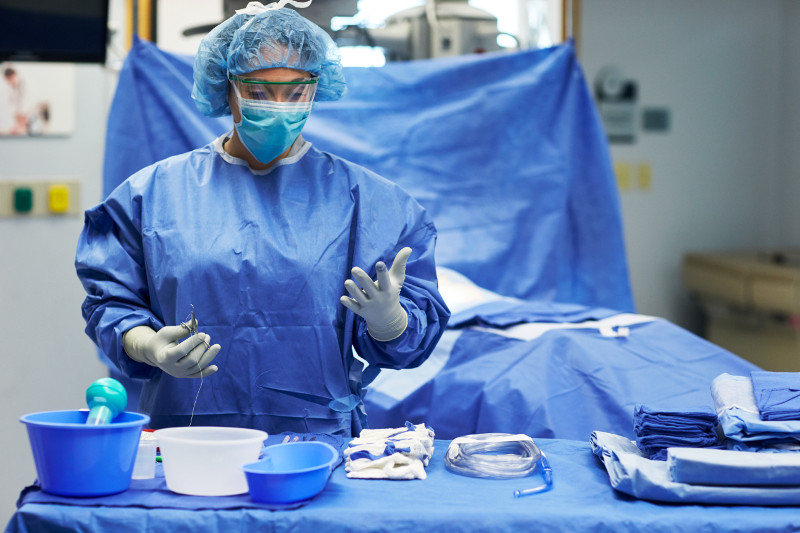 Sources:
Florman S, Burgdof M, Finigan K, Slakey D, Hewitt R, Nichols RL. Efficacy of double gloving with an intrinsic indicator system. Surg Infect (Larchmt). 2005;6(4):385-395
Thomas-Copeland, Do Surgical Personnel Really Need to Double-Glove? AORN Journal, FEBRUARY 2009, VOL 89, NO 2; page 327.
Centers for Disease Control and Prevention. Guideline for prevention of surgical site infection, 1999. Infection Control and Hospital Epidemiology, April 1999, 20(4):247-278. http://www.cdc.gov/hicpac/pdf/ssiguidelines.pdf. Accessed November 2015.
OSHA Technical Manual Section VI: Chapter 1. Hospital Investigations: Health Hazards. Available at https://www.osha.gov/dts/osta/otm/otm_vi/otm_vi_1.html. Accessed November 2015.
AORN Guideline for Sterile Technique from 2015 Guidelines for Perioperative Practice.
Statement on Sharps Safety. American College of Surgeons. October 2007. https://www.facs.org/about-acs/statements/58-sharps-safety. Accessed November 2015.
"Information Statement 1018: Preventing the Transmission of Bloodborne Pathogens." American Academy of Orthopaedic Surgeons. http://www.aaos.org/news/aaosnow/oct13/clinical5.asp. Accessed November 2015.
Leading the way in best Practice. Internationsl College of Surgeons. Available at: https://www.icsglobal.org/members/sections/mem_sect_news_europe.asp. Accessed November 2015.
Glove Use Information Leaflet. World Health Organization. August 2009. Available at: http://www.who.int/gpsc/5may/Glove_Use_Information_Leaflet.pdf. Accessed November 2015.